S.T.A.R. Labs May Be Down One Team Member On 'The Flash'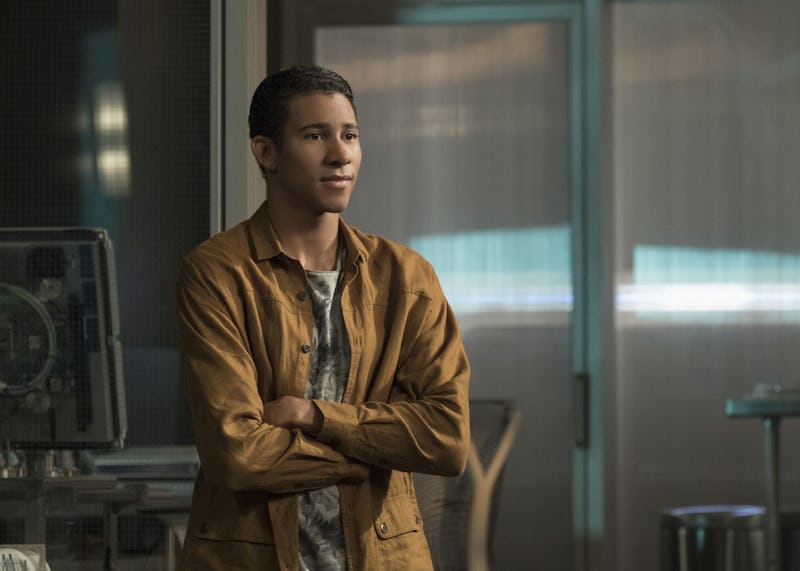 Katie Yu/The CW
Team Flash is getting a major makeover. Wally West, aka Kid Flash, aka everyone's favorite new meta, announces at the end of "Luck Be A Lady" that he's leaving the group to take some time for himself. But don't worry, Kid Flash fans, if Wally really is leaving Central City on The Flash, at least there's another Team Flash member to take his place. Wally may have left S.T.A.R. Labs in "Luck Be A Lady," but luckily Harry Wells (aka Earth-2 Harrison Wells) has swooped in to take his place, or so it seems.
"Luck Be A Lady" ends with Wally announcing his departure from Central City. As big of a part of Team Flash as Kid Flash is, the truth is he's a sidekick, and he wants to figure out who he is on his own. As for what brought him to this decision, it's Jesse Quick. The episode begins with his Earth-2 girlfriend sending him a "Break-up Cube" via her dad (hence Harry's surprise return). After speeding off to talk to her, Wally realizes that, like her, he needs to work on himself. It also doesn't help that, in their final battle against this week's new meta, Rebecca Sharp, Team Flash doesn't even notice Kid Flash isn't around to help. (Though, for the record, I totally noticed.) All things considered, it's not really a great time for Team Flash to be down a superhero, but it's also as good a time as any.
With the help of Cisco and Harry, the team is able to finally figure out how the new metas were made. It turns out that Barry accidentally made them. When he came back out of the Speed Force, he brought a wave of Dark Matter with him, causing a bus that just so happened to be passing by to be hit with its energy and turn all 12 passengers into metahumans. By the end of the episode, Team Flash has two of them locked up in Iron Heights and are determined to go out and find the other 10. In a way, they finally have an advantage on a new hurdle, so letting go of Kid Flash, while not ideal, isn't leaving them in the lurch.
There's no telling how long Wally will be gone for. With the return of Harry (temporary or not), Team Flash will still be rounded out numbers wise. In fact, the team might be growing sooner rather than later, with the news that Cecile is pregnant. (West baby alert!) That said, one shouldn't worry that The Flash is getting ready to replace Wally. For one thing, there hasn't been major news of actor Keiynan Lonsdale leaving the show, or even becoming a recurring star as opposed to a series regular. Furthermore, no matter what journey Wally needs to go on, I'd bet good money that his presence will still be required at Iris and Barry's wedding, coming up in just six short weeks. He is, after all, a brother to both of them. Finally, it's obvious that Team Flash is going to need all the help they can get when The Thinker finally reveals his master plan.
After "Luck Be A Lady," it seems pretty clear that whatever Thinker's plan is, it involves getting the Flash to gather all of the new metas in Iron Heights. Why else would he just sit back and watch as Barry and company round up the new metas? Whatever his plan is, it's likely that Team Flash will call Wally back to help when the time comes. And, as Wally said, he's only a phone call away.