Jennifer Lopez's 2017 Met Gala Dress Is Retro In All The Right Ways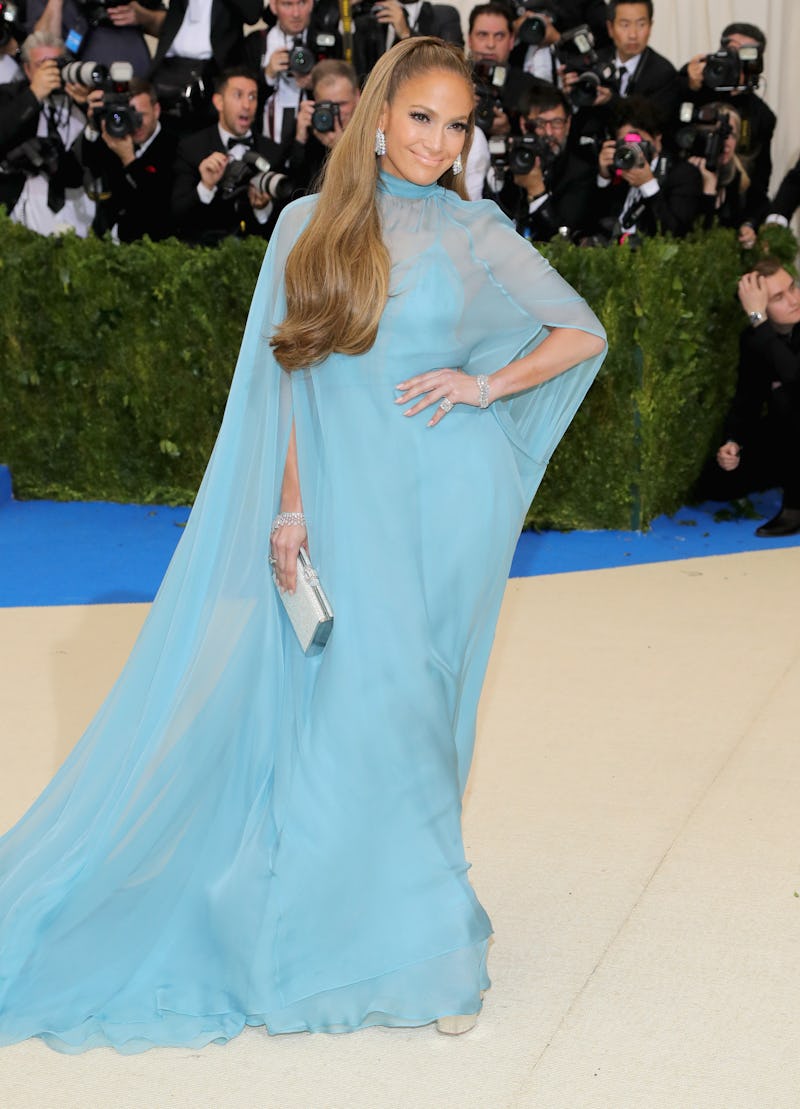 Neilson Barnard/Getty Images Entertainment/Getty Images
When I think "avante garde," my mind immediately goes to the weird and wonderful stylings of designers like Monday night's honoree, Rei Kawakubo. She is known for looks that are strange, futuristic, and/or difficult to comprehend, which is why Jennifer Lopez's Met Gala dress surprised me. Instead of walking the red carpet in something by-the-book quirky, J. Lo opted for a classic blast from the 60s past.
And yet it totally worked. Her gown featured a high neckline and blue chiffon for days, making the singer look all sorts of old school cool. Adding to the retro vibe was long hair brushed back with a headband (so 60s) and big hoop earrings.
The blue Valentino dress was an interesting choice for the night, but also an interesting choice for J. Lo herself. We all know and love the singer for her risqué looks, plunging necklines, and barely-there dresses. How perfectly cool (and perhaps avante garde?) to step out in something different.
The more I looked at the dress, and the more I compared it to other outfits from the red carpet, the more I appreciated what she was going for. But Met Gala themes aside, there's no denying she was absolutely beautiful. I mean, can we take a second and absorb the regal-ness of it all?
That is one beautiful dress, and J. Lo looks great in it.
And those diamond hoops? Harry Winston, of course.
The star arrived with none other than boyfriend Alex Rodriquez. Be still my heart!
How cute are they?
Her look, though, is everything.