John McCain Will Be Buried Next To His Longtime Wingman & Best Friend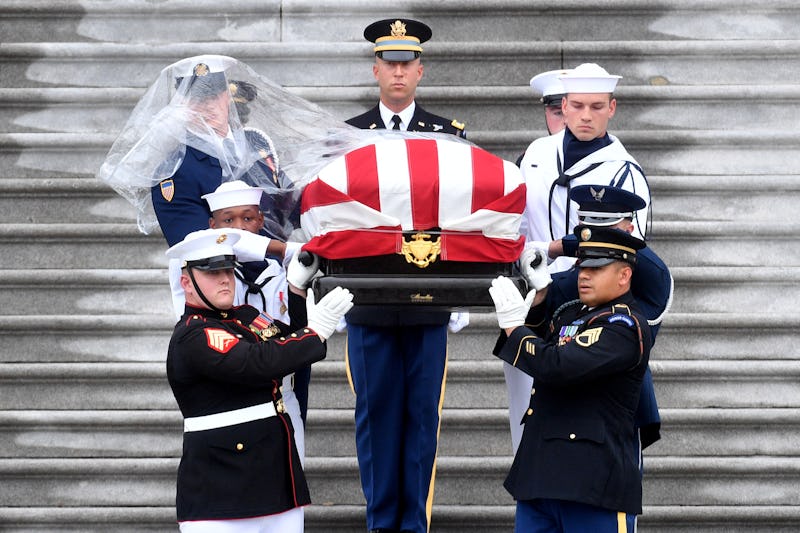 Pool/Getty Images News/Getty Images
Following the funeral in Washington D.C., those remembering Sen. John McCain are headed to Annapolis, Maryland, on Sunday where the private memorial service and burial will take place — open just to friends, family, and members of the 1958 U.S. Naval Academy graduating class. McCain will be buried next to Chuck Larson, one of his old Navy buddies. Larson and McCain, who both attended the Naval Academy, are described as near opposites.
The two made the decision about 20 years ago, as was described both by Chuck Larson's wife, Sarah, and an aide, Mark Donohue.
"Chuck came home one day and he said, 'I picked out my grave,' and I went 'Oh, OK.' And when you do that kind of thing 20 some years ago, you don't think that's ever going to happen, so I just said, 'That's fine, good,' and he said, 'By the way, John is going to be next to me,'" Sarah Larson told CNN.
According to what Donohue told the Capital Gazette, McCain and Larson had made the decision when Larson went out to find a spot for the two of them. After a tour of the Naval Academy cemetery, Larson called up McCain and said, "I found you a spot right next to me and we have a water view."
The two had very different experiences at the Naval Academy, and afterwards in life. Larson graduated near the top of the class, whereas McCain was fifth from the bottom.
But they became good friends nonetheless, with Sarah Larson telling CNN's John Berman on New Day Friday, "Chuck has his wingman back now." McCain was famous for sneaking out of the school to try and find a good time. "I was really rebellious," the late senator once said of his time in Annapolis. "I mean, really rebellious."
That demeanor played well off of his friend Larson's. McCain "became an informal leader of his class, the rebellious yin to his best friend and class president, Chuck Larson's more squared away yang," a brief biography shared on JohnMcCain.com reads.
The school's yearbook described McCain as "a sturdy conversationalist and party man." The entry continued, "John's quick wit and clever sarcasm made him a welcome man at any gathering." McCain wrote in his own memoirs in 1999 that he regularly snuck out to go flirt with women. Sneaking out was a serious infraction at the school.
Larson, if he went with, was never caught. They continued their friendship after school, too. First at the Naval Air Station in Pensacola and then at advance flight training at NAS Corpus Christi, where they were roommates, CNN reported.
Larson advanced in the Navy, and was named the second-youngest admiral in Navy history. He also served as the superintendent of the Naval Academy itself.
McCain's time as a prisoner of war and career in politics after he returned are well documented. That political success was another area where the two differed. Larson actually ran for lieutenant governor in Maryland in 2002 as a Democrat, but he lost his race.
Larson preceded McCain in death in 2014, following a battle with leukemia. Now the two will be reunited in the spot they picked to spend eternity.