You Have To See Justin Hartley From 'This Is Us' Get Totally NSFW In 'A Bad Moms Christmas' — EXCLUSIVE VIDEO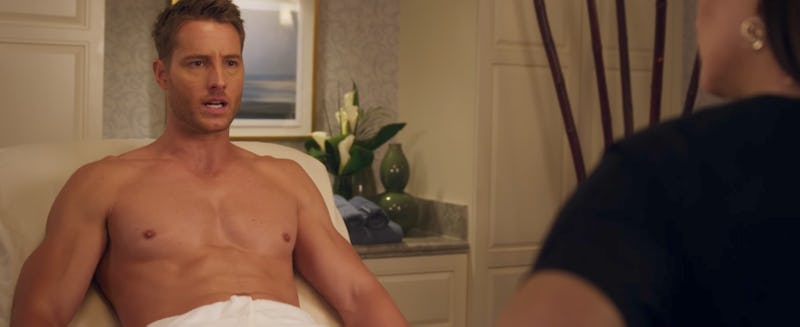 STX
Snow is (almost) falling, bells are (almost) ringing, and it's almost time for A Bad Moms Christmas. The sequel to the 2016 runaway summer hit Bad Moms is bringing back Kiki (Kristen Bell), Amy (Mila Kunis) and Carla (Kathryn Hahn), our favorite naughty moms, and adding a few new faces to the group, including This Is Us heartthrob Justin Hartley. And lucky for you, you can see Justin Hartley heat things up with Kathryn Hahn in this A Bad Moms Christmas exclusive clip.
Fans of Bad Moms will remember that Hahn's single mom Carla spends her days working at a fancy spa and salon in town. Well, in this new clip from A Bad Moms Christmas, out Nov. 3, Carla gets way more than she bargained for during a day at work when a new client walks in. Now, you wouldn't necessarily think that a man named Ty Swindle going to get his balls waxed would set the scene for a meet cute, but alas, for Carla, it's truly a moment of love at first sight. Without getting into the nitty gritty of the NSFW scene, let's just say that Bell was right when she told Extra, "If you've ever seen Justin Hartley on This Is Us and wondered, 'What does he look like naked?' this is the movie for you."
If you've seen This Is Us, then chances are you're pretty familiar with Hartley's body — Season 2 recently featured his character Kevin parading around in a diaper. That said, even the most dedicated This Is Us fans haven't seen Hartley quite like this before. In A Bad Moms Christmas, Hartley plays Ty, an exotic dancer with, according to the clip, a pretty impressive package. "Look at the size of that thing. It looks like a parking cone!" Carla says in the clip. The rest, as they say, is history.
Even though Hartley is used to taking his shirt off on camera (see: This Is Us, Smallville, and The Ellen Show), he admitted he was a bit nervous walking onto the Bad Moms Christmas set with nothing but a towel for wardrobe. "It was an interesting thing...It was like, 'Hi, how are you? Good to meet you, Kathryn.' And, um, legs go up and here we go, let's do this," Hartley recounted in an interview with Entertainment Tonight. Awkward first meetings aside, the actor emphasized he had nothing but a good time on the set, specifically working with Hahn. "Working with her is a treat. She is a genius when it comes to comedic timing, improving," he added.
Hartley also spilled a few details on filming the scene at the 2017 Emmys, where he revealed that he had to get extremely limber for the waxing scene. "I made him practice at home, before he went to set, I was like, 'I need to make sure you're really limber honey,'" his fiancé Chrishell Stause joked to Access Hollywood. What he did practice, though, was the dance moves. As teased in the Bad Moms Christmas red band trailer, Hartley's Ty Swindle puts on a memorable show as a Santa stripper, which meant learning some Magic Mike moves. "You'll see some dance moves maybe in the movie," Hartley teased to Access Hollywood. "And I am not a dancer, so I apologize to America in advance."
Oh, please, you have nothing to apologize for. All in all, Ty Swindle sounds like the perfect gift for Carla this Christmas. Oh, who are we kidding? He's the perfect gift for all of us. And, who knows, maybe we'll get to see even more of him in a third Bad Moms movie.