Activists Are Worried Christine Ford's Testimony Could Play Out Like A Criminal Trial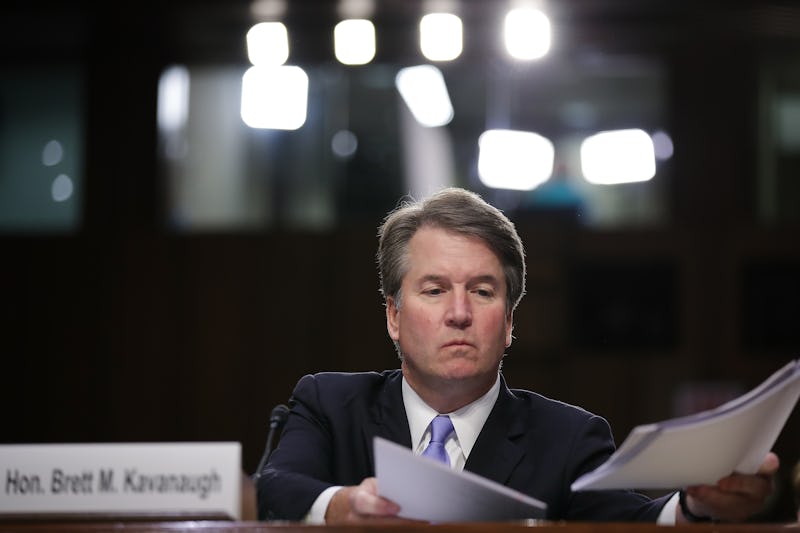 Drew Angerer/Getty Images News/Getty Images
After Republicans postponed Brett Kavanaugh's Supreme Court confirmation vote scheduled for Thursday in order to hear from the woman accusing him of sexual assault, discussions began about how the Senate Judiciary Committee should approach Christine Blasey Ford's testimony. Sen. Susan Collins (R-Maine) asserted that Kavanaugh and Ford's lawyers should be at their testimony next week, but women's advocacy groups quickly criticized the idea, saying it would make the testimony look more like a criminal trial — and leaving it to Ford to prove her story beyond a reasonable doubt.
Kavanaugh has denied Ford's allegation that he attempted to assault her when they were in high school. Ford claimed to The Washington Post that she ultimately got away despite Kavanaugh and another boy turning the music up and covered her mouth so no one could hear her cries. "I did not do this back in high school or at any time," Kavanaugh said in a statement last week.
Regardless, senators from both parties wanted to hear from Ford before deciding whether or not to grant Kavanaugh a lifetime appointment to the bench. In a letter Collins sent to the chairman and ranking member of the Judiciary Committee on Tuesday, she thanked them for inviting Ford to testify because the psychology professor's allegations are "serious." Collins also recommended that Kavanaugh's attorney question Ford and vice versa, leaving time for senators to also ask questions.
"Such an approach would provide more continuity, elicit the most information, and allow an in-depth examination of the allegations," Collins wrote.
Shaunna Thomas, founder of the women's advocacy group UltraViolet, didn't agree. She said in a statement obtained by Bustle:
Sen. Susan Collins is dead wrong. Her call for Brett Kavanaugh's attorney to cross examine Dr. Christine Blasey Ford is beyond shameful. Let me say this as clearly as humanly possible, Christine Blasey Ford is not on trial here. This is not a trial. It is Brett Kavanaugh's sexual assault hearing and a job interview for the highest court on the land and the burden of proof is solely on Brett Kavanaugh.
Senate Judiciary Committee Chairman Chuck Grassley (R-Iowa) told conservative radio host Hugh Hewitt on Tuesday that Ford hadn't yet confirmed that she'll testify in a public hearing set for Monday. Nevertheless, other women's advocacy groups are with UltraViolet in opposing the idea of allowing Kavanaugh's attorney to cross-examine his accuser.
"Republican senators seem far more interested in putting Dr. Blasey Ford on trial than finding out the truth about Brett Kavanaugh. It is shameful, but not shocking," Adrienne Kimmell, vice president of NARAL Pro-Choice American, said in a statement. "We've seen this before, and it is now crystal clear that Republican senators haven't learned anything from history."
As Kimmell points out, a Supreme Court confirmation hearing isn't a criminal trial — meaning the purpose of hearing from Ford isn't to determine whether or not Kavanaugh is guilty of sexual assault beyond a reasonable doubt. The purpose is to determine whether or not Kavanaugh is fit to serve on the Supreme Court for decades and thus have the power to rule on the rights of women to have autonomy over their bodies.
Though Grassley hasn't announced a decision on the issue, activists are adamant that giving Kavanaugh's attorney the floor during Ford's testimony wouldn't be fair to Ford. They made it clear that Americans deserve the right to hear her story if she wants to tell it — not to put her on trial for coming forward.