La La Anthony Added This Everyday Kitchen Staple To Her Beauty Routine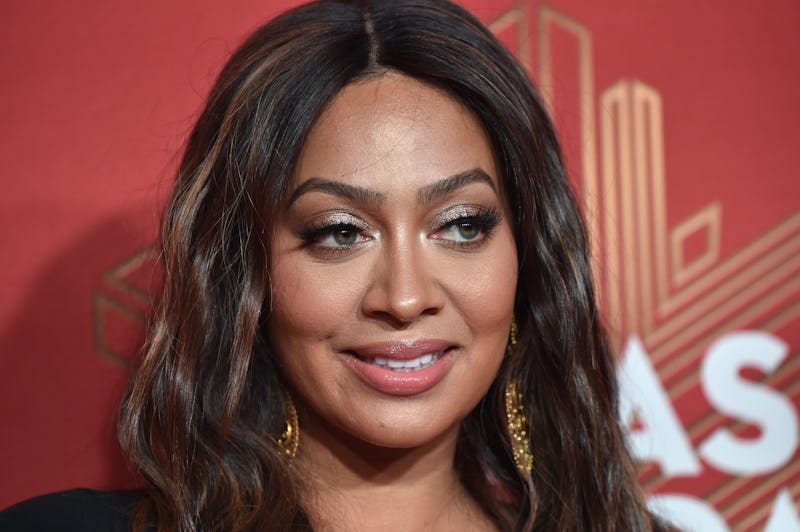 Michael Loccisano/Getty Images Entertainment/Getty Images
Most of us have a box of baking soda somewhere in the house, whether it's in the kitchen for cooking purposes, or stashed in the fridge to keep things fresh. But if you don't already keep a box in your bathroom, too, then you need to know about La La Anthony's baking soda beauty tips.
It seems like such a simple thing, and yet baking soda is one way the Power actress stays looking so flawless.
"It's definitely a product I've seen in my house since I was born, since I can remember," Anthony tells Bustle. "When the opportunity came up to partner [with Arm & Hammer Baking Soda], I was definitely into it. I started learning how many uses you have for it from obviously cooking to … beauty products."
Her favorite tricks? "I've been using it as a body exfoliator," she says. "I have sensitive skin, so it's great that I can ... mix it up [and] use it as an exfoliator."
To give it a try for yourself, simply stir together three parts baking soda with one part water, and gently massage your skin in a circular motion to exfoliate and remove dead skin cells and makeup — you can use it on your face, body, and even your scalp — then rinse it off with warm water.
When giving this trick a try, keep in mind that baking soda can unbalance your skin's pH.
"Yes, the granular component of the baking soda gently rubbed on the skin can provide you with exfoliation," Dr. Jeremy Fenton, a dermatologist for NYC-based Schweiger Dermatology Group, tells Bustle. "However, the issue with baking soda is that it is alkaline. Our skin is naturally slightly acidic. This naturally acidic outer layer is protective. Therefore, the alkaline nature of the baking soda will disrupt the skin's natural pH and its protective layer."
Fenton recommends a mechanical exfoliant — like a scrub — in a product designed for the pH of the skin. But for other people, like Anthony, the baking soda method totally works.
"You can feel the smoothness on your skin after one use," she says. "But, with anything else, the best results come with some consistency."
That tip applies to her teeth whitening trick, too. "You buy all these different teeth whiteners, but don't even realize that Arm & Hammer does the job even better than those."
She simply pours out a small amount of baking soda, dips her toothbrush in, and brushes as usual. While it may take some time to notice drastic whitening results, Anthony tells Bustle you can see a difference after just one brush.
"You can see your teeth look cleaner, they look whiter," the actress says. "I'm always getting compliments on how white my teeth are."
See what I mean? It makes sense why Anthony added baking soda to her beauty routine. It not only whitens teeth and exfoliates skin, but guess what — it can make your hair healthier, too.
According to the company, baking soda can reduce buildup on your scalp. All you have to do is sprinkle a small amount into your palm, along with your favorite shampoo, then wash and rinse as usual. Arm & Hammer tells me the baking soda works to remove residue that styling products leave behind, so that your hair feels cleaner and more manageable.
As for Anthony, she tells me she has psoriasis on her scalp and applies baking soda for its exfoliating benefits: "I haven't seen the Arm & Hammer scrub cause any kind of irritation or any flare-ups or anything like that. It's gentle enough, which is important for someone who has skin like me."
Fenton tells me baking soda can help improve psoriasis symptoms by removing extra build-up.
"Psoriasis leads to excessive skin and scale buildup. Baking soda, as an exfoliant, can help to remove that excess buildup," he says. "However, two words of caution: Do not aggressively scrub or exfoliate. Too much irritation can trigger more psoriasis. Keep it gentle. Also, as mentioned above, it can disrupt the skin pH. So, given a choice, I would recommend a mechanical exfoliant that is pH balanced."
That said, I'm still going to give it a go with baking soda. (It's sold pretty much everywhere, like the grocery store or your local drug store.) Because, if it means looking as lovely as La La, then it's definitely worth a try.