Meghan Markle's Messy Bangs Are The Most Relatable Part Of Her Wedding Look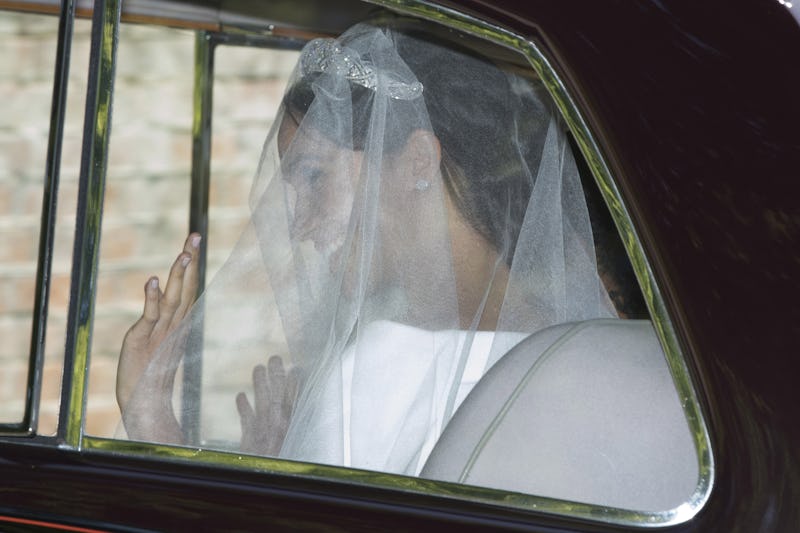 WPA Pool/Getty Images Entertainment/Getty Images
From her low messy buns, to those super chic blowouts, there's just something about Meghan Markle's perfectly coiffed hair that makes you want to run out, buy all the same products, and recreate the look yourself. Over the past few months, the same's been true of Markle's fashion choices (I'm pretty sure I need a cream colored trench coat) as well as her effortless, glowing makeup. It's all so enviable.
But most enviable of all are those shining tresses, which looked as lovely as ever as she married Prince Harry on Saturday morning, at St George's Chapel, Windsor Castle. Markle's hairstyle for her wedding day was truly the stuff of dreams: simple, chic, but still totally her.
Markle wore her hair pulled back in what was arguably a messy bun, with a center part and a few long bangs falling free around her face — as she is known to do. Most of her hair, though, was hidden beneath a glimmering tiara, and a long, traditional veil. It was all very bridal, but still that had touch of Meghan we've grown to love.
Leave it to Markle to don a wedding dress, a super long veil, a tiara on loan from the Queen, and top it all off with some super casual hair.
If you're like me, then you've likely been scouring the internet for ways to copy Markle's hair — bot her wedding look, and her everyday style. What are her favorite products? And how does she keep her strands so perfectly messy, yet somehow still in place? Well, if you'd like to get one step closer to Markle's wedding look, then you're in luck.
Markle's long-time makeup artist and hairstylist, Lydia F. Sellers, revealed her tips and tricks, as well as the duchess's go-to products, in an interview with Refinery29. For her everyday look, Markle's a fan of products like Oribe Volumista Mist for Volume, which at $44 isn't too pricy, and Kerastasé Oleo Relax Sérum, which sells for $40. Sellers uses these products as directed to keep Markle's strands looking sleek, like this.
In the months leading up to the wedding, it was anyone's guess how Markle would wear her hair. Folks wondered whether it would be down and natural, pulled half-way up, or piled atop her head. They also speculated if she'd do it herself, or call in help from Sellers, or get her friends to lend a hand.
Eventually, we did learn that Markle planned to call in support from her friends back in America, who flew in and stayed at Windsor Castle, so they could be there to help her prepare for the big day. Can you imagine the pressure, but also how much fun that would be? If any of my friends ever become princesses...
The day before her wedding, Markle arrived in Windsor with fiancée Prince Harry, rocking what some suspected might be a preview of her wedding day look. Wearing her hair half-up, royal fans thought she might copy Kate Middleton's wedding day look. According to Elle, "The Duchess Of Cambridge also opted for a half-up half-down hairstyle for her wedding to Prince William in 2011." Remember this?
And yet, Markle surprised us all by wearing something completely different. It wasn't really anything anyone predicted, and yet it looked so beautiful.
She looked every bit a part of the royal family, on her wedding day. Sure, the look wasn't predictably bridal, it wasn't similar to Kate's look, and it wasn't perfect. But it was very much her style — a little bit sleek and a little bit messy — and I'm sure it's something we'll all be copying, in the weeks to come.