Melania's Rep Said Criticism Of Her Response To The 'NYT' Op-Ed Is "Disrespectful"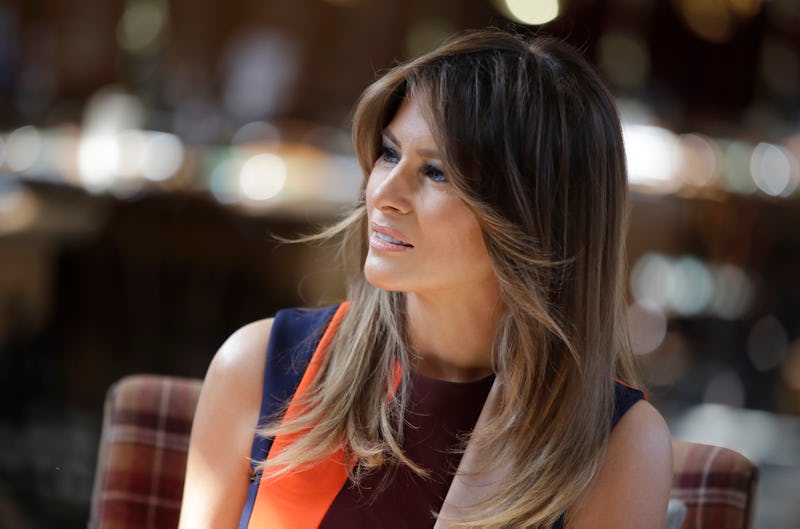 WPA Pool/Getty Images News/Getty Images
A spokesperson for Melania Trump is defending the first lady against criticism centered around her statement regarding the anonymous op-ed recently published in The New York Times. Melania's rep called The View's criticism of the first lady "disrespectful" and "hypocritical."
"If by 'destroy' you mean being disrespectful & hypocritical while mocking someone's accent, then the 'ladies' of @TheView succeeded," Stephanie Gisham, director of communications for the first lady, tweeted Friday in response to a Raw Story tweet highlighting the segment. "And btw @Sunny, her title is @FLOTUS."
Although Grisham lashed out at The View hosts for mocking the first lady's accent, neither Whoopi Goldberg, Sunny Hostin, Abby Huntsman, nor Joy Behar appeared to have done that on Friday's show. Goldberg did tell Hostin "don't do it" before Hostin read a portion of Melania's response out loud. However, it was not 100 percent clear what exactly Goldberg was potentially warning Hostin away from doing.
But while The View co-hosts didn't appear to mock the first lady's accent, they did make a few different jokes when they criticized the statement she issued in response to the op-ed. For example, while discussing Melania's response to the anonymous op-ed, Behar jokingly asked if former first lady Michelle Obama had written it. Her remark was a reference to allegations that, in 2016, Melania had plagiarized a section of Michelle's 2008 Democratic National Convention speech.
Hostin and Behar then went on to suggest that it was hypocritical of the first lady to claim "words are important" and "accusations can lead to severe consequences" given her now infamous "I REALLY DON'T CARE, DO U?" jacket and previous birther comments.
"I recall that Melania was also a birther," Hostin said, referencing those who falsely claimed former President Barack Obama had not been born in the United States in an attempt to undermine his presidency. "Weren't those words very important and accusation very important?"
"How about 'I really don't care, do you?'" Behar added, referencing the controversial message emblazoned on a jacket Melania wore while visiting detained migrant children at the border in June. "Remember those words?"
Bustle has reached out to both Grisham and ABC for additional comment.
In a statement issued earlier this week as a response to the anonymous New York Times op-ed, Melania accused the writer of "sabotaging" the country with their "cowardly actions."
"Words are important, and accusations can lead to severe consequences," USA Today reported the first lady said. "If a person is bold enough to accuse people of negative actions, they have a responsibility to publicly stand by their words and people have the right to be able to defend themselves."
The first lady also condemned what she characterized as the media's heavy reliance on anonymous sources. "Unidentified sources have become the majority of the voices people hear about in today's news," she said in her response. "People with no names are writing our nation's history." The first lady went on to argue that the media "should be fair, unbiased and responsible."