A New Trump Proposal Can Keep Migrant Children Detained Much Longer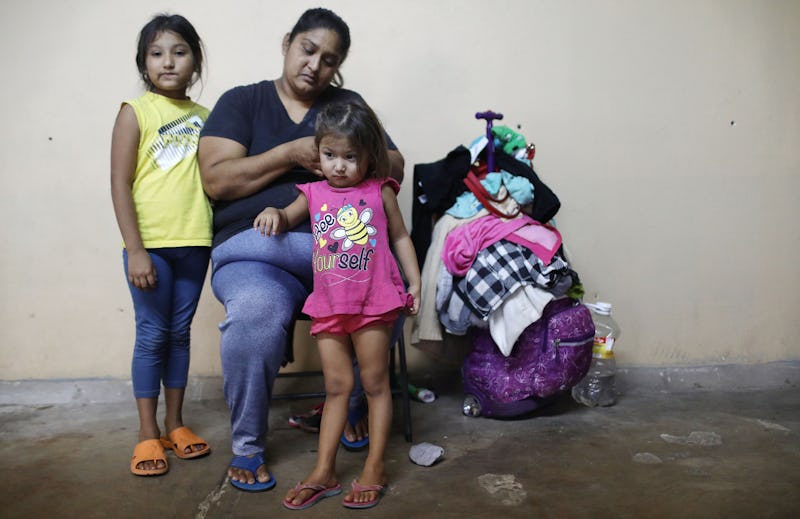 Mario Tama/Getty Images News/Getty Images
The Trump administration's family separation policy shocked the world this spring. Taking kids from their parents allowed the government to get around a policy that doesn't let children stay in detention for more than 20 days. But on Thursday, the Department of Homeland Security (DHS) announced a new rule that will let migrant children be detained indefinitely, along with their parents.
According to NBC News, the new policy will take effect in 60 days. It will challenge the old policy, known as the "Flores agreement" or "Flores settlement," which has been in place since 1997. The agreement was a response to complaints that the government didn't treat migrant children humanely; it implemented a new rule in which unaccompanied kids had to be kept in the "least restrictive conditions" possible and released from custody to a relative or family friend "without necessary delay," according to Vox. A later case used Flores to rule that even accompanied children must be released promptly. The standard maximum time they can be held has become 20 days.
An unnamed official from DHS told NBC that the goal of the administration's new rule is to end Flores, though it was unclear whether they were referring to the entire settlement. Other officials said that the policy won't contradict the original 1997 agreement.
"Under this proposed rule, HHS would implement the Flores Settlement Agreement and our duties under the law to protect the safety and dignity of unaccompanied alien children in our custody," Alex Azar, secretary of the U.S. Department of Health and Human Services, told NBC.
In a statement about the new rule in the Federal Register, the DHS wrote that its new policy will "satisfy the basic purpose of the [Flores settlement] in ensuring that all juveniles in the government's custody are treated with dignity, respect, and special concern for their particular vulnerability as minors."
Under the new rule, there will be no limit to the amount of time that Immigration and Customs Enforcement can keep families in detention together while their cases are being processed. DHS told NBC that adults typically stay for 39 days on average.
"Trusting ICE with the housing and nutrition of children is a recipe for even more suffering and abuse," Nicole Regalado of CREDO Action, a progressive activist group, said in a statement on Thursday. "These proposed regulations show that the Trump regime will stop at nothing to advance its horrific goal of deterring immigration by inflicting irreparable harm on children and their families."
Meanwhile, hundreds of children who were separated from their parents under the administration's earlier policy have still not been reunited with their families. In late June, a U.S. District Court in San Diego ordered the government to return kids beneath the age of five to their families within 14 days and others within 30 days. But the Trump administration has not complied with that timeline. On Aug. 24, it announced that 1,923 of the 2,654 separated kids had been returned, leaving about 700, per CNN. Over 40 of those children were under five.
As with that policy, immigration activists are quickly condemning this new one. "Locking up children indefinitely is cruel and heartless, even for the Trump administration," said Regalado. "It is nothing less than an assault on child safety and fundamental human dignity."