Nicki Minaj's Performance Outfit At The 2017 BBMAs Featured Lots O' Latex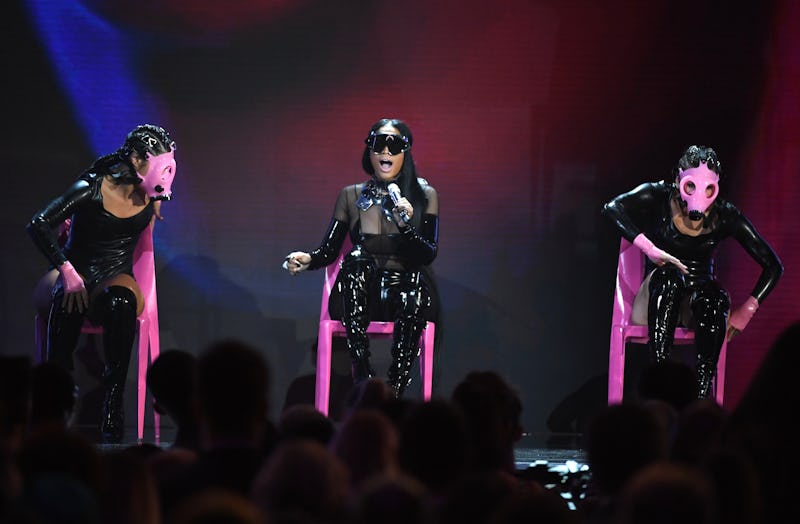 Ethan Miller/Getty Images Entertainment/Getty Images
Earlier in her career, Nicki Minaj could always be counted on to rock plenty of pink ensembles and outrageous wigs for her performances. While rap's reigning femcee has dialed her red carpet style back a bit in recent years, Minaj's 2017 Billboard Music Awards performance outfit involved a lot of latex. It also reminded her beloved Barbz of the Nicki Minaj of yore. It was proof that the rapper knows how to incorporate her clothes into her stage show in a slay all day way! Ultimately, the rapper's stage costumes are an integral part of how she presents her art.
While opening the 2017 BBMAs, Her Minajesty wore a glistening black latex ensemble that was so dominatrix-like. She wore an embellished bodysuit with chains, paired with over-the-knee, slick and shiny boots, glossy gloves up to here — they were actually over the elbow— and a mask. So it was a bit Fifty Shades of Grey, too,
Minaj's hair and makeup are also crucial elements of her look and her performance style. Her straight locks were mega long during the performance, tumbling down her back and reaching her derriere. It reminded me of Kim Kardashian West's recent maj mane.
Minaj ditched the mask mid-performance, but her look remained straight fire. But then again, did anyone doubt that Minaj would bring the hawt during her perf?
Those boots! Those gloves! The outfit boasted a mirror-like shine.
This was Minaj's version of Catwoman, right? She crushed it.
Lots o' latex indeed.
But Minaj crushed through and through.