Obama Is Commuting Chelsea Manning's Sentence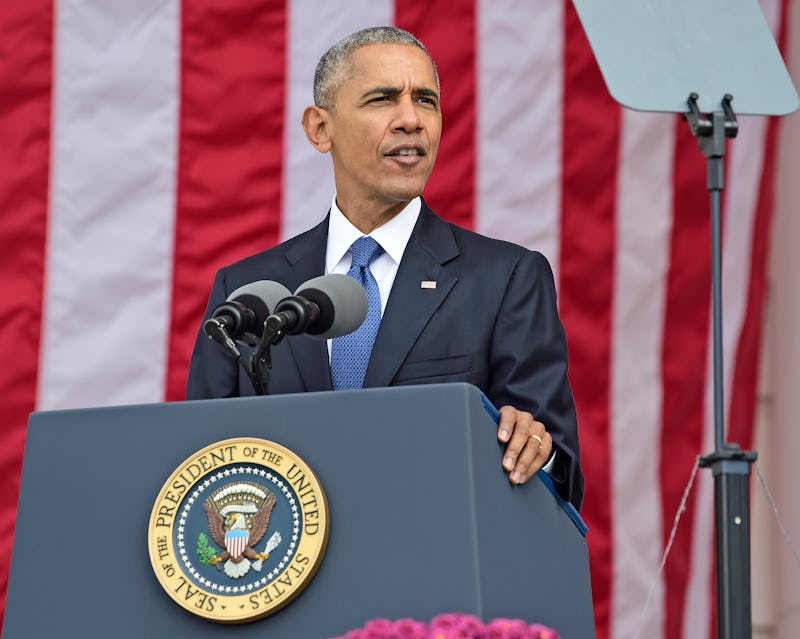 Pool/Getty Images News/Getty Images
Just three days before leaving the White House, President Obama commuted Chelsea Manning's sentence. She will now be released in May 2017 instead of in 2045.
Manning is a former army intelligence analyst who was convicted in 2013 of violating the Espionage Act for leaking classified information to Wikileaks. Her work with Wikileaks — in which she relayed "hundreds of thousands" of military logs from the Iraq and Afghanistan wars revealing that Iraqi civilian casualties were much higher than what was told to the public, as well as how American forces reportedly worked with Iraqi military officers to abuse detainees — made the whistleblower group famous.
Manning was sentenced to 35 years in prison in August 2013. She has served seven years in a facility in Fort Leavenworth, Kansas. Her 35-year sentence is one of the longest punishments for leaking classified military information in the U.S., according to The New York Times.
Throughout her time in prison, Manning has attempted suicide two times. She was reportedly given time in solitary confinement after her July 2016 attempt, and her lawyers later cited that isolated time as a reason contributing to her second attempt.
Manning is a transgender woman who was sentenced to an all-male prison in Kansas. She was reportedly bullied during her time in Iraq in 2009, and she has been pushing for proper medical treatment for her gender dysphoria while in prison, according to the Times.
Edward Snowden, another infamous whistleblower who worked for the NSA, has been an outspoken advocate for helping Manning get out of prison. On Jan. 11, Snowden urged President Obama to commute her sentence.
Obama has commuted more than 1,000 federal prison inmates' sentences, more than the past 11 presidents combined. In the final days of his presidency, he had made gestures that he might commute Manning's sentence.
At a Jan. 13 press conference, White House Press Secretary Josh Earnest was asked about the contrast between the cases of Manning and Snowden; Earnest emphasized "the pretty stark difference" between the two situations:
Chelsea Manning is somebody who went through the military criminal justice process, was exposed to due process, was found guilty, was sentenced for her crimes, and she acknowledged wrongdoing. Mr. Snowden fled into the arms of an adversary and has sought refuge in a country that most recently made a concerted effort to undermine confidence in our democracy.
Earnest acknowledged that Manning's leaked documents were "damaging to national security," but asserted that "[Snowden's] disclosures ... were far more serious and far more dangerous." According to the Times, none of the information Manning disclosed was categorized about the level of "secret."
At her court-martial testimony in 2013, Manning confessed to her crimes and apologized for what she did, saying she did not leak the documents to WikiLeaks with the intention of putting anyone in harm.
In her commutation application to President Obama, Manning took issue with her "extreme" prison sentence of 35 years. According to the Times, most sentences for leak cases are between one and three years. "I take full and complete responsibility for my decision to disclose these materials to the public," Manning wrote to Obama. "I have never made any excuses for what I did. I pleaded guilty without the protection of a plea agreement because I believed the military justice system would understand my motivation for the disclosure and sentence me fairly. I was wrong."
After surviving a life-threatening seven years in prison, Manning will soon walk free 28 years earlier than she expected. Obama's latest commutation will certainly go down in history.