Paris Jackson Wore A Michelle Obama T-Shirt To The 2017 MTV Movie & TV Awards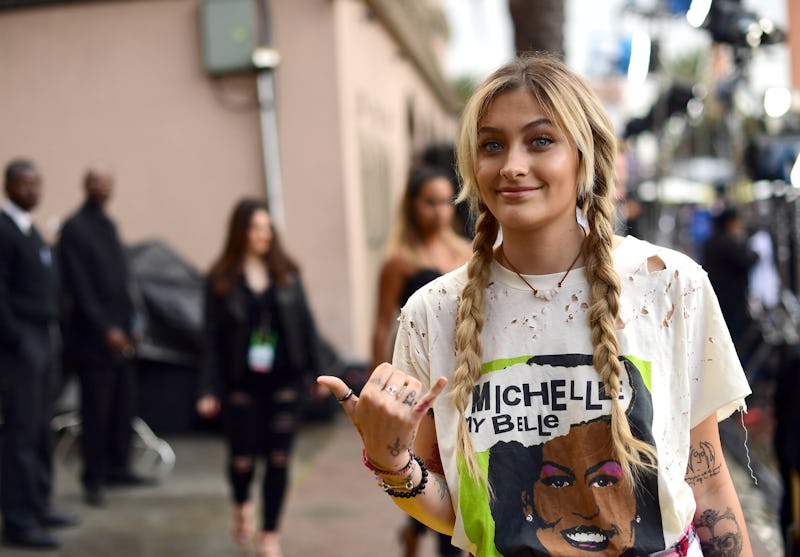 Matt Winkelmeyer/Getty Images Entertainment/Getty Images
By now we all know how "anything goes" on the MTV red carpet. Some stars show up looking ultra glam, while others prefer a more laid back look. The latter describes Paris Jackson tshirt on the MTV red carpet, which was broken in and comfy — with a little political touch.
Yes, that lovely silkscreened face peaking out from behind Jackson's long blonde hair was none other than former first lady Michelle Obama's. The image seemed to be a take on this FLOTUS Cafe Press tshirt, which featured the phrase "Michelle Ma Belle." (Which is, of course, a reference to The Beatles song Michelle Ma Belle.)
Jackson's tshirt was ripped up in a very on-trend way. While I doubt she did it herself, it's entirely possible. There are millions of DIY videos on YouTube detailing how to distress a tee, and they almost always include how to perfectly snip little holes.
Jackson paired the grungy look with some loose pigtails, a few bracelets, and a simple necklace. She looked like she had been hanging with some friends before strolling off to the red carpet, and I kind of love that. And I kind of love that she gave a shout out to Michelle Obama. She probably misses her just as much of the rest of us.
Pretty awesome shout out, don't you think?
The whole look, complete with plaid shirt, jeans, and Converse sneakers, was about as cool as it gets.