What The Ft. Lauderdale Shooting Looks Like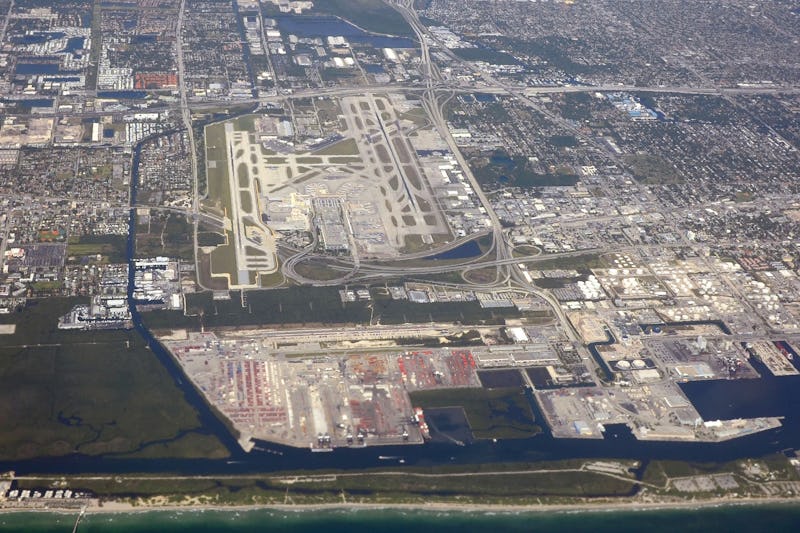 DANIEL SLIM/AFP/Getty Images
At least eight people were injured and five people were killed during a shooting at the Fort Lauderdale-Hollywood airport Friday afternoon, CNN reported. Aerial footage of the airport from multiple news outlets showed a large group of people standing outside on the tarmac, where they had been evacuated.
Broward County Mayor Barbara Sharief told CNN that the gunman was reportedly acting alone and is now in custody.
"We have no evidence at this time that he was acting with anyone else," Sharief told CNN. "He is currently in custody and we're investigating."
MSNBC reported that the airport had gone on lockdown as a result of the shooting. However, the Broward County Sheriff's Office has since tweeted that the upper level of the airport is open once again. In a subsequent tweet, the sheriff's office confirmed that five people are dead, and indicated that eight people who were injured had been taken to a hospital.
Shortly before 3 p.m. local time, the Broward County Sheriff's Office tweeted that it was investigating "unconfirmed reports" of additional shots fired at the airport.
Former White House Press Secretary Ari Fleischer was at the airport when the initial shooting occurred. He tweeted that everyone started to run once shots were fired. During that time, airport officials stated on Twitter that there was an "ongoing incident in Terminal 2, Baggage Claim."
This is what the scene looked like out on the tarmac:
CNN also released this footage, which shows people running across the tarmac:
Local channel WPLG, an offshoot of ABC, has started to obtain footage from inside the airport as well. The following footage, which WPLG published on its Facebook page, shows people huddled together and grieving in the baggage claim area of the airport.
In a Facebook Live video, CBS News released footage of law enforcement officials who are at the airport. Sharief told CBS News in the video that the top priority right now is to safely evacuate people who are still in the airport — a process that could take several hours — and do a full sweep of the area.
Meanwhile, Florida Gov. Rick Scott tweeted that he had arrived in Fort Lauderdale to be briefed by law enforcement officials. He also mentioned that he had spoken to President-elect Donald Trump about airport safety and security.
The Broward County Sheriff's Office announced that it would hold a media briefing at 3:20 p.m. local time.