Here's What's In Pretty Little Thing x Stassie Karanikolaou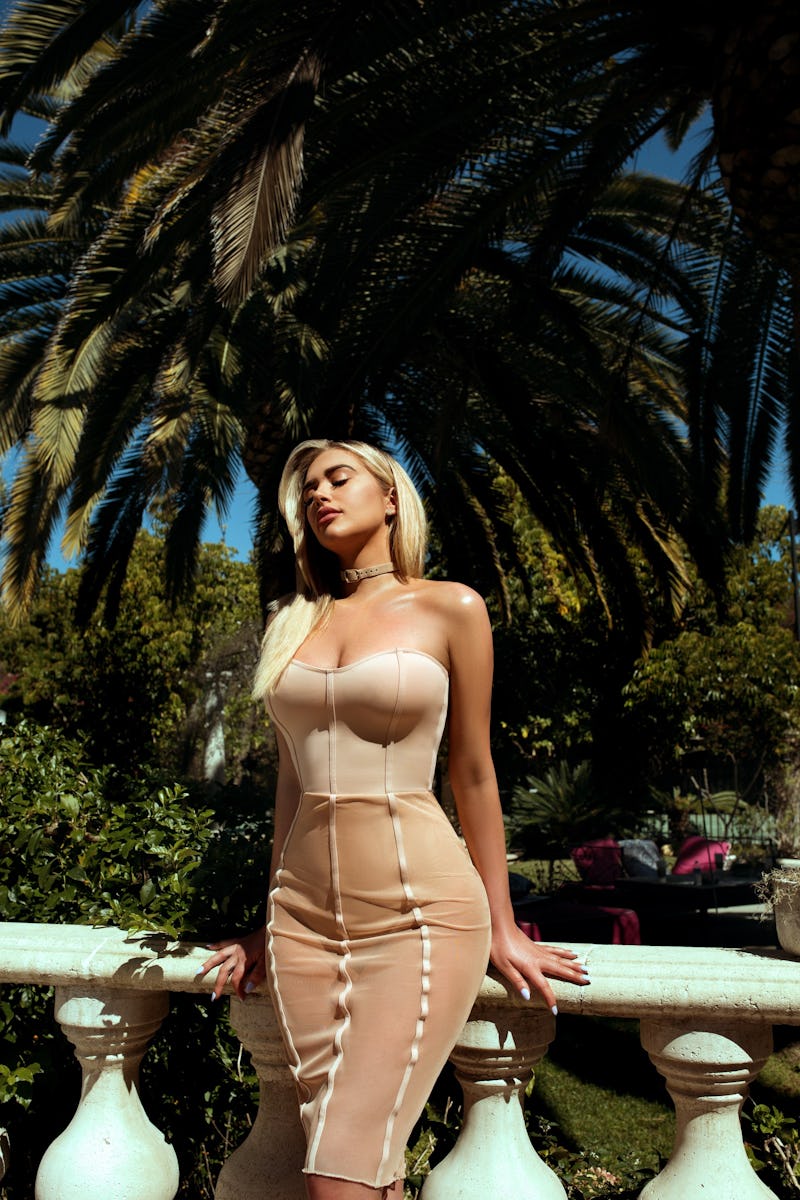 Pretty Little Thing
It's not every day that women find a brand that's not only affordable, but also packs some serious star power. That's where PrettyLittleThing comes in. The UK-based retailer opened a little under a year ago in the United States, and now, PrettyLittleThings x Stassie Karanikolaou's Shape Collection is helping the brand diversify their options and still stay on trend and affordable.
I had the opportunity to chat with Karanikolaou about her work with the brand, the importance of feeling confident in your own skin, and the addition of the Shape range to the line. Not only did Karanikolaou have direct input with the collection — she even traveled to the UK to meet with the brand — but she also explained what drew her to PrettyLittleThing and their new Shape Collection. "I decided to partner with them. I have the hardest time finding clothes. Nothing ever fits me. It's always too small or too big, and the collection has extra fabric in the boob and the butt area and comes in at the waist. I don't know. I just loved it," she tells me. Karanikolaou is definitely not lying when she talks about the gorgeous way the clothes are made to hug her body. With co-ords and fitted dress silhouettes, the styles truly encourage you to celebrate your body.
Karanikolaou also reveals that body confidence hasn't always been easy for her, but with her partnership with PrettyLittleThing (and others, like Khloe Kardashian's Good American Good Squad), she can help her nearly two and a half million Instagram followers embrace their bodies. She explains, "It's very important to me to partner with brands that showcase body diversity because I just want everyone to feel confident and sexy with what they have and just celebrate that every shape and size is beautiful. It's definitely a goal of mine to help people feel more confident. I've definitely been self-conscious, and it took me so long to like realize that everyone has flaws and no one is perfect. Just love who you are."
Karanikolaou's desire to promote body positivity and self-love among her followers show her commitment to her fans. Not only does she want to be a great representative for all women, but she wants women to not feel as if fashion is inaccessible. Karanikolaou explains that one of her favorite aspects of PrettyLittleThing and the Shape range is its affordability. "I've been wearing PrettyLittleThing for the past year and maybe probably more," she says, "I love how affordable it is. I love to have the people that follow me be able to go and wear the same things as me, so we can be cute and match, and I love to see photos in them. A lot of people can buy it."
Karanikolaou isn't exaggerating when she talks about affordability either. With prices between $14-44, fans can buy more than one piece from the collection.
If you want to shop the PrettyLittleThing x Stassie Shape Collection, the good news is that it's all now available over at the PrettyLittleThing website. As for if Karanikolaou and PLT have future plans, she says we'll have to wait and see. Personally, I've got my fingers crossed for extended sizing to further promote body diversity. Jordyn Woods x Stassie Karanikolaou for PrettyLittleThing, anyone? A girl can dream.