RBG & Kavanaugh's High School Yearbook Pages Couldn't Be More Different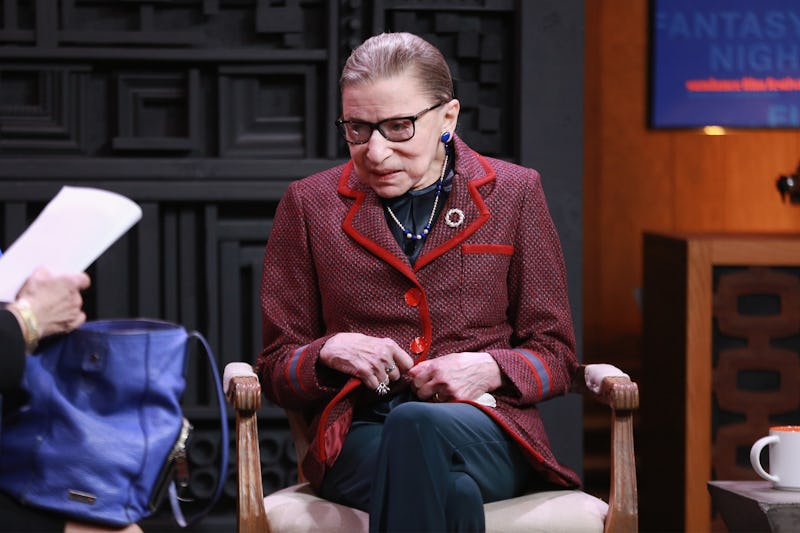 Robin Marchant/Getty Images Entertainment/Getty Images
With Brett Kavanaugh's high school yearbook page under scrutiny, comparisons have been made to the behavior of a current Supreme Court justice. Ruth Bader Ginsburg's high school yearbook page highlights vastly different priorities than Kavanaugh's, listing the various clubs she participated in rather than an affinity for partying and an allegedly derogatory remark.
A photo of RBG's yearbook posted online by New York magazine's Irin Carmon, who also wrote a book about the justice, shows the Supreme Court justice's high school photo next to a description that says she belonged to the school's Arista (an honor society), was a member of the orchestra and twirlers, treasurer of the "Go-Getters," secretary to the English Department chairman, and the features editor of the school newspaper.
The contents of Kavanaugh's yearbook page were quite different, though he did have a lot more space to describe his hobbies. References to "100 kegs or bust" and "Beach Week" hint at his apparent participation in the school's heavy drinking scene. And the phrase "Renate Alumnius" is believed by some to be a derogatory reference to a female student at a nearby school, Renate Schroeder Dolphin. Two of Kavanaugh's classmates told The New York Times that mentions of Renate in the yearbook amounted to football players bragging about their alleged sexual encounters.
Kavanaugh has denied this, claiming in a statement given to The Times by his lawyer that "Renate Alumnius" only refers to "the fact that he and Ms. Dolphin attended that one high school event together and nothing else."
"They were very disrespectful, at least verbally, with Renate," Sean Hagan, one of Kavanaugh's high school classmates, told The Times in reference to the Supreme Court nominee and the rest of the football team. "I can't express how disgusted I am with them, then and now."
The "Beach Week" mentioned on Kavanaugh's yearbook page also raised further questions after Julie Swetnick accused Kavanaugh of "targeting" girls as a teen. Swetnick's sworn statement that was made public by her attorney on Wednesday alleged that other women told her Kavanaugh engaged in problematic behavior at the infamous "Beach Week." Kavanaugh has denied all of Swetnick's allegations, and both his yearbook and high school calendar show that he did apparently attend the week-long party.
The allegations against Kavanaugh have led both Democrats and Republicans concerned about his alleged treatment of women to urge the Senate Judiciary Committee to reevaluate whether he's fit to serve on the Supreme Court. While his yearbook doesn't immediately disqualify him from the bench, it does bolster his accusers' claims that he drank heavily and mistreated women as a teenager.
"Even if it's all true, does it disqualify him? It certainly means that he did something really bad 36 years ago," Rep. Kevin Cramer (R-North Dakota) asked Valley News Live on Monday, per NBC News. "But does it disqualify him from the Supreme Court?"
The Judiciary Committee will begin to answer that question when Kavanaugh's first accuser testifies in an open hearing on Thursday morning. Regardless of what the committee decides, Kavanaugh and RBG's yearbooks highlight how differently the two judges — who may one day sit side by side in the high Court — behaved as teenagers.
If you or someone you know has been sexually assaulted, call the National Sexual Assault Telephone Hotline at 800-656-HOPE (4673) or visit online.rainn.org.