This Trans Plus Size Model Just Landed A Major Fashion Campaign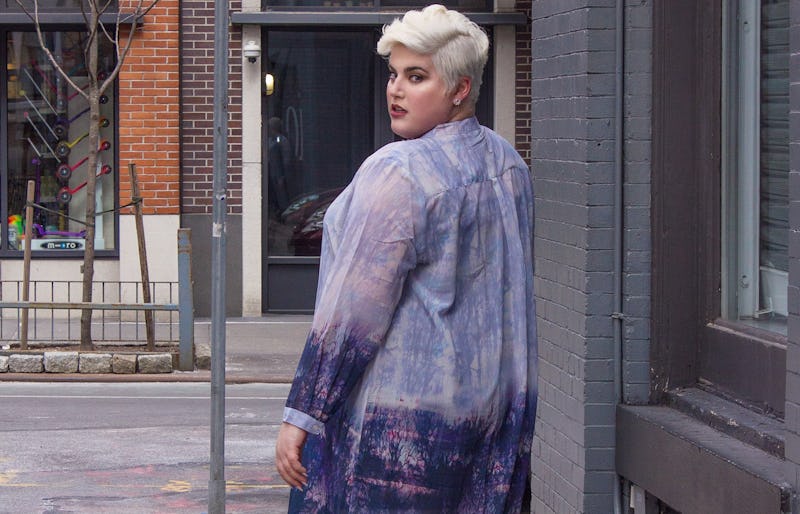 Model and Instagram darling Shay Neary is the first trans plus size model to land a major fashion campaign, and her inclusive spring/summer 2017 collab with retailer Yours Clothing is fab AF. Neary featured in a sleek urban photoshoot for the brand. The model also created a style guide for her fellow trans folks to go along with her selections from Yours Clothing's trendiest pieces.
Neary tells Bustle that the brand reached out to her on Instagram after she did a shoot for Coverstory in December 2016. "They have a very large trans clientele and they get a lot of questions in their customer service box about how to get the shape and figure of a woman," she explains, adding that she thinks trans folks often feel more comfortable shopping online for clothes, and so can have trouble when it comes to finding clothes that properly fit without trying them on first.
She attributes Yours Clothing's large trans customer base to the sizes and fits of their clothing. Pieces in her collection are offered in sizes 16 to 36, and "their clothing is very long, and taller—it's taller, which is great, because I'm very tall—so everything fits like a glove," Neary says.
Pieces in Neary's collection range from items like this fabulously floral midi dress to these heeled sandals (available in sizes up to 10 with extra-wide fit) and this rock chick top, which she says reflects her mix-it-up personal style.
"Everything I picked is very much my style," she explains. "Very much what I would choose to wear. I find that I like a full mix—I'm very feminine, I love floral dresses, I love floral prints, but I do love being urban sometimes and having a touch of, like, that edginess."
And working with Yours Clothing has been a meeting of the minds when it comes to business ethics, Neary says. "They're not just doing it for the ticket. They're doing it because they genuinely understand their consumer." She adds that she would love to get more work like her Yours Clothing collab "not just because I'm plus and trans but because I fit what your customers could possibly be."
Neary's style guide, aside from offering a wide selection of her faves, has lots of practical notes from Neary to help trans customers be their comfiest in the clothes she picked. Tips include wisdom like, "Lingerie is simple, depending on if you're wearing forms, or if you're on hormones. If you don't know your bra size, find someone who can measure you. Your undergarments are the base of any outfit, they have to fit appropriately."
And happily, customers can look forward to seeing more of Neary in Yours Clothing's future campaigns.
"From what [brand executive Rosie Middleton] told me, they most definitely want to use me in the fall for possibly a more diverse collection," Neary says. "One where they pull out a full LGBT representation."
For now, Neary has one last piece of advice to offer. "I come from an older generation of trans people, where you were fearful to be spotted for being trans," she explains. "I focused on passability. Now, what I want to tell trans [people] is just be yourself. Whatever comes along with that, be yourself. You don't have to hit either side of the [gender] margin, and your style can represent that. If you want to put on a dress and a blazer, you rock that."