'The Mindy Project' Is Pro Romance, Just Not For Mindy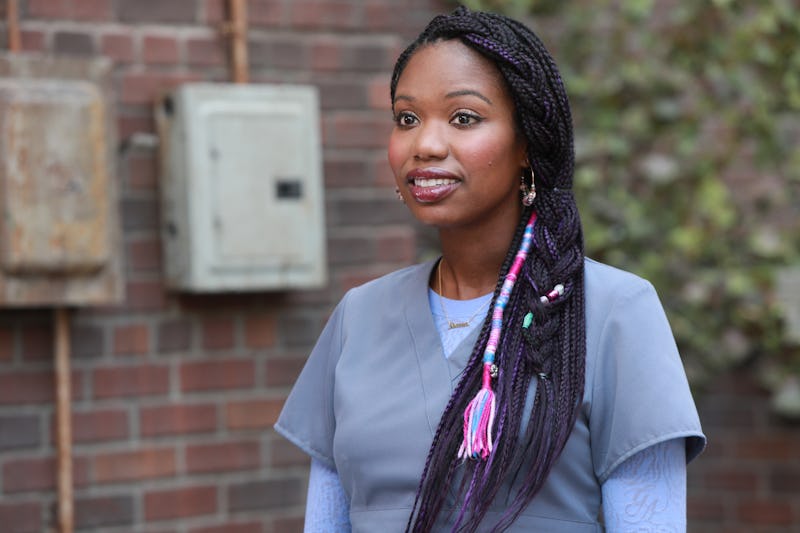 Jordin Althaus/Hulu
Turns out, romance isn't completely dead on The Mindy Project. While Mindy has been embracing a more realistic than whimsical approach to life, her coworkers are coupling up like the end of a Jane Austen classic. Anna and Jeremy are together and happy, Jody and Mary may possibly be at the start of something new, and Tamra and Morgan got engaged on The Mindy Project in Tuesday's latest episode. Love is in the air after all.
Tamra, as we already know, is pregnant with Morgan's baby but was hiding that news from her coworkers and planned to pass it off as artificial insemination. After the gossip train in the office ran off the rails, with everyone thinking that Tamra and Jody were secretly dating and parents to be, the truth came out and Morgan proposed. Apparently Jeremy has gotten Anna into gossip now, and it would be adorable if it didn't cause so much confusion.
Upon learning he was about to be a father, Morgan almost immediately proposed to Tamra. She asked for her coworkers' advice, and Mindy did something that would be surprising before this season. She advised Tamra to take the practical route rather than give in to romantic overtures. It's easier for them to tell her to follow her heart, Mindy said, rather than consider the long term affects of someone else's life decision.
Clearly Tamra did not take Mindy's sage advice, because she agreed to marry Morgan anyway. This on again/off again relationship is decidedly on in a major way. Tamra and Morgan seem happy together already, but what exactly is The Mindy Project trying to say about love and marriage? One second, Mindy and Danny are seemingly denouncing the institution and the next thing you know, two other characters are getting hitched. The endgame of this show is as unclear as ever.
Also, is Mindy going to get back together with Brenden Deslaurier now? The midwife was back this week, and urged Mindy to give romance another chance in life after seeing how far she'd journeyed in the opposite direction. The longing look she gave Brenden's crystal gift (yep) makes it seem like she might end up not taking her own advice as well — or maybe she was just thinking about his advice. Perhaps, and this is just a shot in the dark, the lesson that Mindy needs to learn is that romance and marriage are not interconnected. She's always been a romantic, but that was always tied to the romcom's promised prize — a wedding. Perhaps she just needs to take love as it comes, without rushing towards any prescribed end goal.
Back to Tamra, she started off this season making a strong decision to become a single mother by choice. While it would be wrong to fault her for changing her mind, it is interesting that she's stumbled into a more traditional situation. Her path has taken the opposite direction as Mindy Lahiri's. Life is never expected — maybe that's what The Mindy Project is setting out to preach. Marrying Morgan is not the worst decision in the world. He's a mess, but Mindy didn't know the extent of Tamra's feelings towards the goofy nurse.
Also — special shoutout to the Disney references this week. Who knew you needed to have every character's hot take on the true message of Frozen, only to have Brenden solemnly declare "I am Moana" at the end of the episode? Hilarious. Also, thank goodness he finally called out that there are an absurd number of unplanned pregnancies happening at an OB/GYN office.
Pieces are moving around and true feelings are coming out as The Mindy Project series finale draws ever closer. Does being practical mean Mindy has to close off her heart forever? Hopefully not, and that should be one of the many questions that this series will answer before the final episode.