This New True Crime Series On Amazon Will Absolutely Terrify You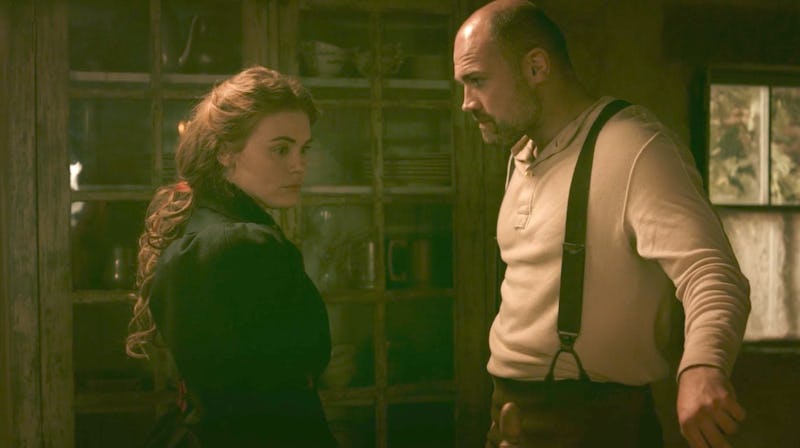 Amazon
The new Amazon series Lore uses a mixed medium approach to storytelling, combining animation and documentary footage along with scripted adaptations of true stories that delve into certain legends and fears. One of the most interesting about this storytelling method is that it's educational as well as terrifying, particularly when it comes to the treatment of marginalized groups and mental illness. For example, the scariest thing about the "Black Stockings" episode of Lore isn't how Bridget Cleary died, it's the larger implications about how society views powerful women. At New York Comic Con in a round table interview with reporters, the cast and producers of Lore discussed how the show will stay with viewers long after they finish watching, and why that's a good thing because the show deals with some pretty major social themes.
The "Black Stockings" episode begins with a recent true story about the 2009 murder of Caroline Coffey and the resulting trial, People of the State of New York v. Blazej J. Kot. In that case, Kot was convicted of murdering his wife, per the Ithaca Journal. In the trial, Kot's lawyers attempted to argue an insanity plea known as Capgras Syndrome, the irrational theory that a loved one has been replaced by an imposter — which is what Kot's lawyers argued he'd suffered from at the time of the murder. The episode alleges that Kot was somehow jealous of or unable to process his wife's more successful career, and that's allegedly why he killed her. As The Ithaca Times reported, Coffey was "at the time of her death, pretty and bright and a promising and intellectual young woman." The paper further reported:
Remembered for her intelligence and curiosity, she graduated second in her class at Scranton Preparatory School and had been a visiting professor at St. Joseph's University by the time she was 26. She'd gotten her doctorate in comparative biomedical sciences at Cornell and stayed on to do post-doctoral research at the Vet School. The professional work she was doing at the time of her death involved researching stem cells in search of a cure for cancer.
Whatever the reason for his actions, Kot was eventually convicted of second degree murder and sentenced to 25 years to life in prison, according to the Cornell Sun.
That story's context is used to transition the episode into an Irish myth about changelings — fairies who steal your identity. One of those women was Bridget Cleary, whose husband ultimately burned her alive, fearing that a fairy had replaced his wife, according to the New York Times. "She was this independent woman in the 1890s Ireland," says Holland Roden, who plays Bridget in the episode.
It was known in town that her business was supporting the family. The dramatic interpretation depicted in the show makes it seem like her husband Michael didn't know how to process or handle her success, and therefore let himself believe that his wife had been replaced by something evil instead. It's an interesting look into how society internalizes patriarchal values — with horrifying results. Especially since as recently as 2009, this imposter "argument" was being used in the case of another real murder.
"We don't burn witches. We use our hate, but in other ways."
You don't have to look far to prove that modern society still fears a woman in power. "We're facing going back to that [type of oppression] now," says Lore executive producer Gale Ann Hurd. "It's surprising to me that people think it's a good thing that the Equal Rights Amendment didn't pass. We're really not that far ahead in terms of society's fear about women who are powerful. These [legends and true stories] can also serve as cautionary tales and remind people of what can happen if we go backward."
At the panel for the show, Hurd talked about how people are still marginalized today — and Lore can be a reminder of just how systemic oppression is in society. In 2017, Aaron Mahnke added at the panel, "We don't burn witches. We use our hate, but in other ways."
It's not all bad. We have made progress, and there are ripples and results that lead to change. "The effect of the Bridget Cleary case," continues Hurd at the round table, "was that the Irish people were considered so backward that they were not able to gain independence." Those political repercussions are discussed in Angela Bourke's book The Burning Of Bridget Cleary. "So there are negative consequences that are beyond what happened to those individual people and their families," Hurd adds.
That spark of change helped draw Roden to the role as well. "I love that Bridget was one of the last cases [of so-called changeling murders] in Ireland," she claims. "Her husband was persecuted for what he did to her, and I appreciate that." (The NYT reported that "Michael served 15 years for manslaughter.")
The episode also takes a brief moment to highlight one man, Frank Butler the sharpshooter, who fell in love with a powerful woman who was better than him at his own specialty, and yet he wasn't threatened. Even though he is often portrayed in fictional retellings, like the musical Annie Get Your Gun, as jealous, by all historical accounts Butler was supportive, as True West Magazine backs up. Isn't that fascinating, that those who seek to retell his tale assume he must have resented Annie's talent? Again, it's deeply internalized patriarchy at work.
The stories in Lore can be scarier than The Handmaid's Tale, because they actually happened. However, the educational value is a silver lining in that it (hopefully) keeps us from repeating the past and helps us look backward in order to go forward.