Sci-Fi Fans, Get Ready To Freak Out Over The 'Blade Runner 2049' Soundtrack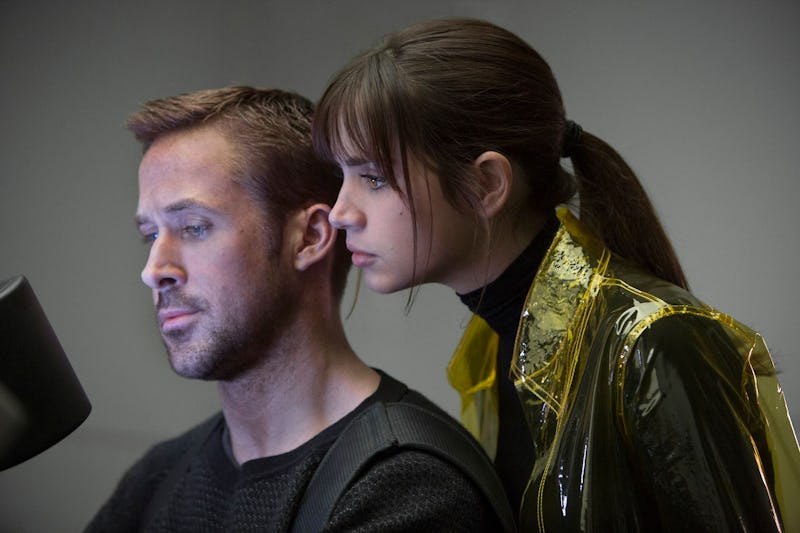 Warner Bros. Pictures
The original score to Blade Runner earned composer Vangelis both a BAFTA nomination and a Golden Globe nomination for Best Original Score. Ask any Blade Runner fan and they will tell you that the score is, in a word, iconic. So the Blade Runner 2049 soundtrack has a lot to live up to. But the journey to creating the Blade Runner 2049 original score was not an easy one, and that has caused many fans to wonder what kind of music the new film will have to offer.
Unlike Blade Runner star Harrison Ford, Vangelis did not return to work on the sequel. Instead, Blade Runner 2049 director Denis Villeneuve brought on his frequent collaborator, composer Jóhann Jóhannsson (Arrival, Sicario). However, in July of 2017, just months before the film's scheduled release date, two new composers were brought on to help move the score along, Benjamin Wallfisch (Hidden Figures) and Hans Zimmer (Inception). At first it was reported that the three composers would be working together to tweak the score and create the final sounds, but now it seems that Zimmer and Wallfisch have officially taken over. Switching up such a huge part of the film — perhaps the entire score — so late in the game is a bit of a red flag, but fans of the original Vangelis score should have nothing to worry about.
Speaking about his decision to bring in Zimmer and Wallfisch in July, Villeneuve assured fans that it wasn't because of any behind the scenes drama, but rather an attempt at bringing the new score closer to the spirit of the original. "It's hard to get Vangelis' angle," he said according to Studio Ciné Live, via The Verge. "We have Jóhann's breathtaking atmospheric sounds, but I needed other things, and Hans helped us." Villeneuve's commitment to paying homage to Vangelis' original score was always important to the director. The score even appeared in one of the first teasers for Blade Runner 2049. "There's some components in the original movie that made that movie stand out. And one of those components is the music," he said in an interview with Collider. "It's a very specific sound, and for me there was no negotiation about that. It's very important that the music of 2049 would be directly inspired from Vangelis' work."
Villeneuve has continued to insist that Zimmer and Wallfisch replaced Jóhannsson because he wanted the new score to be closer to Vangelis' original. "The movie needed something different, and I need to go back to something closer to Vangelis," he said in an interview with Al Arabiya English. "Jóhann and I decided that I will need to go in another direction — that's what I will say." The director added that he hopes to work with the composer again in the future. It's unclear whether or not this really is the true story. According to a report by Iceland Review, Jóhannsson is under contract not to comment on the situation. And we may never know what really went down during the production of the Blade Runner 2049 original score and soundtrack.
Regardless of any behind the scenes drama, the Blade Runner 2049 score and soundtrack are ready to go, but when exactly it will be available for your listening pleasure is unclear. Currently, fans can pre-order the official Blade Runner 2049 soundtrack in a special edition 2-disk CD set for $20.49 on the film's official website. The special edition comes with elaborate cover art and a digital download to be released on Oct. 6. The CD is not yet listed on Amazon or other sites that normally offer pre-release orders and it's unclear what version of the soundtrack will be released on CD in the immediate future.
However, the powers that be are planning on releasing the album for digital download on Thursday, Oct. 5, so you'll have plenty of opportunity to immerse yourself into the Blade Runner 2049 musical world.