The CW's 'Valor' Could Address The Transgender Ban — Well, Maybe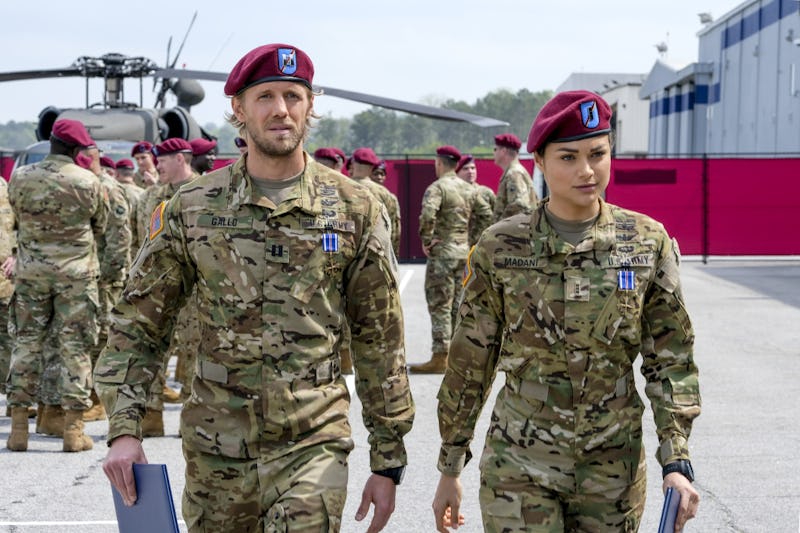 The CW
Things that The CW is really good at: sexy vampires, brooding superheroes, angsty teen drama ... and now with Valor, stories about the military? Yes, the young network is aiming to break new ground with a conservative genre normally reserved for NBC, ABC, CBS and FOX. From writer and musician Kyle Jarrow, Valor (premiering Oct. 9 at 9 p.m.) follows Nora Madani (Christina Ochoa), one of the first females in the elite unit of helicopter pilots trained to perform clandestine international and domestic missions, as her team works to rescue a group of MIA soldiers. Madani juggles PTSD, her pain pill addiction from an old war wound, her complicated relationships with her boyfriend, First Lieutenant Ian Porter (Charlie Barnett), and her captain Leland Gallo (Matt Barr), all while working to uncover a conspiracy within the army about a mission gone awry.
In the series premiere alone, Valor dives deep into all the messy personal relationships of all the military characters and their home lives. But 2017 is a time when military issues are constantly making headlines (and not in a good way), most recently the proposed transgender ban. So will Valor tackle these real-life issues within the narrative of the show?
"The way we address it is as storytellers as much as possible by relaying stories and the plight of people that are going through these issues within the military," Ochoa tells Bustle on location at a small airport in Atlanta. "We are trying to avoid the idea of sending a political message per se but we definitely have a political message within our content."
Raising her voice to be heard over an airplane engine behind us, she shields her eyes from the sun as she extols the virtues of Valor's feminist angle. "Telling the story from a female perspective vs. a male perspective is a political statement in itself; it's a social statement," she says. "It's something that we're doing very conscientiously. It's something that I think, after the election and in the political climate that we have, has been a very strategic move on behalf of the network, the showrunners and everybody involved."
Barr hopes that Valor inspires more acceptance in viewers and shows that everyone deserves to fight for their country. "We all fight and die for the same things, no matter who you are or the way you live," he says as he adjusts his regulation-ready military jacket. "It's amazing what awareness does. It's an education in itself to put it out in the world. Once you see, you start to understand and you start to accept. It's politically correct to be progressive and it's appropriate."
Barnett believes the reason why military dramas are so popular this year is because it's something that everyone can agree on, regardless of politics. "Because of where we are in the world and seeing the country so divided, the military really is the common denominator," he says. "It's this world where people of all kinds of class, all kinds of culture come together to serve our country."
So by telling a story about the military, they are able to bring controversial subject matters into conversation and kick start change in a subtle way. "I feel like I'm actually doing something that's going to maybe help," Barnett says. "Maybe put more of a communication into the works, if not just make people a little more aware on both sides."
In fact, according to Barnett, Valor might take on the transgender ban in a big way soon. "I know we've been talking about bringing in a trans member [on the show]," he says. "I don't know where that's going but I would love to see that represented and given its due and honored, especially with what's happening. I will be fascinated to see how much we could pull from what's going on in our world right now."
To hear every cast member tell it, it's impossible to avoid politics on a show about the military. "The military has politics completely enveloped in it from every corner," Barnett says. "Just getting a mission approved takes a certain degree of politics."
But W. Tre Davis, who plays captured soldier Jimmy Kam, knows from personal experience that for people within the military, politics is usually far from their minds in the moment.
"I come from a military family, I've had more than a few service members serve in a war," he says. "No one ever talks about politics when they're involved. Most of their experience is about doing the best that they can to make sure that the person next to them doesn't get hurt or killed. Just being the best soldier that you can be has very little to do, in the grand scheme of things, with who the president is."
But he is excited to explore what something like religion can mean to a soldier, as Jimmy is an Islamic black man.
"Hopefully we're giving a different side of what it means to have to reconcile something like religion with fighting an enemy," Davis says. "We're always looking for those conversations."
If Valor is looking to pull real-life issues from the headlines for story ideas, there is certainly already enough content to last several seasons.