The DoJ Won't Defend Trump's Immigration Order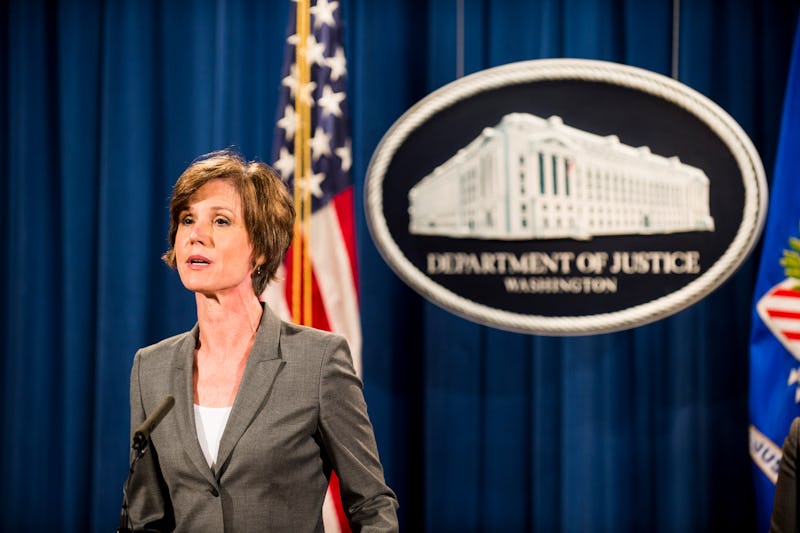 Pete Marovich/Getty Images News/Getty Images
According to CNN's Jim Sciutto, the Justice Department won't defend President Trump's immigration order, illustrating a remarkable split in the federal government's response to the Trump's travel ban, which his administration implemented on Saturday. The decision was announced in a letter by Acting Attorney General Sally Yates, a holdover from President Obama's administration, and it is exceedingly unusual, as Attorneys General almost always defend the White House's actions in court.
"I am responsible for ensuring that the positions we take in court remain consistent with this institution's solemn obligation to always seek justice and stand for what is right," Yates told Justice Department lawyers in a letter. "At present, I am not convinced that the defense of the executive order is consistent with these responsibilities nor am I convinced that the executive order is lawful."
This is not the first instance of conflict between America's judicial and executive branches that's arisen over Trump's executive order, which banned all travelers from seven Muslim-majority countries from entering America. Over the weekend, U.S. border patrol agents refused to comply with a federal court order requiring them to allow detainees at Washington Dulles International Airport to speak with their lawyers. This prompted one member of Congress, Rep. Don Beyer of Virginia, to declare that "we have a Constitutional crisis today"; he was not wrong.
"For as long as I am the acting attorney general, the Department of Justice will not present arguments in defense of the executive order, unless and until I become convinced that it is appropriate to do so," Yates wrote in the letter.
Yates was Deputy Attorney General when Obama-appointee Loretta Lynch held the top spot, and became Acting Attorney General the day Trump took office. Trump does have the authority to fire her from that post; however, Yates is the only one in the U.S. government with the legal authority to sign foreign surveillance warrants, according to The New York Times, so the administration wouldn't be able to procure such warrants until a replacement was confirmed by the U.S. Senate.
Trump has nominated Alabama Sen. Jeff Sessions to lead the Justice Department, and on Tuesday, the Senate Judiciary Committee will vote on whether or not to send Sessions' nomination to the Senate floor for confirmation. As The New York Times pointed out, this confluence of events effectively makes Sessions' confirmation hearings a referendum on Trump's immigration order, as the Alabama senator almost certainly would defend the policy in court.
Either way, this latest incident reveals again how enormously divisive Trump's moves on immigration have been — to everyday Americans, yes, but also within the federal government itself.