The One Chrissy Teigen Instagram To Look At When The World Is Too Much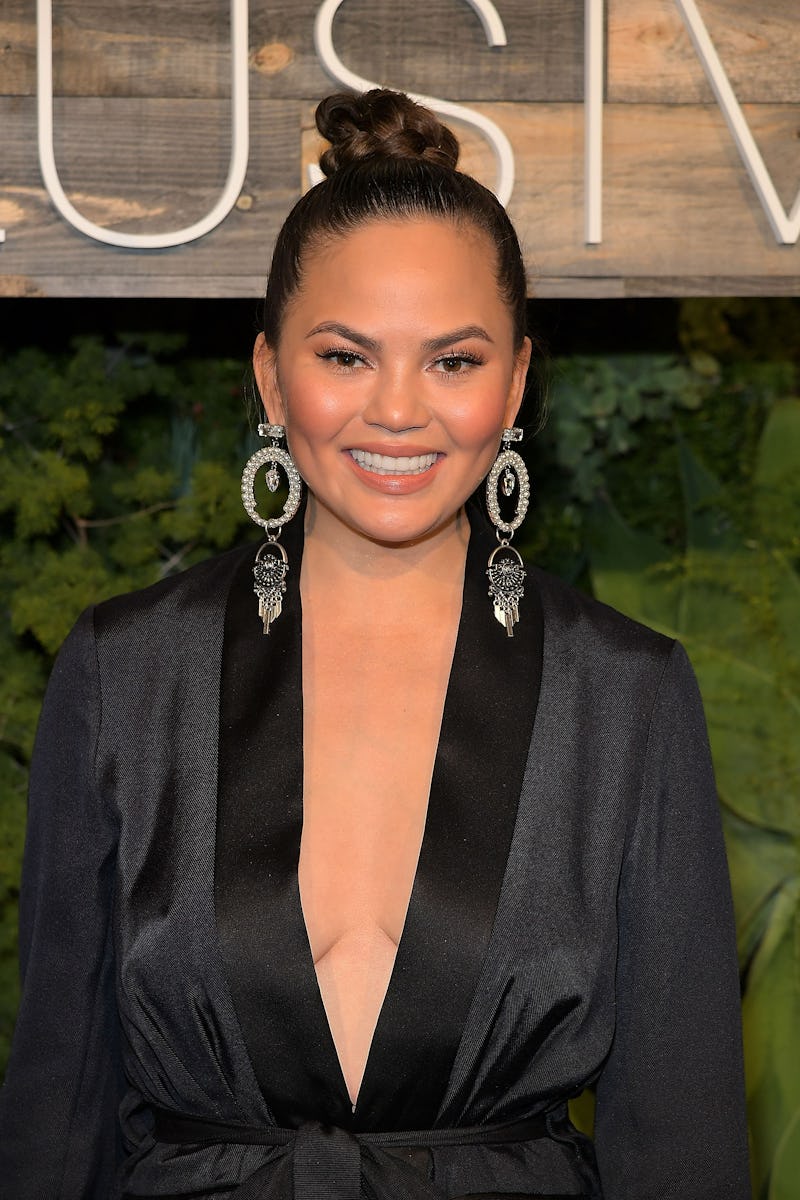 Charley Gallay/Getty Images Entertainment/Getty Images
What a time to be alive. Every day as you wake up there's that 15 seconds of bliss, then the panic as you reach for your phone to see what garbage scenario is up next. What fresh hell will today bring? you think, hoping you can still get birth control. Times are tough, and it can feel like your human brain was not designed to handle so much bad news. You have to find respite wherever you possibly can, and one wonderful place for just that is Chrissy Teigen's Instagram.
Teigen's life is filled with adorable dogs, her adorable husband, John Legend, her adorable mom, and of course, the most adorable baby, miss Luna Simone Stephens. There are so many legendary Luna Instagrams to look at for some visual therapy, but if I had to pick just one Chrissy Teigen Instagram to look at when the world feels like too much, it would clearly be Luna in a hot dog costume.
Last year for Halloween, Teigen went buck wild with Luna's costumes, and thank goodness she did. Baby Luna is 18 months old now and she's growing fast, but when she was trying on all of her Halloween getups last year she was still in the chubby-cheeked baby phase. Besides the hot dog, Luna also tried out a peacock, Minnie Mouse, a banana, Little Red Riding Hood, a hula dancer, a Pink Lady from Grease with the most amazing miniature satin jacket, and Alice in Wonderland.
They're all so adorable and you'll just want to squeeze Luna's little cheeks, but they're made even better by the fact that Luna looks totally over every one of the weird costumes. She's like, "What is the point of this? I'm a human baby, not a banana." Which is why the hot dog costume Instagram comes out on top— Luna Stephens as the cutest little hot dog you ever did see, with the most resigned look on her face.
Who knows what it is about babies with extremely adult expressions or mannerisms that is so stinkin' cute, but they are. Definitely save this photo of little Luna the hotdog to your phone so you have quick access to it. When you see #NorthKorea trending on Twitter, turn to Luna the hot dog. When you see the name of an old guy alongside the word "allegations," look at Luna instead of diving into the horrible news. Because Chrissy Teigen and John Legend's beautiful progeny looking extremely weary as a hot dog that has seen some things is all of us. She's like, "What next? What could possibly be next?" In fact, the caption Teigen wrote reads, "Have you ever seen a more 'why me' face?"
Of course, while the hot dog photo is the best one for soothing your world-weary anxiety, there are plenty of runners-up on Teigen's Instagram that will help your heart rate slow down when you're inundated with big, bad headlines. In June, Teigen posted the cutest video of Luna dancing, and here she is trying on some spectacles and looking a whole lot like Dwight Schrute:
Any picture of Luna and her dad — who was Luna's twin when he was a baby — is almost too much to handle, but this photo of Luna helping him tickle the ivories before the Oscars is especially sweet. This one comes from Legend's Instagram. She's a tiny Mozart!
But it really is Luna the hot dog that will cure your woes the quickest. It's silly, it's adorable, and she's got that expression on her face that really captures just how wacky and ridiculous the world we're living in is. Let Luna the hot dog be your therapist when the world is too much — there's no co-pay!