Reese Witherspoon Just Destroyed The Rom-Com Culture She Came Up In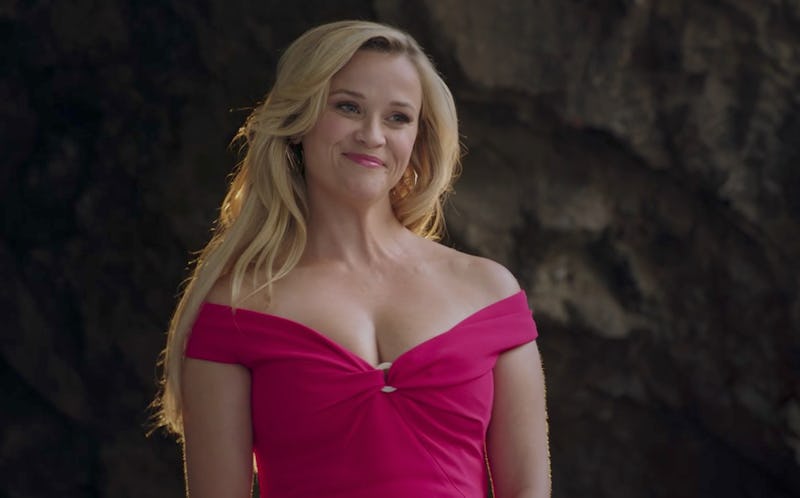 Hulu
Who better to disillusion a show obsessed with romantic comedies like The Mindy Project than a verifiable "chick flick" queen like Reese Witherspoon? Kaling's Wrinkle In Time costar could not have appeared at a more perfect time. In the most recent episode, Reese Witherspoon cameos on The Mindy Project and encourages Mindy to find herself — the show's slow takedown of Hollywood fantasy-based disillusionment is coming to a head.
In a moment of crisis during her "one-ymoon" vacation, the actor appears to Mindy Lahiri and offers some valuable advice. Mindy is already "doing Wild" (book, not movie, for all the Gilmore Girls: A Year In The Life fans out there) before Witherspoon appears. Mindy had purchased and skimmed the Cheryl Strayed novel and is embarking on a hike as part of the trip. However, Mindy's focus is in the wrong place. Instead of enjoying the vacation and taking in her surroundings, she obsesses over her ex-fiancé Casey's marital problems. It isn't until the group abandons her for being physically weak that Mindy gains some inner strength.
"Snap out of it," cries Witherspoon, as herself, there to deliver some hard truths. "I thought you were supposed to give me advice like 'I will find my one true love if I give up my big city ways and go back to my down home roots,'" Mindy replies, summarizing Sweet Home Alabama.
"Movies aren't real, Mindy," Witherspoon replies. As for Wild, she says, "If you had read it, or watched the movie, you'd know that life isn't about finding a man. It's about finding yourself." She then goes on to list other plot elements from her film history that would never happen in real life, like shutting down Tiffany's for a single marriage proposal, also from Sweet Home Alabama. "Sometimes life doesn't have a happy ending," Witherspoon says, getting to the real hard truth, "you're going to have to save yourself."
That's the message that the final season of The Mindy Project is really trying to send us all home with — that happy endings aren't always what you think, maybe won't happen at all, and that relationships and marriage should not necessarily be what everyone is working towards. The Mindy Project has paid homage to many romantic comedies over six seasons, and now it's taking off those rose-colored glasses.
Aside from Wild, there is also an hilarious homage to 127 Hours in the episode where Mindy is forced to give herself a bob with toenail clippers when her hair gets caught in a rock formation. (It doubles as a deconstruction of the emotional breakdown haircut trope from romcoms, where a character chops off their own hair in a moment of distress/attempting a big change.)
In the final moment of the episode, at a campfire, Mindy's mind wanders and seemingly toys with the idea of going back to Danny Castellano. Why?! The Mindy Project keeps telling us one thing about relationships, and then dangling the Italian indie darling that is Chris Messina back in the audience's face. Is she going to end up "finding" a man anyway?
It's possible, but these hard truths about finding yourself and saving yourself can't be for nothing, however, and the actual sweetest part of that campfire scene came from Mindy's annoying roommate Martha. "Life is long," said the recent widow. You don't hear that too often, but it's true. Rushing into things or constantly looking for what's next is just as bad as wasting your time, in a different way.
More and more, it seems like The Mindy Project is going to leave fans with an uncertain ending in the series finale. The mixed messages aren't necessarily bad, they just offer different points of view. Maybe Mindy and Danny will get back together. Maybe Mindy will finally slow down, and enjoy her life as herself. Either way, she'll probably never see This Means War in the same way ever again.