This Bush Family Update Will Set Your Mind At Ease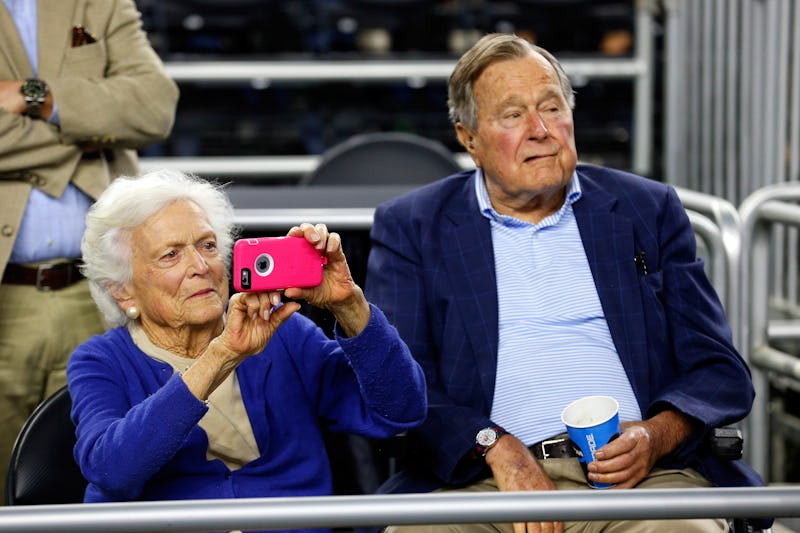 Tom Pennington/Getty Images Sport/Getty Images
Not all the Bush presidents were in attendance at Friday's inauguration. Sadly, former President George H.W. Bush remains hospitalized in Houston following complications from pneumonia. Although Bush is currently in the intensive care unit, Bush's health is stable and he is "comfortable," according to a statement released Friday.
Bush was taken to Houston Methodist Hospital over the weekend after reportedly suffering from shortness of breath, a complication of his recent bout of pneumonia. A family spokesperson said Bush was moved to the intensive care unit on Wednesday, several days after he arrived at the hospital, USA Today reported. Doctors intubated Bush to help aid his breathing.
According to the Associated Press, Bush remained in the intensive care unit on Friday. Doctors were considering removing the breathing tube. Despite the seriousness of his illness and complications, Bush is currently in stable condition, the AP reported.
His wife, former First Lady Barbara Bush, was also hospitalized this week for a respiratory illness. Barbara currently remains in the hospital. Barbara was admitted to Houston Methodist on Wednesday for bronchitis. The 91-year-old reportedly had had fatigue and coughing fits for the last few weeks. The former first lady was reportedly doing much better by Friday. Family spokesperson Jim McGrath said Barbara improved after receiving some medicine. However, she remains at Houston Methodist.
McGrath told CNN on Thursday that both Barbara and George H.W. Bush are on the "upswing" and that their health has improved. McGrath said in a statement: "They may not be out of the woods yet, but we can see the edge of the forest." McGrath added to CNN that Bush "has a ways to go, but it's hard not to be encouraged." Meanwhile, Barbara was feeling better after receiving antibiotics, McGrath said.
George H.W. and Barbara Bush have attended every inauguration since he left the White House in 1993, so the couple was surely missed on Friday. Although they couldn't be in attendance at Friday's inauguration, former President George W. Bush and former First Lady Laura Bush were in the audience alongside former Presidents Barack Obama and Bill Clinton, and former First Ladies Michelle Obama and Hillary Clinton.
The fact that George W. and Laura Bush attended the presidential inauguration is a good sign for George H.W. Bush. According to McGrath, neither George W. nor Jeb Bush has visited their father in the hospital because his health is stable.