Tom Petty's Last Performance Proved He Was One Of The Greats — UPDATE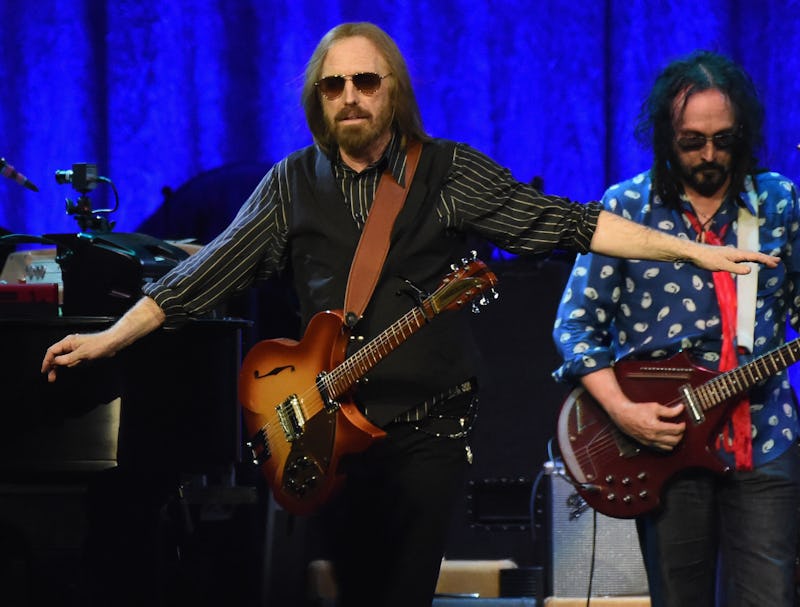 Rick Diamond/Getty Images Entertainment/Getty Images
Update: Late Monday night, manager Tony Dimitriades confirmed that singer Tom Petty "died peacefully at 8:40 p.m. PT surrounded by family, bandmates and friends." He said that Petty could not be revived after going into cardiac arrest in his Malibu home.
Update: At 4:55 p.m. on Oct. 2, the LAPD tweeted that they had "no information about the passing of singer Tom Petty.. Initial information was inadvertantly [sic] provided to some media sources. However, the LAPD has no investigative role in this matter. We apologize for any inconvenience in this reporting." Bustle had reached out to Petty's reps and the LAPD for confirmation, but did not receive a response by the time of publication.
Update: TMZ is reporting that claims of Petty's death were premature and that the singer is still "clinging to life," but is not expected to live through the day.
Earlier: Tom Petty, who passed away at the age of 66 on Oct. 2 after going into cardiac arrest in his home on Oct. 1, was an absolute legend of rock and roll right up until the end. The leader of the Heartbreakers had just finished a six month-long North American tour with his backing band by performing for three nights at the Hollywood Bowl in Los Angeles, California, and sadly the show on Monday, September 25, 2017 now stands as Tom Petty's last performance.
The sold-out concert on Sept. 25 followed two earlier sold-out shows at the venue on Sept. 21 and Sept. 22, and the star — known for hits like "Free Fallin',", "Breakdown," and "I Won't Back Down" — played a number of his memorable songs from throughout his four decade career. You can see the full track list for his final performance below, courtesy of the band's website:
"Rockin' Around With You"
"Mary Jane's Last Dance"
"You Don't Know How It Feels"
"Forgotten Man"
"I Won't Back Down"
"Free Fallin'"
"Breakdown"
"Don't Come Around Here No More"
"It's Good To Be King"
"Crawling Back to You"
"Wildflowers"
"Learning to Fly"
"Yer So Bad"
"I Should Have Known It"
"Refugee"
"Runnin' Down A Dream"
"You Wreck Me"
"American Girl"
The concert was the conclusion of Tom Petty and the Heartbreakers' 40th anniversary tour. The band, who released their self-titled first album in 1976, had a final iteration that included three original members in addition to Petty: Lead guitarist Mike Campbell, keyboardist Benmont Tench, and bassist Ron Blair. The band also featured multi-instrumentalist Scott Thurston, who joined in 1991, as well as drummer Steve Ferrone, who became one of the Heartbreakers in 1994.
As for the setlist for Petty's final concert, the rocker proved that he remained relevant till the end by pulling tracks from throughout his accomplished history as a songwriter and performer, rather than simply performing only his greatest hits from early in his career like many classic rock stars are often tempted to do. Five of the songs from the final concert came from Petty's 1994 solo album Wildflowers, four were off of his 1989 solo album Full Moon Fever, and three came from 1976's Tom Petty & the Heartbreakers. One song apiece came from the following six albums Petty recorded with the Heartbreakers: 1979's Damn the Torpedoes, 1985's Southern Accents, 1991's Into the Great Wide Open, 1993's Greatest Hits, 2010's Mojo, and 2014's Hypnotic Eye.
Before embarking on what would be his last tour, Petty stated that it might be the final major tour for him and the Heartbreakers. "I'm thinking it may be the last trip around the country," Petty told Rolling Stone's Andy Greene in December of last year. "It's very likely we'll keep playing, but will we take on 50 shows in one tour? I don't think so. I'd be lying if I didn't say I was thinking this might be the last big one. We're all on the backside of our sixties. I have a granddaughter now I'd like to see as much as I can. I don't want to spend my life on the road."
Petty's final performance at the Hollywood Bowl proved that he was one of the greats right up until the very end, having never lost his skill or relevance as a rock and roll legend. He will be sorely missed by all who heard his music.