Trump Wants You To Know His Staffers Never Called Him "Idiot" Like This New Book Claims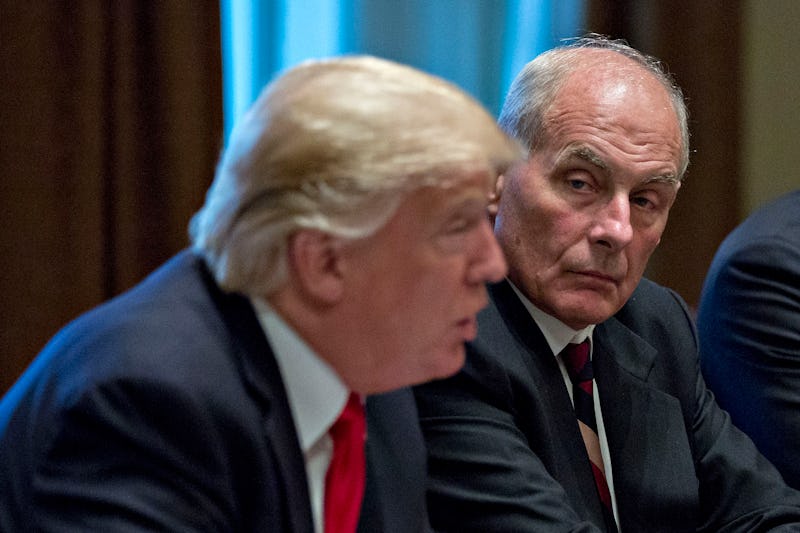 Pool/Getty Images News/Getty Images
Yet another book about the inner workings of the Trump White House is scheduled for release soon, and as news outlets begin syphoning through advanced copies, Trump officials have also begun denying that the book's contents are accurate. Trump's response to Bob Woodward's book, Fear, are rather similar to how he responded to other tell-alls, though this time the White House is releasing individual statements from administration members reportedly quoted in the text.
"The Woodward book has already been refuted and discredited by General (Secretary of Defense) James Mattis and General (Chief of Staff) John Kelly," Trump tweeted Tuesday night. "Their quotes were made up frauds, a con on the public. Likewise other stories and quotes. Woodward is a Dem operative? Notice timing?"
The book, which is scheduled to be released on Sept. 11, contains reports and direct quotes wherein senior members of the administration insult Trump, and express concern about his mental capacity, according to CNN, who received an advanced copy.
"He's an idiot. It's pointless to try to convince him of anything. He's gone off the rails. We're in crazytown," Chief of Staff John Kelly is reportedly quoted saying in the book. "I don't even know why any of us are here. This is the worst job I've ever had."
In a statement shared on President Trump's Twitter account, Kelly categorically denied calling Trump an idiot:
The idea I ever called the President an idiot is not true, in fact it's the opposite. As I stated back in May and still firmly stand behind: I spend more time with the President than anyone else, and we have an incredibly candid and strong relationship. He always knows where I stand, and he and I both know this story is total BS. I'm committed to the President, his agenda, and our country. This is another pathetic attempt to smear people close to President Trump and distract from the administration's many successes.
Kelly is far from the only person from the administration quoted in the book. Defense Secretary James Mattis is reportedly quoted saying that Trump has the understanding of "a fifth or sixth grader," according to CNN. And Trump's former personal lawyer John Dowd is quoted calling Trump a liar, and advising him that he would end up in "orange jump suit" if he agreed to testify before the special counsel, also per CNN. Both Mattis and Dowd have released statements denying that they made these comments.
"In serving this administration, the idea that I would show contempt for the elected Commander-in-Chief, President Trump, or tolerate disrespect to the office of the president from within our Department of Defense, is a product of someone's rich imagination," Mattis said in a statement shared by Trump.
Press Secretary Sarah Huckabee Sanders also released a statement, which Trump similarly tweeted:
This book is nothing more than fabricated stories, many by former disgruntled employees, told to make the President look bad. While it is not always pretty, and rare that the press actually covers it, President Trump has broken through the bureaucratic process to deliver unprecedented successes for the American people.
If previous Trump-related book releases are any indication, the conversation will likely continue in a similar fashion — excerpts will circulate, and the administration will contest their veracity. There has been speculation regarding whether Woodward recorded the interviews he conducted while writing the book, but whether he would release those interviews to defend himself is currently unclear.