Tom Petty Would Leave Behind A Heartbroken Family — UPDATE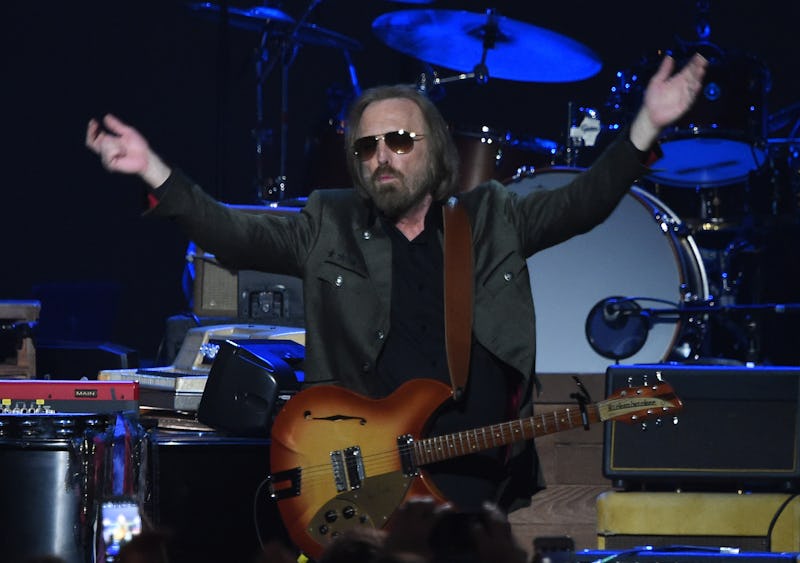 ROBYN BECK/AFP/Getty Images
Update: Late Monday night, manager Tony Dimitriades confirmed that singer Tom Petty "died peacefully at 8:40 p.m. PT surrounded by family, bandmates and friends." He said that Petty could not be revived after going into cardiac arrest in his Malibu home.
Update: At 4:55 p.m. on Oct. 2, the LAPD tweeted that they had "no information about the passing of singer Tom Petty.. Initial information was inadvertantly [sic] provided to some media sources. However, the LAPD has no investigative role in this matter. We apologize for any inconvenience in this reporting." Bustle had reached out to Petty's reps and the LAPD for confirmation, but did not receive a response by the time of publication.
Update: Tom Petty is reportedly alive and fighting for his life at a Los Angeles hospital. A report from TMZ states that the singer has a do not resuscitate order and the odds of recovery are slim.
Earlier: In tragic news, iconic singer Tom Petty has died after being found unconscious in his Malibu home on Sunday night, CBS reports. The circumstances surrounding his death remain unclear as conflicting reports emerge, but the loss of the musician has already left friends and fans reeling. Tom Petty was married to Dana York, though it is unclear whether she was present at their Malibu home when he went into cardiac arrest. Petty was 66 years old, and the two had been married for a little over 16 years.
Petty might have lived a rockstar life, touring the globe with his band, Tom Petty and the Heartbreakers, but his personal life was a much quieter affair. Petty and York married in 2001, first in Las Vegas and then again a few weeks later in a small ceremony with friends and family. Little Richard, another famous musician, acted as the minister. "He was really nervous, but so was I," Petty told the Chicago Tribune of Little Richard's ceremony. "He gave a long talk about love and its characteristics, and what it shouldn't do. He was pretty inspirational." In 2014, their relationship seemed as strong as ever, with Petty telling Billboard magazine that his romantic life was perfectly stable, something that was reflected in his music's lack of romantic angst. "I don't write as many love songs as I used to. I'm not in any love crisis at the moment."
The road to married bliss was a long one for Petty. Prior to his relationship with York, the musician was married to his first wife, Jane Benyo, for 22 years. Married in 1974, Benyo and Petty had been together for years before Petty became a bonafide rockstar, and adjusting to life in the spotlight was difficult for the pair. As detailed in Petty: The Biography by Warren Zanes, their relationship had many ups and downs, fueled by drug use and the demanding schedule of Petty's stardom. In a 1991 interview with The Rolling Stone, Petty declared his love for his first wife, telling the magazine, "I'm very much in love with Jane. I'm still thrilled about her." At the time the singer admitted that his marriage had been through the ringer, adding, "But there were times when we definitely were not getting along, when we fought like f*cking Apaches, you know. I'm lucky they still let me live in this neighborhood." The two divorced in 1996.
Shortly after Petty divorced his first wife, he reconnected with York, whom he had met at a concert in 1991. According to Petty: The Biography, via The Daily Mail, Petty and York quickly fell in love, but the rockstar had another battle to win before the two would be married: one against his heroin addiction. "I'd stepped onto a fast-moving train, but we were having moments of tremendous happiness. Chaos and darkness and all this happiness at the same time," York is quoted as telling Zanes in the book, via The Daily Mail. Eventually, Petty went to rehab and emerged clean and sober.
York and Petty have been living happily together ever since, living in Malibu and raising their children. Petty has two daughters from his marriage with Benyo, Adria and Kim Petty, and York has a son from a previous marriage, Dylan. In the last decade or so, Petty exchanged his rockstar life for a that of a family man. "The only good thing about getting older is you get smart enough to avoid unnecessary problems," he told Billboard in 2014. "You know what's worth spending time on and what's not."
Petty will be celebrated as a great musician and a family man.