'The Gifted's Patriarch May Have Paid A Hefty Price For Protecting His Family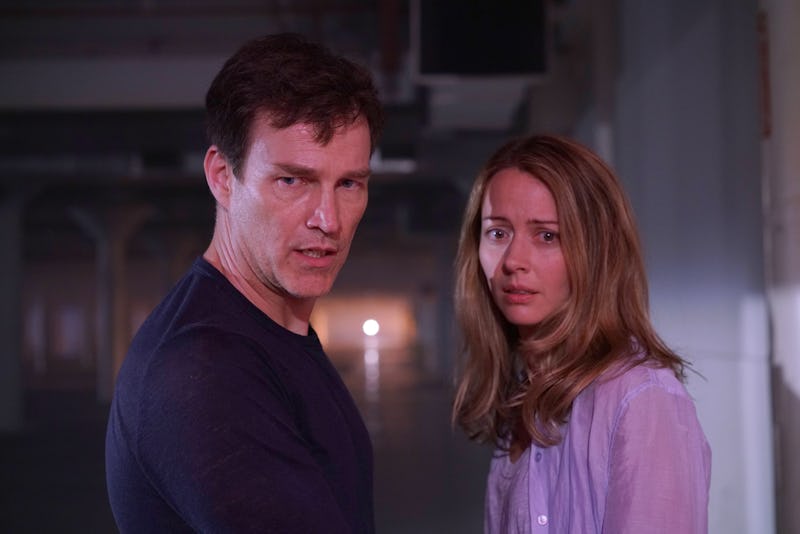 Ryan Green/FOX
Spoiler warning for The Gifted premiere. While shows like Game of Thrones, The Walking Dead, and Star Trek: Discovery seem to be adamant about wanting fans to never feel as if a character is safe, killing off a major character in the pilot of a series is a bold move. What happened to Reed Strucker on The Gifted? The patriarch, played by Stephen Moyer, is shot and, at the very least, injured and separated from his wife and children at the end of the first episode.
It was not a good week for the Strucker family all around. The younger son Andy went full Carrie at a school dance. His mutant powers manifest in the middle of a brutal and overly-dramatic bullying session and he is unable to control them. That revelation causes his sister Lauren to out herself as a mutant as well. She can control natural materials like water and air and mostly uses her powers to create shields. However, this is something she's kept quiet up until this point because her father works as a lawyer with Sentinel Services, building cases against mutants who have been accused of crimes. All teens keep secrets, but this one holds a little more weight. Then there's Caitlin Strucker, Andy and Lauren's mom, who started her day meeting with a principal and ended up en route to Mexico with a stolen car.
That said, Reed is not necessarily a bad guy. It doesn't seem like he is fully aware of the lack of due process in his line of work. He might actually have thought he was helping out these mutants, even if it's problematic that he tried to use Lorna Dane's pregnancy as a kind of leverage. Reed may not be prejudiced — he took the news that both of his children are mutants surprisingly well — but he still has some learning to do.
He at least knows that his family will have to go on the run, and does not hesitate to work his contacts in order to get them to safety. He contacts Lorna's boyfriend and demands to get his family in the same underground ring of mutants (or fugitives, in his eye) that he was trying to break up.
When the Struckers and their new mutant pals are surrounded, Blink gets them out of there but Reed stays behind, letting his family through first. He's shot in the back just as Blink loses control of her portal. That said, the rest of them might be in even more danger. Blink doesn't know where her portal leads, and this war on The Gifted is only just getting started.
That said, Reed is played by True Blood star Moyer. It's unlikely that the character played by someone of that caliber is dead already on the series — but he may not be back with his family for a while. The bullet didn't really seem deadly, more of a stun situation. None of the weapons used against the mutants seemed particularly deadly, in fact. Maybe that's because the mutants in question have healing abilities, but everyone just seemed momentarily incapacitated.
Surely Papa Strucker will either escape, or be forced back into working with Sentinel Services. They'll want him to betray his family for sure. Maybe he can even become some kind of spy on the inside, and take the organization down from within. All in all, the idea of a father who gives up whatever philosophies he may have had at his job at the drop of a hat in order to protect his family is too good to not explore further on The Gifted. Reed will surely be back in the next episode, and the balance between his professional and personal worlds will clash again and again.