House Republicans Reverse OCE Amendment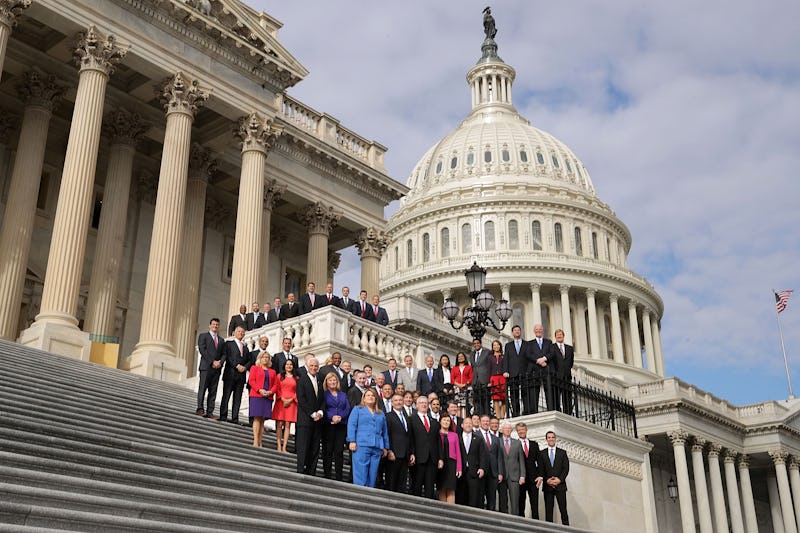 Chip Somodevilla/Getty Images News/Getty Images
Multiple sources reported Tuesday morning that the Goodlatte Amendment was overturned by House Republicans following swift public backlash, thus changing the Jan. 2 decision to disempower the independent Office of Congressional Ethics. The amendment, which was initially adopted in a closed-door meeting of the House Republicans, would have placed the non-partisan OCE under the control of the House Ethics Committee, making it significantly less viable for unbiased investigation.
Speaker of the House Paul Ryan had reportedly opposed the amendment, but the move was supported by enough rank-and-file members of the party to adopt it. Ryan released a statement supporting the proposed change Monday night, after Donald Trump tweeted his opposition to Representative Robert Goodlatte's movement. "After eight years of operation, many members believe the Office of Congressional Ethics is in need of reform to protect due process and ensure it is operating according to its stated mission," Ryan said in the statement.
However, following the rapid dissent from all sides of the political spectrum, the Republicans met again Tuesday to change the decision. It's not clear who exactly was the driving force behind the reversal, but it is widely being regarded as the right move for the Republicans, for ideological and purely political reasons.
The OCE was created in 2008 after three high profile criminal cases involving former Congressmen raised questions about the ethical oversight of the House. Reps. Randy "Duke" Cunningham (R-Calif.), Bob Ney (R-Ohio), and William Jefferson (D-La.) were each convicted in separate cases of bribery or corruption, and then-Speaker Nancy Pelosi spearheaded the movement to establish an independent oversight board. Years later, Goodlatte challenged the office, claiming that it had done more harm than good.
"Feedback from Members and staff having gone through review by the OCE has been that those under investigation need increased protection of their due process rights, greater access to basic evidentiary standards, and a process that does not discriminate against them for invoking those rights," Goodlatte said in a statement. "The amendment seeks to strengthen each of these needs while maintaining the basic core of OCE's functions."
There hasn't yet been much response to Goodlatte's actual claim, but rather a focus on the optics of the proposed change. With widespread public skepticism of the GOP right now, a move that ostensibly limits the party's independent regulation perpetuates the view that the Republicans can't be trusted. Even if the changes may have been necessary and for the better, the GOP failed to communicate that properly, and the circumstances of the decision to adopt the amendment further fostered a sense of distrust. This incident may spark a larger conversation about how to approach these changes in the future, because it may still be an important problem to solve.