Here's When Kavanaugh & Christine Ford Will Testify Under Oath About Her Allegation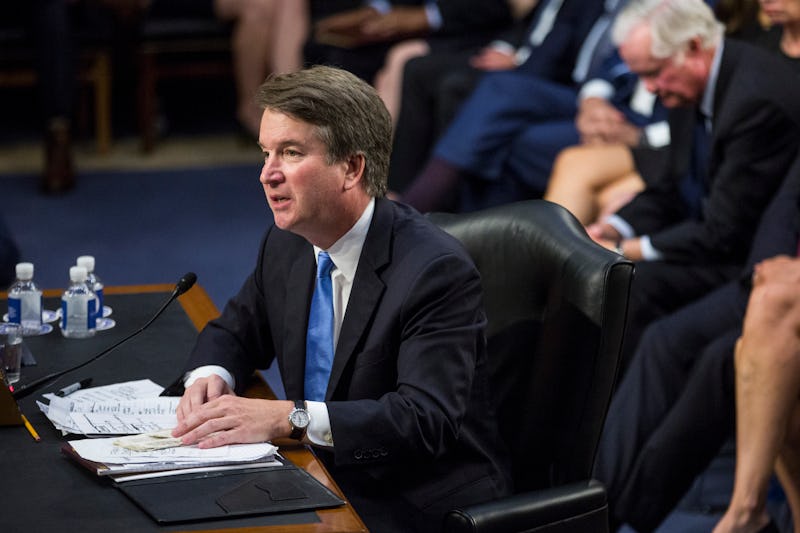 Zach Gibson/Getty Images News/Getty Images
Thursday is set to be an intense day on Capitol Hill. Shortly after Palo Alto University professor Christine Blasey Ford accused SCOTUS nominee Brett Kavanaugh of sexually assaulting her in the 1980s, the Senate Judiciary Committee called on both to testify under oath. (Kavanaugh has categorically denied the allegation.) If you're wondering what time Kavanaugh and Ford will testify on her sexual assault allegation against him, here's everything you need to know.
According to the Senate Judiciary Committee website, the hearing for Ford and Kavanaugh will begin at 10:00 a.m. ET, on Sept. 27. The committee's chairman, Republican Sen. Chuck Grassley, will give his opening statement, then ranking member Democratic Sen. Dianne Feinstein will give hers. After that, Ford will be sworn in, deliver her opening statement, and answer questions from senators and/or the outside counsel, CNN reported. She will leave the room after her testimony ends, and Kavanaugh will enter and follow the same sequence of events.
Kavanaugh has repeatedly denied Ford's allegations. In a statement through the White House, Kavanaugh said, "I categorically and unequivocally deny this allegation. I did not do this back in high school or at any time." Later, he issued another statement, saying "I have never done anything like what the accuser describes — to her or to anyone."
Both Kavanaugh and Ford were initially called on to appear before the committee on Monday. Kavanaugh accepted, but Ford requested a federal probe into her allegation before a hearing (though she didn't rule out testifying without an FBI probe). CNN reported that Ford's attorneys sent a letter to Grassley, asking for FBI to investigate the allegation.
The reason, they wrote, was "a full investigation by law enforcement officials will ensure that the crucial facts and witnesses in this matter are assessed in a non-partisan manner, and that the Committee is fully informed before conducting any hearing or making any decisions." Ford's lawyers later said that the professor is open to testifying on Thursday, Politico reported.
Some senators supported Ford's request, including California Sen. Kamala Harris. In a tweet on Sept. 16, Harris said, "I support Dr. Blasey Ford's request for an FBI background investigation before a hearing. She should not be bullied into participating in a biased process and we should not rush forward before facts are gathered."
According to an interview published by The Washington Post on Sept. 16, Ford did not initially plan to go public with her accusation against Kavanaugh. She said that she first reached out to California Rep. Anna Eshoo and then sent a letter, asking for anonymity, to California Sen. Dianne Feinstein. The professor said that she did that after it became evident that Kavanaugh could possibly become a SCOTUS nominee.
By late August, Ford had not gone public with her allegation, telling The Post, "Why suffer through the annihilation if it's not going to matter?" But she said that she began to see some media outlets incorrectly report her story.
That's when she publicly came forward about the allegation, she said. "These are all the ills that I was trying to avoid," Ford lamented to The Post. "Now I feel like my civic responsibility is outweighing my anguish and terror about retaliation."