This One Tweet From A Texas Woman Stranded In The Flood May Have Saved Her Life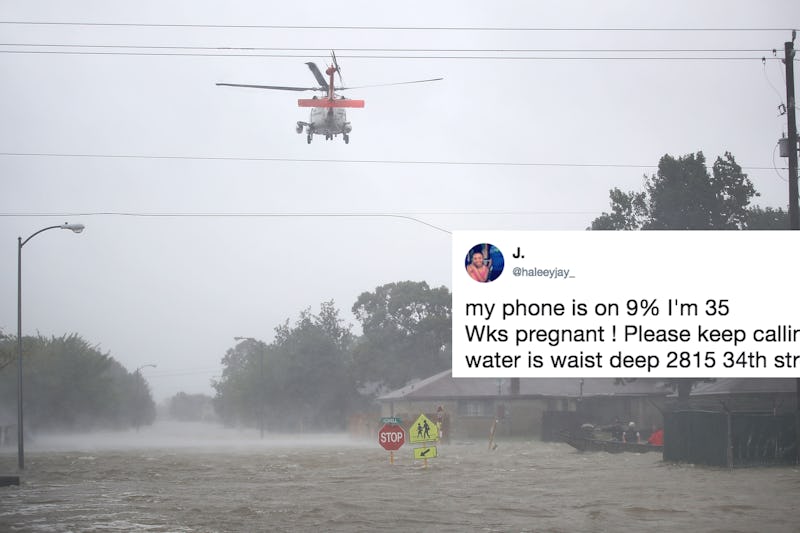 Getty Images
The flooding from Hurricane Harvey remains an ongoing nightmare, due to the unending rainfalls. On Wednesday morning, Harvey, having been downgraded to a tropical storm, flooded the southeastern cities of Port Arthur and Beaumont with 10 to 15 inches of rain during the span of a few hours. As the total water levels have risen above 35 inches, the 911 lines have quickly clogged, and many residents have taken to Twitter to ask for emergency assistance. In particular, this one tweet from a Port Arthur resident asking for help has gained a lot of support, and for good reason.
"My phone is on 9% I'm 35Wks pregnant ! Please keep calling for me water is waist deep 2815 34th street 77640 Port Arthur Tx HaleyDavis," Twitter user Hayley Davis, wrote at 3:10a.m. CT.
Soon after Davis' tweet was posted, there was a deluge of helpful responses from strangers online. "I called emergency response. They have marked you as urgent and are on the way!" wrote one Brooke Thomas. Elisabetta Horrell also responded on Twitter: "I logged with Cajun Navy as emergency, your ticket is #780516."
Within the span of a few hours, strangers responded to the tweet by confirming that they'd either called emergency services, or filled out an online Hurricane Harvey rescue application. "I CALLED the national guard command center, FIRST RESPONDERS ON ON THE WAY RN. plz hang in there girl," Jasmine Deon wrote.
Roughly six hours after she posted the original tweet, it was confirmed that Haley Davis reached safety. A Twitter user who went by the name Queen Mousie posted a screenshot of a post from Davis that said, "Thanks everyone for your prayers & love from all over. Me and my family is safe."
Just as her original tweet prompted the concern of dozens of strangers across the country, the news of Davis' safety also presented a widespread moment of relief and solidarity. "I don't think I've ever read a tweet that's jolted me as much. Good to know you're safe and that so many care," Steve Tindle wrote.
While the necessity of using Twitter as an emergency signal boost is a scary portrait of how dire the Hurricane Harvey flooding has become, the resourcefulness of Twitter users restores some faith in human kindness. At the very least, it serves as an example of how social media can be used during times of crisis.
Sadly, the #PortArthur hashtag is still filling up with similar tweets detailing people in emergency. Luckily, as showcased in the case of Hayley Davis, calling the National Guard, filling out online Hurricane Harvey Rescue forms, and retweeting to increase signal boost do in fact help.