This 'Star Wars' Bag Collection Is Fan Merch You'll Actually Want To Wear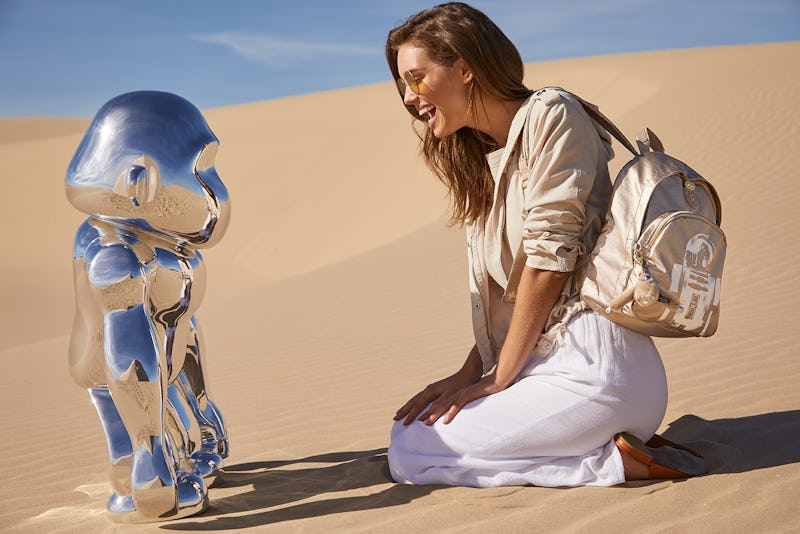 Courtesy of Kipling
Star Wars is back. After the long drought post Revenge of the Sith, fans have been blessed with the Force Awakens and The Last Jedi. With a Han Solo movie on the horizon, it's time to get your wardrobe ready. The Kipling x Star Wars collection should definitely be part of your premiere night look (unless you're cosplaying, and then go for it). This collection of bags and accessories is basically the stylish way to carry the force with you wherever you go. From Tatooine to Crait, these backpacks will take you through the entire Star Wars galaxy in style.
The collection is set to feature 19 unique pieces all inspired by the world of Star Wars, and it's not just bags. The designs run the gamut from pen and pencil cases to keychains and backpacks, and each features a special design obviously inspired by the vast world (or worlds) or the franchise.
As for when you'll be able to start shopping the new collaboration, there's good news. You don't have long to wait. Kipling x Star Wars will be available for an exclusive pre-sale starting April. 22 at Macy's online. The official launch will come a few days later on April 25 in Kipling stores and in department stores where Kipling is sold.
If you're wondering what the cost of the collection will be, it's got a pretty big range. That's kind of a great thing because whether your budget is small or large, you can probably get a piece of Kipling x Star Wars. According to the brand, pieces will range from only $15 to $169. Given that nothing is over $200, the price for such quality pieces truly isn't bad. What's a little bit of splurge any way when it means you'll have R2D2 on your backpack?
Why did Kipling choose to create a Star Wars collection? Christine Lee, lead designer for the brand, explained that the decision was all about the fans of the film franchise. She explained, "Our team was incredibly inspired during the design process for this collection. Star Wars fans are so diverse, spanning all ages, genders and styles, so we wanted to create a collection that offers something for everyone. With this in mind, we designed a variety of styles including metallic backpacks that nods to the iconic heroes and villains, along with wristlets and pouches featuring fan-favorite characters."
President of Kipling Nina Flood adds that the connection between the two brands make it a perfect partnership. She said, "For so many, the love of Star Wars is rooted in a sense of nostalgia and adventure, giving it a natural synergy with our brand. We are thrilled to bring the iconic Star Wars franchise to life for Kipling and Star Wars fans alike."
Wondering where you'll be able to shop this fandom meets fashion collection once it comes out on April 25? The bags will be available at Kipling retailers such as department stores (which you can find thanks to their handy store locator) at 35 Kipling stores, and online at the brand's website.
If you can't wait for the new Han Solo movie to premiere, have watched The Last Jedi too many times to count since it came out on DVD, or have run Rogue One into the ground on your Netflix account, the Kipling x Star Wars collection may just be your new go-to bag. With perfect fandom-themed patterns and ultra utilitarian designs, they're great for any occasion where you want to show your Star Wars pride.
Mark your calendar for April 25 because these bags are coming at your soon.