'Thank You For Your Service' Shows That PTSD Is A Long-Term Battle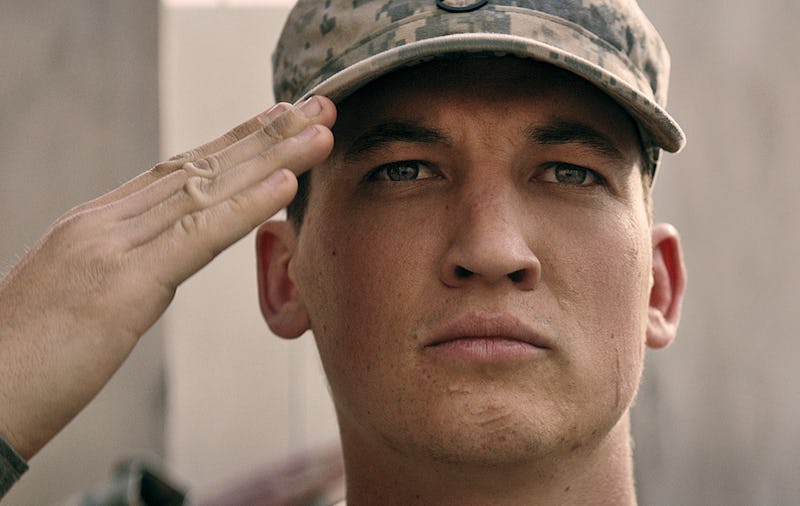 Universal Pictures
Perhaps the most heartbreaking thing about Thank You For Your Service, a new movie about Iraq war vets who return home from war onto to face a new battle against PTSD, is that it's not fiction. The film is based on the nonfiction book by journalist David Finkel, and main protagonist Adam's struggle with PTSD was, and continues to be, all too real. The movie ends with updates on the real Adam and Solo. "Most days, he feels like he made it home," reads Adam's update. All seems to be going well, so while where Adam from Thank You For Your Service is now probably won't surprise audiences too much, that's totally for the best.
After returning to civilian life 10 years ago, Schumann has been through a lot, including a battle with PTSD and a trip to a private facility to get treatment. But now, he's about to embark on a new adventure in Hollywood. Like Miles Teller, the actor who plays Adam, the real Schumann actually appears in Thank You For Your Service. It's a small cameo role — blink and you'll miss it — towards the beginning of the film. When Teller's Adam is returning home from the war, it's the real Schumann who greets him. "Welcome home, Sergeant Schumann," is his only line.
Schumann doesn't just appear in the film, he helped make it. Invited to set by writer-director Jason Hall, Schumann was on hand to consult and work with Teller. He even joined in at boot camp before filming began. "I did everything I could and help in any way I could and I would even carry things around the set because I wanted to be of help in all ways," Schumann told Imperial Beach Patch. "I was so happy to be working on this." Teller confirmed that Schumann was always available during production, telling The Hollywood Reporter, "Adam was there anytime I needed to ask him a question. It's all his personal life on screen. He was a great resource to have."
It's been 10 year since Schumann returned from fighting overseas, and while clearly his service is still a huge part of his life, it's not his entire existence. Now 36 and living in North Dakota, Schumann is focused on spending time with his kids. His life has diverged a bit from what is seen in the film; in the past decade, Schumann has divorced from his wife Saskia (played by Haley Bennett in the film), and the two share custody of their kids. "When I'm not doing the full time dad gig, I do a little bit of work and then I try to go hunting or fishing everyday," he told Imperial Beach Patch.
Currently, Schumann is busy promoting Thank You For Your Service, but in his life outside the movie, he prefers to keep things simple, and hopefully spend a lot of time hunting and fishing. "It's just me in my apartment, waking them [the kids] up in the morning, cooking them breakfast, getting them dressed, doing homework, taking them to school, playin' catch, buyin' dresses. And, then, I fish. I hunt a lot," he said in an interview with The Chicago Tribune. Living simply is perfectly fine for Schumann. "Do I have a house with a white picket fence and a wife and kids and everybody's happy? No, but my kids are happy, I'm happy, the dog's happy. Everything's OK," he added.
As for his mental health, Schumann is apparently doing well. "Honestly, I'm doing fine. It's been a long road. I'm able to look back on it now and see where I was and how far I've come, and it feels good," he told Philly.com. That's the best anyone could ask for.