Here's Where To Find Chipotle's Test Kitchen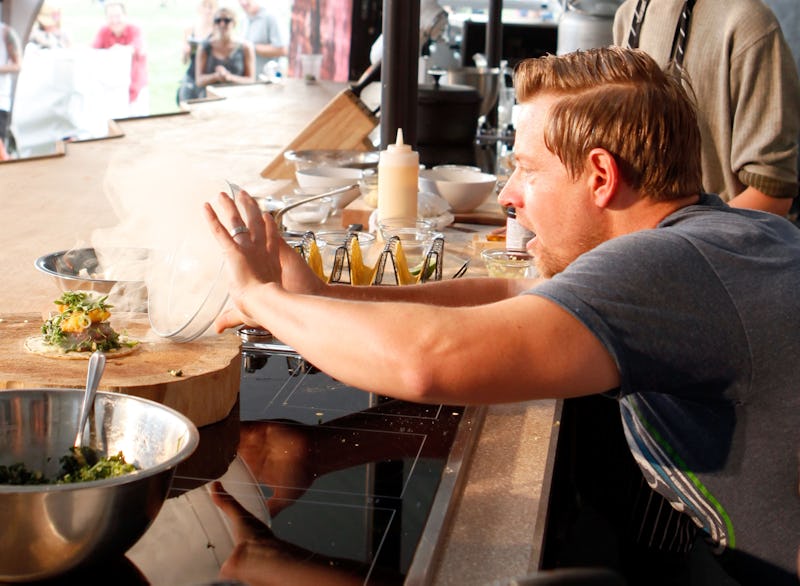 Jason Bahr/Getty Images Entertainment/Getty Images
If you like to be in the know before everyone else, then you're going to want to make a trip to Chipotle NEXT Kitchen to try new menu items right now. So, just where is Chipotle's test kitchen in NYC you might be wondering as you send for your Uber? New Yorkers, good news: The restaurant's only public test kitchen is at 504 6th Avenue in New York City's Chelsea neighborhood. Chipotle NEXT Kitchen will serve Chipotle's newest dishes and drinks, and allow you to test updated ordering technology, like digital screens displaying new menu items, Eater reported.
And, when I say drinks, I mean frozen margaritas, which you can sip on while being the first to sample the new queso. Yes, it's true. Chipotle will finally offer queso. If you're looking for a summer getaway, maybe you should head to New York and straight to Chipotle NEXT Kitchen to get your queso on.
"All of our competitors sell queso, and we know some customers don't come to Chipotle because we don't offer it," CEO Steve Ells said in an internal memo sent to the company's approximately 65,000 employees, according to Eater. "But because we refuse to use industrial additives, added colors, flavors or preservatives in our food, it's very difficult to make queso that meets our standards."
Because Chipotle only uses 51 ingredients to make all of the items on its menu, I think the wait for an ethical, and additive free, queso is well worth the wait. Queso, which is Spanish for cheese, is so in demand, and so beloved, that two different people have blogged about their affection for queso. Yes, you read that right, people really are writing love letters to hot cheese.
"New menu items are relatively unusual for Chipotle: For a company that debuted in 1993, the first ones didn't appear until 2014 with sofritas, followed by chorizo in 2016," Eater reported. "In May, the company added buñuelos, fried tortillas topped with honey, sugar, and cinnamon, served with an apple caramel dipping sauce — with chocolate now available at this location today."
Because of its commitment to its Food With Integrity philosophy, it makes sense that Chipotle isn't launching new menu items on the regular. "We're all about preparing food without added colors, flavors, or preservatives (other than lemon or lime juice, which can be used as preservatives — though we use them only for taste)," the company noted on its website. "Just genuine raw ingredients and their individual, delectable flavors. We source from farms rather than factories, and spend a lot more on our ingredients than many other restaurants."
So, maybe it is true that good things come to those who wait. Because, queso!