The Ringling Bros. Circus Will Close In May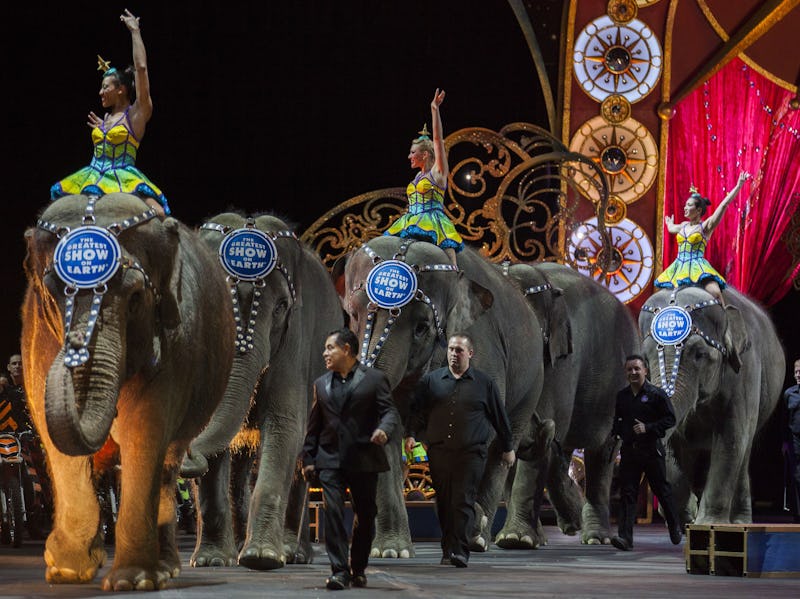 ANDREW CABALLERO-REYNOLDS/AFP/Getty Images
The Ringling Bros. and Barnum & Bailey circus will close in May, according to a statement from Kenneth Feld, CEO and chairman of Feld Entertainment, which produces the circus. The self-proclaimed "greatest show on Earth" has been on tour for more than 100 years, but the pyrotechnics, acrobatics, and controversial animal stunts will all come to an end this year. Ringling Bros.' final show will take place in Uniondale, New York, but be prepared to pay a hefty price to see the show's last moments in action.
According to Feld's statement, the circus has become an "unsustainable business" for Feld Entertainment, which also produces other popular tour shows, including Disney on Ice and Monster Jam.
The decision to end the circus tours was made as a result of high costs coupled with a decline in ticket sales, making the circus an unsustainable business for the company. Following the transition of the elephants off the circus, the company saw a decline in ticket sales greater than could have been anticipated.
The circus will end its generations-long run almost exactly a year from when elephants were finally removed from the tour. Last May, the Ringling Bros. elephants performed in their last show after years of pressure from animal rights groups effectively ended the practice, according to The Washington Post. The circus has remained controversial for much of its 146-year history, but its gross audience still numbers in the hundreds of millions, according to Saturday's statement.
Two Ringling Bros. tours will continue until May. Circus Xtreme will conclude with its final show on May 7 in Providence, Rhode Island. Meanwhile, Out of this World will host its final show in Uniondale, New York, on May 21. Tickets to the Providence show are not for sale yet, according to the Ringling Bros. website. Tickets for the Uniondale shows (there are three show times on May 21) are for sale, but fans may need to act fast.
The circus website recommends buying tickets online from Ticketmaster, however a search for tickets to the latest show time in Uniondale did not reveal any available tickets on Sunday. Tickets were still available for the earlier shows. Meanwhile, StubHub showed that tickets to that final show in Uniondale started at $180 on Sunday. Tickets for other Ringling Bros. shows started around $30 on StubHub. Similar site Vivid Seats also had some pricey tickets for the final shows.
It's ironic that ticket prices for Ringling Bros. final shows may climb, but ultimately, the circus will close because of falling ticket sales. Before it wraps up in May, the circus will hit several major cities, including Atlanta, Charlotte, and Philadelphia. Despite the controversy it has encountered over the years, Ringling Bros. will likely go down as an iconic name in American history.