What To Know About 'Blade Runner' Before Heading Into '2049'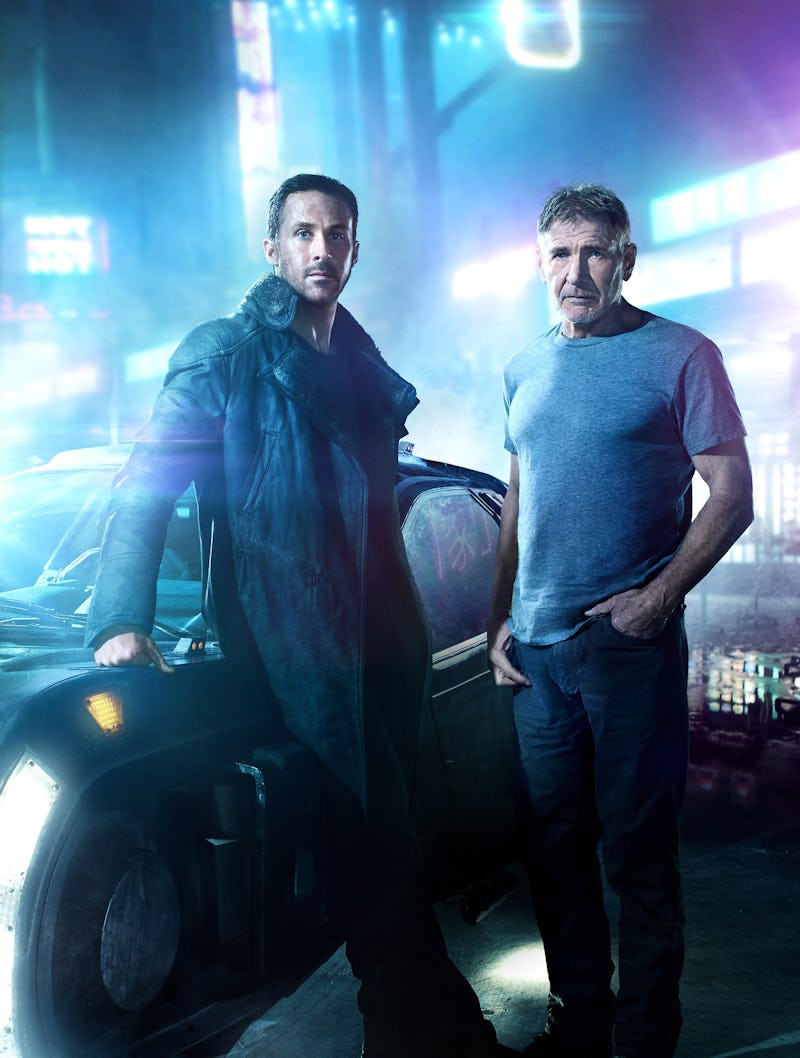 Warner Bros. Pictures
Believe it or not, the events of the first Blade Runner have not even happened yet. The 1982 science fiction film starring a dashing Harrison Ford actually takes place in 2019, which is fitting because the new Blade Runner sequel Blade Runner 2049 is fast approaching its theatrical release on Oct. 6. But before the new film comes out and makes all this talk about time and the future even more complicated, we can all agree that it's a good idea to watch the original. The only question is where to watch the first Blade Runner before Blade Runner 2049 hits theaters.
The new film picks up 30 years after Blade Runner, with Ford reprising his role of former cop and so-called blade runner Rick Deckard, and Ryan Gosling making his franchise debut as K, also a blade runner. (For those of you who haven't seen the film, blade runners are cops whose job it is to hunt down replicants — essentially AI beings.) And, while you can probably get away with entering Blade Runner 2049 without any prior knowledge of the original film, it will undoubtedly be less confusing having seen the original. Though little is known about the actual plot of Blade Runner 2049, it's clear that Ford's character is critical. "There's a very strong emotional context and the relationship between the character Deckard that I play and other characters, I found fascinating," Ford teased during a promotional panel for the film, suggesting that the actor is returning for much more than a short cameo.
Given Ford's expected role in the sequel, it would probably be wise to watch Blade Runner first. But which version of Blade Runner is the question. In the 35 years since director Ridley Scott's sci-fi adventure was released, the original film has since been updated with multiple releases and special editions. The most recent version of the film, released on DVD and in select theaters as Blade Runner: The Final Cut featured updated sequences and gave final cut to Scott. It was released in 2007 to celebrate the film's 25th anniversary.
So before you decide to watch Blade Runner in preparation for the upcoming sequel, the first thing you have to decide is what version do you want to watch. The original theatrical release, as well as two updated versions (The Director's Cut and The Final Cut) are available for purchase on Amazon video. Only the theatrical release is available to rent. Similarly, the original release and The Final Cut are available for purchase on iTunes, with only the original theatrical cut of Blade Runner available to rent. The theatrical release is also available to rent and stream via YouTube, Vudu, and Google Play, but unfortunately no version of the film is streaming on Netflix.
For those of you who have never seen Blade Runner and want to get caught up before Blade Runner 2049, it looks like you're going to have to shell out a few bucks to get the job done. And, fair warning: it might take you more than one viewing to really understand the scope of the film. Just ask the franchise's new lead, Gosling. "I didn't understand this at the time, but I remember I was challenged by it," Gosling told BuzzFeed News of his first time watching Blade Runner. In a separate interview with The New York Times, the actor expanded on his first Blade Runner experience, saying, "It was one of the first films I had seen where it wasn't clear how I was supposed to feel when it was over. It really makes you question your idea of the hero and the villain, the idea of what it means to be human."
Scott is not returning to direct Blade Runner 2049, instead returning as producer and passing on the reigns to Arrival director Denis Villeneuve. But I don't think a change in director will make Blade Runner 2049 any less challenging than Blade Runner. Watching the original film might be your only hope at understanding the sequel.