Claire & Shawn From 'Project Runway' Have Had Some Seriously Famous Clients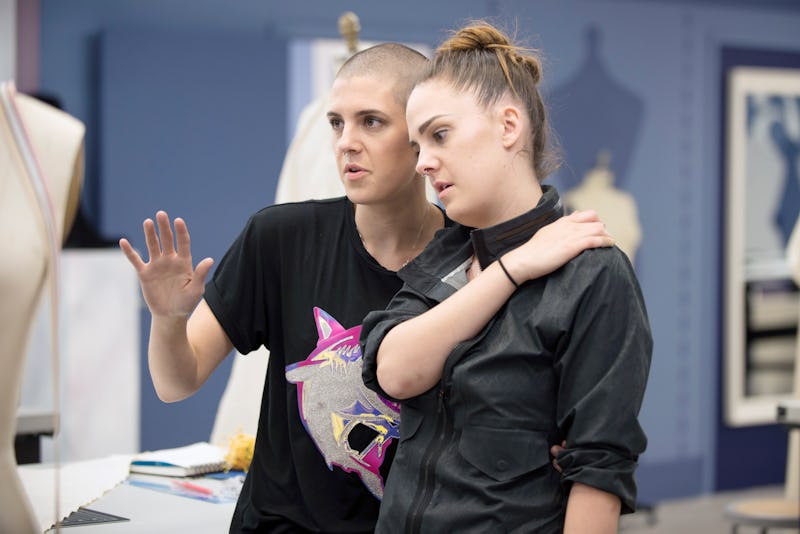 Barbara Nitke/Lifetime
Fans may have noticed this season on Project Runway that identical twins Claire and Shawn Buitendorp are anything but bashful when it comes to sharing the impressive portfolio of celebrities that they have been asked to dress with their designs. So, which celebrities have the twins from Project Runway designed for? According to the website for their brand, Shock and Awww, they have been tapped by a plethora of pop stars for their unique designs.
Along the way, the twins had also already made their mark in reality television a couple of years before they entered the competition on Project Runway. Per an article on the siblings in Lansing State Journal, they competed and won a reality competition on VH1 called, Twinning, where the pair won $222,222.22 to invest into their clothing line.
The Lansing State Journal article also stated that Shawn and Claire attended Lansing Community College, where their personal website states that they both received their associate's degrees in fashion technology. After school, they ended up in New York City interning for one of the most innovative fashion designers out there, Betsey Johnson. Their website explains how they evolved during their time with Johnson to find their niche in creating custom stage outfits for music's biggest up and coming stars. Here are some of the names they have dressed since the start of their design careers.
Katy Perry
Perry is arguably the most well known name on the list of people that Shawn and Claire's brand, Shock and Awww, has dressed. According to the piece in the Lansing State Journal, the twins met Perry backstage at one of her concerts and showed her the first thing they designed for her. They had spent $800 on materials for it and had actually crafted it at their parents' kitchen table. This design was later worn on stage by the pop star for her tour and she also modeled the design in Nylon Magazine.
Little Mix
Little Mix is a British girl group. According to the Shock and Awww LinkedIn page, Claire and Shawn dressed them for their music video for "How ya doin'?" — which featured Missy Elliot.
American Idol Contestants Joey Cook & Tyanna Jones
Cook and Jones were contestants on Season 14 of American Idol. They made it to the Top 7 and Top 5, respectively, and both wore Shock and Awww's unique designs on stage.
Betsey Johnson
The designer's former interns have dressed her as well, according to their website — though not in the clothing pictured. They definitely have very similar style to their mentor.
Lindsey Stirling
Lindsey Stirling, who will be competing in Season 25 of Dancing With The Stars, is becoming an extremely well known name in music. According to the twins' Instagram and LinkedIn pages, they dressed her back in 2015 for a Yahoo! Live performance, where she wore their "galactic unitard" design.
Nervo
Nervo are a DJ duo from Australia with over one million followers on Twitter. Shock and Awww designed clothing for them to wear on stage and to be featured in Japanese Elle Magazine, according to their brand's website.
Lola Blanc
Lady Gunn Magazine interviewed the singer/songwriter in 2013, where it is stated that Blanc wore a Shock and Awww design for the feature. (Not pictured.)
Dylan's Candy Bar
As listed in their LinkedIn, Shock and Awww once created a window display for famous candy store Dylan's Candy Bar in New York City.
Claire and Shawn are obviously extremely successful in the fashion business already. And, even if they both can't win, their time on Project Runway will certainly help them reach a broader audience. It's all about that branding, man, and they have oodles of it.