Everything 'Once Upon A Time' Fans Need To Know About The New Henry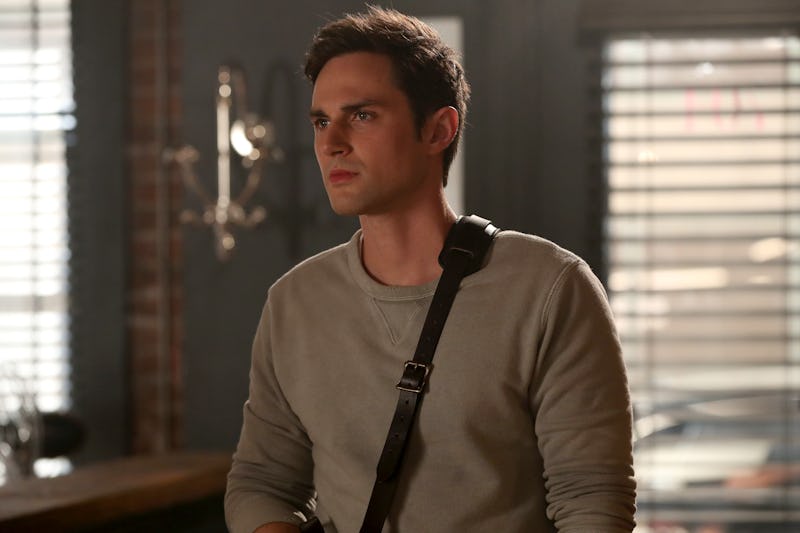 ABC/Jack Rowand
Once Upon A Time has started over several times by way of curses and memory wipes, but the newest season is giving the show a reboot in a major way. That involves a whole new cast of characters and a new actor in the lead as the son of the savior who started it all. Who plays adult Henry now on Once Upon A Time? Andrew J. West is taking up the pen-wielding, heroic, and endlessly optimistic reigns.
At least, that's what fans may hope. In his one scene at the end of Season 6, adult Henry slammed the door on the child claiming to be his daughter — just as Emma did to him way back in the day. It appears that Lucy's mom is another realm's version of Cinderella, which is exciting.
It's unclear what the grandson of Snow White, Prince Charming, and Rumplestiltskin as well as the son of Emma Swan and Neal, and the adopted son of Regina Mills and (in a way) Captain Hook will be like in this new setting and new age. (Don't forget: He's also the great grandson of Peter Pan, who is a villain in Once Upon A Time.) In an interview with Entertainment Weekly, West said that he took all of those extended fairy tale family members into consideration when approaching the role. "Having those figures in his life that have influenced him so heavily."
In a throwback to some of the show's best curses, however, multiple versions of older Henry comes with a twist. The Enchanted Forest version of the character is most exactly like the one Lucy finds in Hyperion Heights. "In a lot of ways," said West in the same interview.
"It's almost like two different people. The Henry that we see in the Fairy Tale Land is more of a direct continuation from where we leave Henry in Season 6. But what's exciting about him is that he's on a quest, he's got a goal that he's working toward and that's what makes the character intriguing and fun to watch. In Season 1, Henry was on a quest then, he was working towards something every episode. So that's where we see him, but he's still that hopeful, optimistic, heart of the truest believer guy that he's always been."
There's a lot going on with Henry, and who knows what he's been up to since we last saw him as a child. Will he be as winsome as he once was, or as cynical as his birth mother grew to be?
As for the actor himself, West has shown a bit of range in his acting, with a fair share of darkness, which should suit him well as Henry. You probably know him best for his villainous turn on a little show called The Walking Dead. He played Gareth, one of the Terminus leaders. While Negan is just a headache after a heartbreak after an atrocity on The Walking Dead, it's totally acceptable if you've put the Terminus crew out of your mind forever. As the leader of the cannibal crew, he delivered a lot of delicious speeches and lured survivors into a trap before Rick Grimes brutally took him down. Another spooky tale, West was in the Freeform horror series Dead Of Summer as Damon, an old friend with a murky past and a gruesome (spoiler alert) death.
However, he's not always a menace. Finally, for something lighter, West had a recurring role on Greek. The actor played Fisher, a film major and member of the pep squad who appeared in Season 2 and Season 3. That's more like the Henry we know and love. As OUAT goes into its final season, it'll be interesting to see such a fresh take on a character fans have grown with over the years.