Why 'At Home With Amy Sedaris' Is The Lifestyle Show Unapologetically Crafty Feminists Have Been Waiting For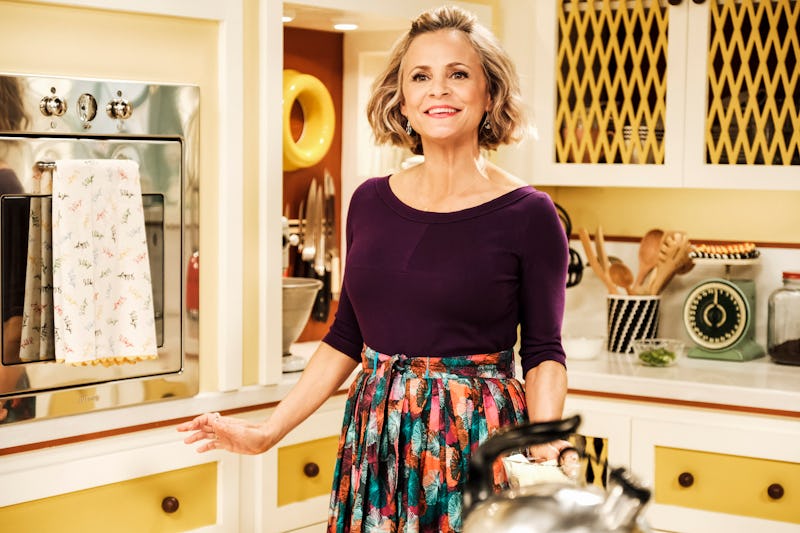 Jon Pack/truTV
"Bless This Mess" reads a handmaid sign on the set of At Home With Amy Sedaris, and that's basically the first thing you need to know about the homemaking comedy coming to truTV on Oct. 24. It's wacky, surprising, informative, and delightfully feminine — as Bustle observed on a set visit earlier this year. Fans of Sedaris know of her passion for crafting and entertaining from books like I Like You: Hospitality Under The Influence and Simple Times: Crafts For Poor People. Her new series takes that comedic approach to domestic bliss and runs with it.
Sedaris herself showed visiting journalists around the set as if it was her own home — and it might as well be, because a lot of the tchotckhes and artwork are made by either her or her "brother's boyfriend," she notes, presumably referring to David Sedaris' long time partner and painter Hugh Hamrick. "I was making pot holders the night before [we started filming] to get them on set," she says.
"That's just who I am. A lot of people think that's not a feminist thing but I disagree. I think it is."
The set may seem like a total fantasy house, but it's basically real. "It looks like a set version of my apartment," Sedaris says — right down to the painted gourds. Even most of the costumes that she wears are her own clothes, accentuated just a tiny bit. Everything is bright and frilly and poofy, which speaks to the hostess and star of the show.
"I'm such a domestic person," Sedaris says. "If I had a choice, I'd never leave my apartment. I'm happy in my apartment. I'm into decorating. I'm into all of that kind of stuff for me, it's always so cozy."
Though taking pleasure in homemaking activities like those the show celebrates can be wrongly seen as anti-feminist, At Home With Amy Sedaris reminds viewers that simply being true to yourself is the most feminist thing you can do.
"It's more about taking control of your life and being surrounded by things you really like," Sedaris adds, "and having people over and giving in that way. That's just who I am. A lot of people think that's not a feminist thing but I disagree. I think it is."
Growing up, the host says she wanted to be like the eponymous star of At Home With Peggy Mann, a local women's show in North Carolina, which is the model for this series. Even Sedaris' dream dinner party guest is a decidedly girly and feminist choice: Juliette Gordon Low, the founder of Girl Scouts. "I was a Girl Scout through my Senior Year of high school," Sedaris says, adding that she had tons of badges. "I had 'em all except two. When I came to New York I found out where the Council was on 23rd Street, and I went there and I said 'Am I too old to earn those?'" Ever the completist, Sedaris later listed her accomplishments in order to get those last two badges sent to her in the mail.
At Home With Amy Sedaris is a mix of instruction and fictional storytelling incorporating a cast of other characters. On the day Bustle came by, they were filming a murder mystery, but other episodes focus on topics like gifting, romance, and nature.
You might even learn how to DIY a thing or two. "It's the crafts that I like," she says, pointing up at a mobile made out of tissue ghosts that's hanging in her dressing room. "It's nothing too hard. It's pipe cleaners and googly eyes." And there's actually less cooking than you may imagine, since that's not exactly Sedaris' thing. "I think I put a potato in the oven once," she says, "I haven't sautéed anything yet."
So often, as women, we try to become someone or something else in order to appear stronger. But there's a power in embracing femininity too, if femininity is what makes you happy. There's also a power in allowing comedy to thrive in a feminized space. This show is unabashedly feminine and unabashedly funny and weird too. That's what At Home With Amy Sedaris is bringing to the table — and that table has one heck of an impressive centerpiece.