Kate Middleton Wore Red While Leaving the Hospital & The Color May Have A Secret Meaning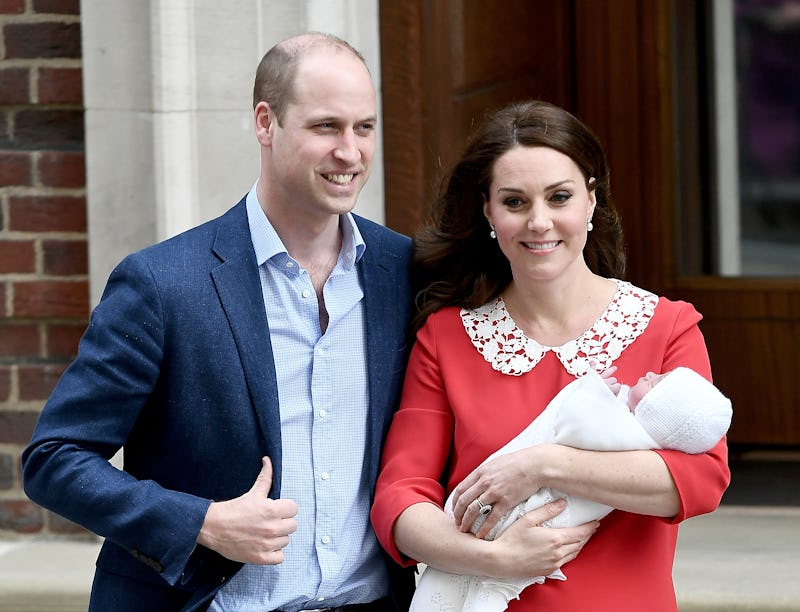 Gareth Cattermole/Getty Images Entertainment/Getty Images
The third royal baby has officially been announced to the world, and his momma is out of hospital gowns and into a fashion outfit. Kate Middleton wore a bright red dress to show her bundle of joy to the world. The dress was a whole lot different than the pastel dresses that she has worn for her past St. Mary's photoshoots though. The Duchess might have broken her own personal tradition, but it may have been for a good reason.
According to People Style today is not just royal baby number three's birthday — it's St. George's Day, which is the feast day of St. George, the patron saint of England. Mirror UK states that St. George is the protector of the royal family and people honor the day by wearing a red rose in their shirts.
The day may have had a big influence on what color Middleton wore. Instead of pinning a red rose to her chest, she opted to wear the color all over. Because what better way to celebrate the royal family that you just made a little bit larger than with a fashion moment? Rhetorical question.
Middleton is always one to honor the holidays with her clothing, as most royals do, so this outfit was pretty much chosen for her.
This look is a lot different than the outfits she chose to wear for her other baby announcements. When Prince George of Cambridge was born in 2013, Middleton wore a baby blue and white polka dotted dress to announce the birth. She swapped that look for a yellow and white floral print dress two years later to announce the birth of their daughter, Princess Charlotte of Cambridge.
Of course, those days — July 22, 2013 and May 2, 2015 — are not official holidays, so Middleton may have had a little more say in what she wore. Because if being able to hop out of bed and greet the world in full hair, makeup, and outfit just hours you have to have a baby isn't enough, choosing the perfect outfit is the cherry on top.
The dress was a custom Jenny Packham dress, but there are a bunch of look-a-likes already floating around out there. There's a good chance that there will be plenty more popping up as spring goes on too. The royals have a knack for making trends.
Apparently, Middleton wore enough red for the entire family. The other three members of the royal crew decided to step out in all blue from head-to-toe to celebrate the new baby boy. Prince William wore a light blue button-up with a navy suit to announce the little boy to the world.
Prince George honored the meaning of his name and his new family member by wearing a blue and red sweater. Princess Charlotte went a little more over-the-top in the cutest possible way by wearing a light blue dress with a white Peter Pan collar and a navy sweater. Apparently, she gets her sense of fashion from her momma — or her momma's stylist. Same thing.
The little bundle of joy does not have a name just yet, but he has already made his first debut into the world. Not too many people can say that. It's only matter of time before he's running around with his brother and sister, wearing those adorable little dress shorts too.
The royal baby boy was born on April 23 at St. Mary's hospital, according to the Twitter announcement from Kensington Palace." Her Royal Highness The Duchess of Cambridge was safely delivered of a son at 1101hrs," the tweet reads. "The baby weighs 8lbs 7oz. The Duke of Cambridge was present for the birth. Her Royal Highness and her child are both doing well."
Here's to many more fashionable royal moments to come, because it's officially a party of five.