Yahoo Is Getting A New Name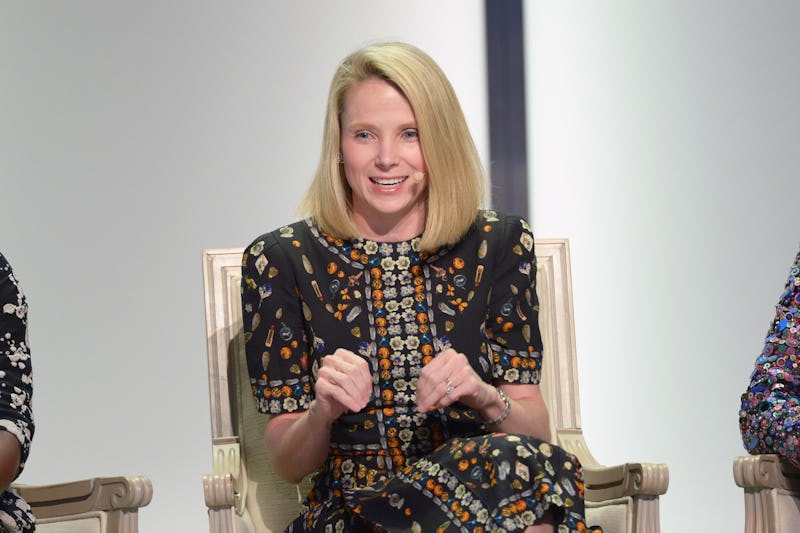 Matt Winkelmeyer/Getty Images Entertainment/Getty Images
Bloomberg reported Monday that Yahoo! CEO Marissa Mayer will resign from the board of the company, which is also going to rename itself Altaba Inc. Several others will be stepping down from the board as well, including Richard Hill, Jane Shaw, co-founder David Filo, chairman Maynard Webb, and former chairman Eddy Hartenstein. The departures and name change will be official once the company's billion-dollar sale to Verizon is complete.
Yahoo! is selling its core business to Verizon, but will retain its stake in the Chinese e-commerce group Alibaba and its partnership with Yahoo! Japan. Once the sale is complete, the resulting investment company will be called Altaba.
After Mayer and the others resign, Altaba's board will consist of five members: Tor Braham, Catherine Friedman, Thomas McInerney, Jeffrey Smith, and Eric Brandt, the latter of whom will serve as Chairman of the Board. In financial disclosures filed with the SEC, Yahoo! said that the resignations are "not due to any disagreement with the Company on any matter relating to the Company's operations, policies or practices."
Mayer was appointed president, CEO and board member of Yahoo! in July 2012. Prior to that, she was a longtime executive at Google, joining the search engine as employee number 20 in 1999, serving as vice president of Product Search and later overseeing the company's Local, Maps and Location services.
In July, Yahoo! announced that it would sell its core operating business to Verizon for $4.8 billion. At the time, it was reported that Mayer would depart when the deal was finished and receive severance pay valued at more than $50 million.
However, the Verizon sale has been complicated thanks to a series of unflattering revelations. In September, Yahoo! revealed that the usernames and passwords of 500 million of its users were stolen in 2014, and it was reported the same month that the company had complied with an order from the U.S. government to build a tool capable of searching all of its users' incoming emails for key terms.
Shortly thereafter, Yahoo! admitted that it knew about the 2014 hack before disclosing it to the public. Then, in December, the company announced that 1 billion user accounts were hacked in a separate 2013 incident.
As a result, Verizon pushed for a $1 billion discount on the sale, and Yahoo! acknowledged in a November financial that "there is no assurance that the sale transaction will be consummated in a timely manner or at all." But its most recent filing suggests that the sale is proceeding as planned, and that it once it's finished, Mayer will no longer be at the company.