This New Amazon Show Is Spooky AF & You're Going To Be Obsessed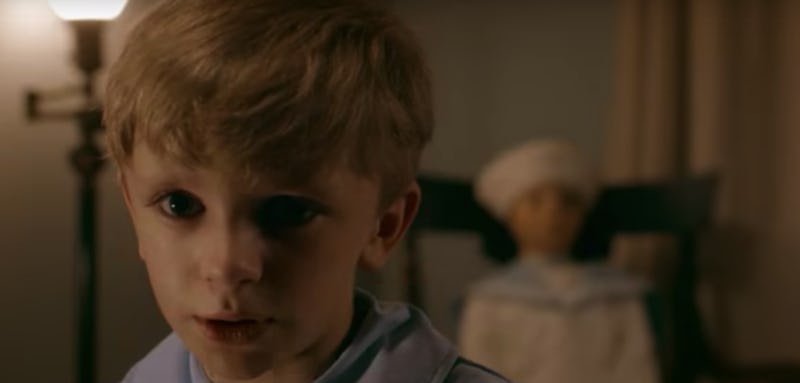 Amazon
Lore is unlike anything you've ever seen before in a TV show. Based on Aaron Mahnke's podcast by the same name, the anthology horror series blends animation, narration, documentary footage, and reenactments by recognizable actors to delve deep into some truly scary true stories. The first season is just a tiny taste. Will Lore return for Season 2 on Amazon? Even if the series has you hiding under a blanket, you're gonna want to keep pressing play.
At a round table interview with reporters at New York Comic Con that Bustle attended, the producers discussed where they'd like to see the show going forward. "Now that we understand how to do it," says executive producer and science fiction/horror icon Gale Anne Hurd, "because a lot of this season was figuring out, 'OK, how do we do it?' We know what types of stories work best. We can go into Aaron's ever-growing archive now and figure out which stories work best."
Amazon is definitely on board with the series, which mixes mediums to tell these terrifying tales, according to Hurd. "They embraced the fact that this is not something that fit within a box of either scripted or unscripted. The fact that it was a hybrid. And huge kudos to them, because doing something new is difficult. When you're dealing with networks, it's much easier to be a follower than an innovator."
Truth is stranger than fiction, as the series sets out to prove. "If you look at humanity," says Brett-Patrick Jenkins, executive producer, "and all the scary movies that we love and cherish and have posters on our wall — usually they came from true stories. Something that really happened. Lore is the show that goes to the source and brings those original archetypes to life."
For Mahnke himself, it's all about being struck by inspiration. "I don't have a good answer for how I choose stories," he says. "It's all intuition." The host, producer, narrator, and author is constantly researching and diving down different Lore rabbit holes. Not everything fits his format, either, or makes for a compelling half hour investigation. Mahnke used the Suicide Forest in Japan as an example of a scary phenomenon that doesn't necessarily make for compelling storytelling. "It's a creepy thing to hear about," he says, "but I can tell you the story in 60 seconds or less. 'There's a forest in Japan. People go there and they kill themselves.' That's it." Some people may argue that there is certainly a way that story could be told, but don't expect Lore to do it.
That said, he's already released and published plenty of material that a potential Season 2 of the Amazon series could cover. "There's so much more," Mahnke says. "There's so many episodes [of the podcast]. I've put out 70 so far. There's a lot of really good stuff."
Which stories would he personally like to see adapted next? "I love 'Half Hanged,'" he said, "the story of Mary Webster, the witch who was hanged and then got up and walked away." That story would be particularly relevant in 2017 and 2018, as Margaret Atwood dedicated The Handmaid's Tale to the legendary woman. Also relevant in terms of popular culture is "'Brought Back,'" as Mahnke suggests, "the zombie episode. There's a lot of really good stuff [in Lore] that I can't wait to explore."
Amazon hasn't officially signed off on a second season, which, if picked up, would probably debut in about a year as standard for streaming services. But, if Mahnke is already looking ahead, that's probably a good sign. After all, the first season is only six episodes long. There's "They Made A Tonic" and "Echoes," which both cover unnerving attempts at advancing modern medicine, "Black Stockings," a prescient tale of men who fear powerful women, "Passings Notes," a ghost story, as well as "The Beast Within" and "Unboxed," which tackle our pop culture obsession with werewolves and creepy dolls. That's such a tiny taste of what Lore has to offer. Hopefully Season 1's reception will be as positive as the podcast's, and Lore will get to just as many terrifying episodes in the future.