Chelsea Manning May Be Up for Commutation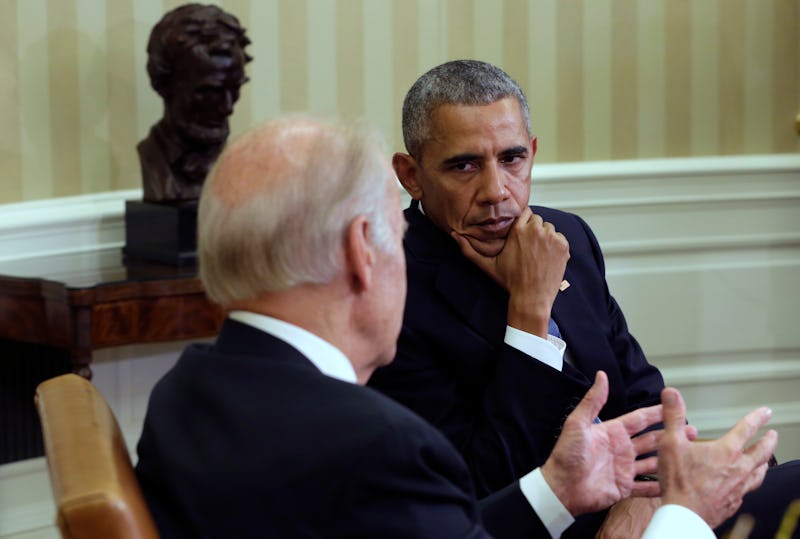 YURI GRIPAS/AFP/Getty Images
NBC News reported Wednesday morning that President Obama is considering a commutation for Chelsea Manning, who is currently serving a 35-year prison sentence for leaking classified material. Private Manning, who was an Army intelligence officer, was imprisoned for downloading over 700,000 classified documents from Army servers, which she sent to Wikileaks. These documents included a video of a helicopter crew apparently laughing at civilian deaths during an air strike, classified embassy cables, and documents relating to the wars in both Iraq and Afghanistan. In 2013, a military judge sentenced Manning to prison for multiple crimes, including violating the Espionage Act and copying and disseminating classified information.
If President Obama decides to commute Manning's sentence, her conviction will stand but her penalty will be reduced, likely meaning that she would be able to leave prison early. This is distinct from a pardon, which forgives the criminal act and frees the imprisoned party.
During her time at Fort Leavenworth military prison, Manning has attempted suicide twice. In a letter requesting clemency from President Obama, she wrote, "I need help and I am still not getting it. I am living through a cycle of anxiety, anger, hopelessness, loss, and depression." The letter also cites the prison's use of solitary confinement and the fact that she was prohibited from growing out her hair. Private Manning, who is a transgender woman, also went on a hunger strike last September until the army agreed to allow her to receive medical treatment for gender dysphoria.
After the initial NBC report was released, whistleblower Edward Snowden tweeted his support for Manning's effort to leave prison. A 2016 op-ed in the Los Angeles Times argued that while Snowden receives more popular support than she does, "Manning is in greater need of aid and assistance."
Snowden directs the Freedom of the Press Foundation from Moscow, where he moved after leaking documents; if Manning is allowed to leave prison, she has also indicated a possible interest in advocating for the media. A year after her conviction, Manning wrote an op-ed in the New York Times, telling readers that she disclosed classified information "out of a love for my country and a sense of duty to others." The editorial also called for increased media scrutiny of the military, including an increased number of embedded officers.
Will Obama actually commute her sentence? Last week, White House officials told PBS that the president "expected to remain focused on the nonviolent drug offenders he's tried to help during his second term." News that Manning may be on his short list, however, indicates that the president may be planning to free at least one high-profile prisoner, too.