Some Want 'SNL' To Cover The "Golden Shower" News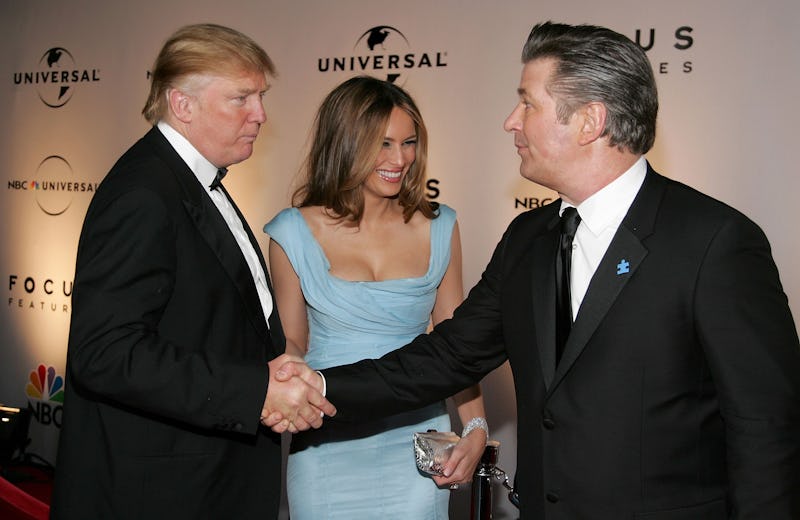 Frazer Harrison/Getty Images Entertainment/Getty Images
An unverified report that documents President-elect Donald Trump's alleged request to have "golden showers" performed in a Russian hotel room where he knew President and Mrs. Obama had previously stayed now exists, according to BuzzFeed News. In response to the memo circulating on Tuesday, Trump quickly denied the allegations, tweeting: "FAKE NEWS — A TOTAL POLITICAL WITCH HUNT!" While many Twitter users are seemingly expressing shock and dismay at the recently-released information, many are also simultaneously clamoring for Saturday Night Live to include skits related to Trump's alleged golden shower activities on the show. Users seemingly perceive the golden showers story as ripe for comedy and are anxious to see SNL's take on the newly-released claims. Update: On Wednesday morning, Russia denounced the unverified report involving supposedly compromising allegations against Donald Trump as an "absolute fabrication."
Social media users are perhaps so anxious to witness SNL's coverage of Trump's alleged — I repeat, alleged — proclivity for golden showers due to both the taboo nature of the topic and the show's incredibly popular skits that include Alec Baldwin portraying Trump, both as a presidential candidate and now as the President-elect.
Many Twitter users are speculating about the fury with which SNL's writers must be composing skits about the alleged golden showers incident in order to get them ready in time for the live show this Saturday evening. While the show has not verified whether or not they will include clips on the alleged incident, considering their previous intensive coverage of Trump it is highly likely that at least some references to the golden showers story will be included in their Saturday lineup.
Right now, all that is known about the upcoming episode of SNL on Jan. 14 is that it is the first episode of 2017, will be hosted by Felicity Jones of Rogue One, and will feature country artist Sturgill Simpson as the musical guest. While skit writing is already likely fully underway for for the episode, writers seemingly frequently make changes to skit lineups at the last minute. Thus, it is highly likely that the alleged "golden shower" incident, which is incredibly ripe for comedic fodder, will be included in Saturday's show.
Of course, if SNL does decide to include a skit or skits about the alleged golden shower incident on its show, it will be very interesting to observe whether or not President-elect Trump reacts to it. Recently, Trump has been highly critical of SNL and its portrayal of him, using Twitter to vent his frustrations. In one recent Tweet, Trump readily shared his sentiments about the show, saying "Just tried watching Saturday Night Live - unwatchable! Totally biased, not funny and the Baldwin impersonation just can't get any worse. Sad."