Winnie Harlow's Latest Partnership Focuses On Empowering Women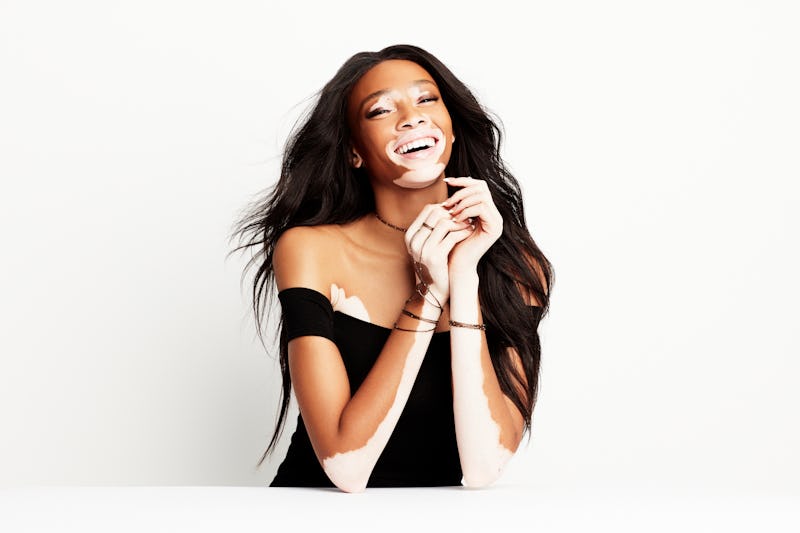 Courtesy Me to We
"Keep your head up." These are the four little words of advice model Winnie Harlow tells me she would tell her teenage self if she could, and they are four little words we could all use from time to time. Winnie Harlow is a model who exudes confidence and inspires others in the process. She does this in a public way as a model, but it's something she'd be striving to do no matter what. "I'm happy that I can inspire [through my career] because I want others to feel just as normal as I do being empowering and being inspiring," she says in a phone interview with Bustle. She also wants to point out that you don't have to be a model in order to be a positive example for others. "Everyone and anyone can do it," she says.
Given her passion for encouraging others, it's no wonder her new project is about giving back. Harlow teamed up with Me to We to represent the brand's very special Mother's Day Collection. Me to We is a social enterprise that creates products that make an impact in communities through building schools, helping to grow sustainable villages, etc. which is, in large part, why she decided to work with the brand in the first place. Harlow's representing Me to We's Mother's Day Collection because it's important to stand behind the brands that make a difference. She says Me to We's mission reminds her of the quote, "Give a man a fish, he'll eat for a day. Teach a man to fish, he'll eat for life." She continues, "[With Me to We] it's not just about giving away things as much as teaching people how to make their own way of life through building communities, making jobs for people," Harlow says. "I think that's beautiful."
In honor of Mother's Day, the brand is selling a semi-precious jewelry collection hand-crafted by female artisans in Kenya. When you shop the pieces in this range, you'll be donating to We's partner communities in places such as Maasai Mara, Kenya.
Ahead of the campaign launch, Harlow took a trip to Kenya to meet the artisans responsible for making the Mother's Day collection. "The experience was ah-ma-zing," Harlow says. "Being able to just sit and bead, talk to the mamas and fetch water with them. I got to experience a new culture. It was amazing. I would recommend it for everyone."
Harlow teamed up with Me to We to be the brand ambassador for the Mother's Day Collection, and she stars in the imagery for the campaign.
The jewelry line consists of bracelets and necklaces made from ethically sourced semiprecious stones including adventurine, rose quartz, amethyst and black jasper. Each of the stones are said to represent certain qualities. For example, the green adventurine represents "growth and new life" and black jasper stands for "transformation and wisdom," according to the Me to We website.
Rose Quartz Choker, $45, Me to We
Harlow's personal favorite pieces are the rose quartz items, but if she had to pick which stones represent her life she says they'd be rose quartz and amethyst because she's an advocate for letting "strength" and "love" rule.
According to the Me to We website, this Mother's Day Collection comes with a special message in mind. "Each piece represents a deep belief that when you bring good intention to the world, you can build a future you believe in," and that's something Harlow agrees with "100 percent," she says.
"I feel like my generation is what was once upon a time sung about, 'We Are The Future,' and I feel like it's very important for us right now to have good intention and bring that into the world so the future that everyone is dreaming of can really come true."
With that in mind, she has a little tip anyone can benefit from. "I feel like we get so stuck knocking on the same doors, hoping that that door will open when there are so many doors to knock on," she says. "Try something different."
Harlow's definitely taking her own advice by working with a company that allows her to travel to Kenya and take in a different culture. She's also investing in that "better" future she mentions by partnering with a brand who's mission is to shift our mindsets from "Me" to think more about the broader "We."
A gift that empowers and inspires is the perfect way to celebrate Mother's Day and to commemorate the women who work to create a better future. Shopping this collection, which is about so much more than just jewelry, on the Me to We website or at Bloomingdale's is a great to make an important woman in your life feel special.
With Me to We's help, you can make the world a better place, one piece of jewelry at a time.