Kylie Jenner Wore A $36 Mini Dress For Her Holiday Campaign & It's Still Available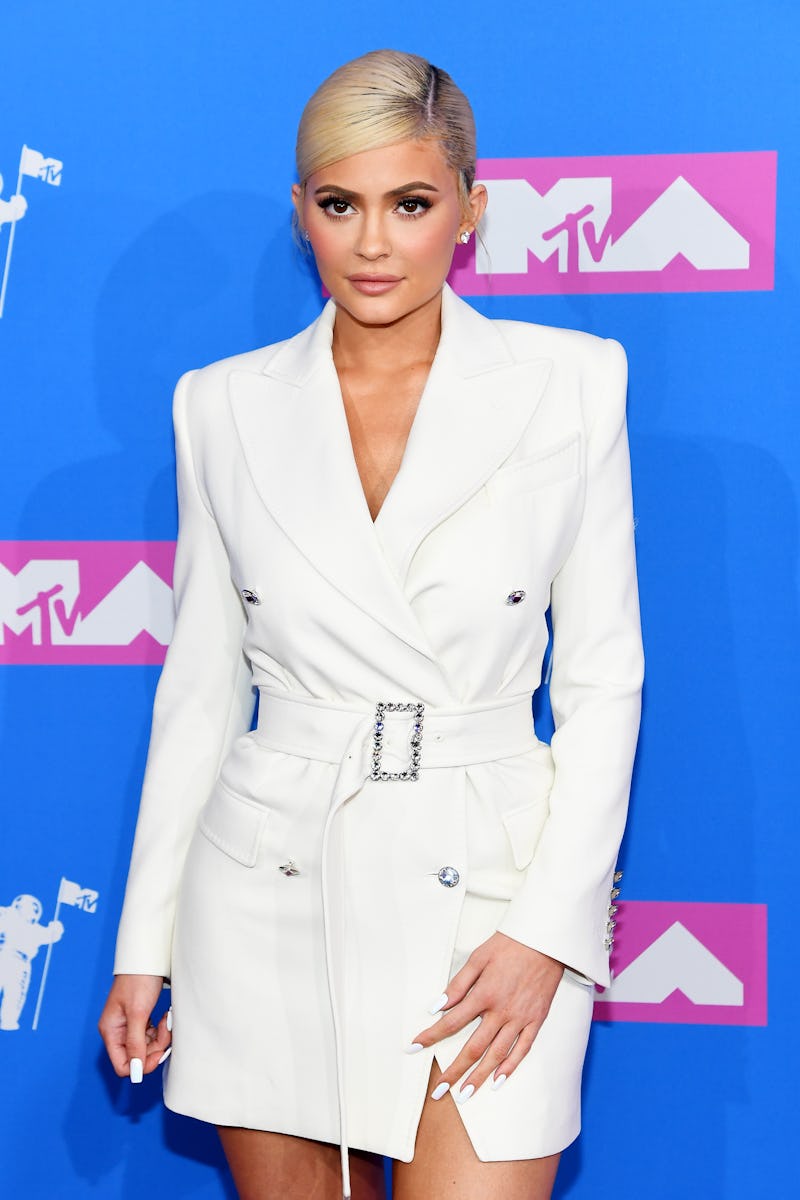 Nicholas Hunt/Getty Images Entertainment/Getty Images
Kylie Jenner is something of a fashion influencer, dishing up designer looks almost daily on her Instagram and inspiring her legion of followers with her style choices. But while she has a penchant for the luxe, she also wears affordable pieces that people on a budget can enjoy. Case in point: Kylie Jenner wore a $36 mini dress from Naked Wardrobe in her holiday calendar campaign, letting fans copy her look without breaking the bank. (Sizes include 0-14 in straight sizes and M1-M4 in maternity clothes.)
It's no secret that Jenner likes to live an A-list lifestyle, where the billionaire beauty mogul's outfit-of-the-days usually revolve around lounging on private jet stairs, wearing $8,000 custom jumpsuits for her birthday, and wearing head to toe Fendy while pushing her baby in a matching designer logo stroller. But while she dishes up high fashion on the regular, she is also a major supporter of fast fashion brands that her fans can afford to shop in, giving them a chance to cop her style for less. For example, she is a regular shopper at Fashion Nova and Naked Wardrobe, where she constantly posts OOTD looks wearing their slinky, sexy dresses.
One such recent affordable outfit is the gold tank top mini dress that she wore for her 2019 calendar, which is dropping on Black Friday on KylieJennerShop.com. The youngest Jenner has been leaking sneak peek photos of her newest calendar on both her Instagram and the Kylie Jenner Shop's Insta, proving that 2019 is going to be her year.
On both the cover and inside the calendar's pages, Jenner is outfitted with a regal crown, is dripping in gold monarch-like jewelry, and is sitting in a body hugging, metallic mini dress.
While the gilded crown and jewelry might be out of reach, that mini dress is very much up for sale. Called the "Own the Party Mini Dress," it conjures up a fun image of getting to sparkle and shimmer while at a crowded party or Saturday night dance floor. It's definitely a statement piece.
"Hey hotstuff, ready to steal the show? This mini will light your life with its outshine of specs all over and body hugging touch!" the product description reads.
It's available in a trio of colors — gold, silver, and black — and hasn't sold out at Naked Wardrobe yet, letting you cop Jenner's royal style for an affordable $36. But you will have to move fast if you want to score it — as of right now, only the small and medium sizes are available.
The dress itself is made with 60 percent Acrylic and 40 percent Metallic, and while it looks like a fairly simple tank dress in the front, it has a fun surprise in the back. The backside has a deep scoop, where the dress ends around mid-back and then two thick straps come down to create a "V" shape. This small detail helps elevate the mini into a playful party dress that's easy to dress down with sneakers or dress up to the nines with metallic heels.
Adding a crown to your outfit before heading out the door is absolutely up to you — but definitely encouraged. Jenner would be proud.