20 Queer-Owned Fashion Brands That Should Be On Your Radar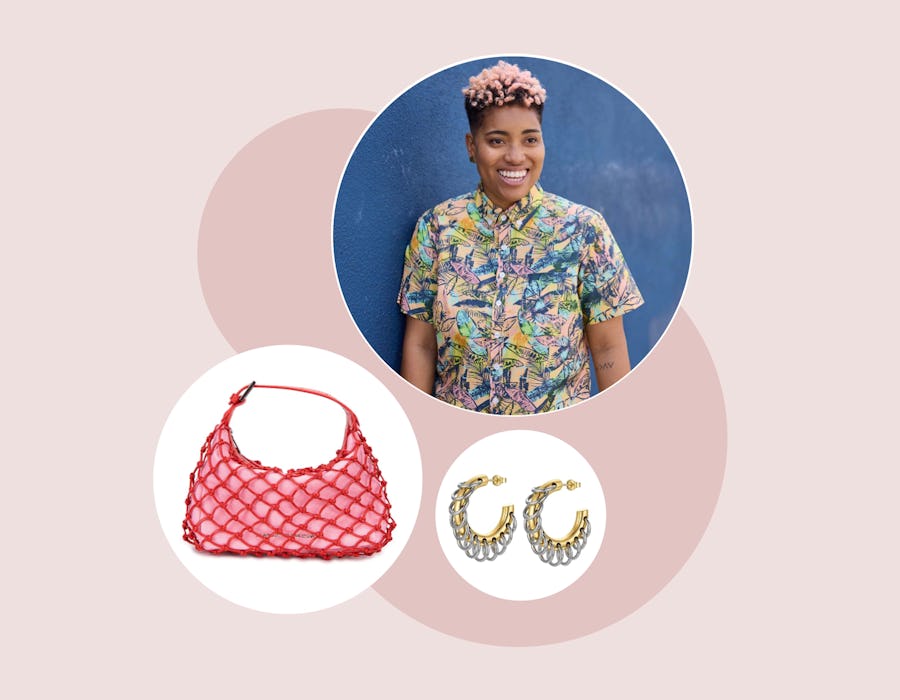 Courtesy of Kirrin Finch, Brandon Blackwood, and ARSN
We may receive a portion of sales if you purchase a product through a link in this article.
Every Pride Month, my inbox fills with a literal rainbow of Pride-themed products, mass-produced by every big-name brand in the business. I'm always curious to see which non-queer-owned brands are willing to show up for the LGBTQ+ community and every year, that list gets longer.
While it's heartening to see so much support for the LGBTQ+ community, at the same time, I know some of those companies are taking space from lesser-known, queer-owned clothing brands. Many of these retailers are tapping queer designers and even providing donations to go along with their Pride collections. And while that's undeniably a powerful contribution, I'd prefer to celebrate Pride by putting my money directly into the hands of LGBTQ+ business owners.
Ahead, you can shop a range of stylish clothing, jewelry, and accessories made by queer people, for queer people — stunning statement earrings, chic handbags, saucy swimwear, and more. Beyond aesthetics (which are undeniably provided), shoppers can also find gender-affirming pieces that play a vital role in identity expression, including: lingerie fitted for transgender bodies and clothes cut specifically to fit butch cisgender women.
All this to say: these are the 20 best queer-owned brands you can proudly support 365 days a year.
ARSN The Label was founded by lesbian couple Shay Ericksen and Kaila Rhubright. If you haven't yet seen the brand on Instagram, you're in for a major treat. Stocking trendy items like pierced hoops and chunky silver rings, this brand will be your new go-to for jewelry, trust me.
Queer, woman-owned brand Chromat is famous within the fashion industry for its ever-inclusive runway. They've been celebrating diversity on the runway for years, tapping plus-size and transgender models, models with disabilities, and more to present their clothing.
Last year, founder Becca McCharen-Tran collaborated with artist Tourmaline to launch a swimwear collection "designed for girls who don't tuck, trans femmes, non-binary and trans masc people who pack, intersex people," and literally anyone else who wears a swimsuit. It's a one-stop shop, essentially.
Black, queer designer Brandon Blackwood made a huge impact in the summer of 2020 with his "END SYSTEMIC RACISM" bags. Far from a one-hit wonder, Blackwood continues to put out high-end it bags, bringing luxury to the masses. The eponymous label has been worn by Doja Cat, Kim Kardashian, Cardi B, Megan Thee Stallion, and Olivia Rodrigo.
If you're looking for conversation-making jewelry that's also eco-friendly, meet LGBTQ+ and Korean-owned CLED. Seulye Jo finds recycled glass and repurposes it into super trend accessories. Think: heart necklaces, sculptural rings, and cutesy bracelet charms in the shape of palm trees, pretzels, and rabbits.
Kelsey Randall is known for her California-cool designs that feel over-the-top in the very best way. Whether the queer-owned brand churns out chainmail-style dresses bedecked with glow-in-the-dark stars or metallic gold vests with rhinestones and fringe, whatever you wear from this brand will definitely get you noticed. The label also offers styles that are made-to-order, requiring longer lead times, so make sure to account for that when shopping.
Hutch was launched in 2010 by Fashion Institute of Technology alum Daniel Saponaro. Since then, the queer-owned label Hutch has been delivering frilly pieces that go from date-ready to vacation-worthy. Expect vivid hues, bold prints, and fun silhouettes (oversized bows, anyone?) — AKA all the elements of Instagram-worthy looks.
Fang is a pandemic-born knitwear label, launched by Beijing-born and New York-based Fang Guo in 2021. The brand champions gender-fluid pieces and introduces romantic (and classically feminine) details into its designs. Rhinestone tops with bows, shorts with fringe, and spicy lace-up co-ords are among their trendy designs.
Born and raised in Stockholm, Jannike Sommar moved to Belgium and, now, Paris, to establish their self-titled apparel line of cheeky and vibrant designs. Genderless shirts with two women kissing? Rainbow-hued shorts? And the label's signature kiss print on mesh tops and dresses? Yes, yes, and yes. All of her designs are funky, playful, and proud.
Black-owned, Los Angeles-based brand Phlemuns was founded in 2013 with the intention to bridge the gap between luxury and everyday fashion. The streetwear-adjacent label uses a slow fashion approach and has been worn by the likes of Solange, Lil Nas X, Wendy Williams, Chloe and Halle Bailey, and Keke Palmer. Phlemuns was also behind the costume Billie Eilish wore as Sally during her Nightmare Before Christmas performance.
Established by Mauritius native Jeff Wan in 2018, the New York-based leather goods brand offers utilitarian handbags with unique details including lunch box-inspired top-handle purses, colorful totes embossed with pineapples, and even rainbow-striped card cases. For Pride Month 2023, Jeff Wan will be donating 10 percent of proceeds to the ACLU and BABEC Fire Island, promoting Black and transgender equity.
Queer-owned intimates brand Woxer doesn't just offer gender-inclusive underwear (in delectable, color-block options to boot), it also regularly features LGBTQ+ and transitioning models to help with trans visibility. Plus, their undies are made with Modal, a lightweight sustainable fabric.
Wildfang founders Julia Parsley and Emma McIlroy are former Nike executives who say what they've created is not a brand — it's a "band of thieves; modern-day, female Robin Hoods raiding men's closets." The Instagram-famous label sells tons of curated styles across the board, from coveralls to full-on suits in both straight and plus sizes.
Latin-owned, queer-owned, Miami-based swimwear brand Peixoto (pronounced pay-show-toe) specializes in vibrant colors and unique styles that can be seen on beaches all across the world. You can currently find this LGBTQ+ swimwear brand at Revolve, Shopbop, Bloomingdale's, Anthropologie, and Saks Fifth Avenue.
Honey Birdette was launched in 2006, when founder Eloise Monaghan was frustrated with the lack of sex shops in Australia. The brand now has over 60 stores worldwide and has expanded from toys to other sensual things like lingerie — and its latest, spicy swimwear. Honey Birdette creates delicious designs with fabric derived from recycled materials and plastic from the Mediterranean Sea.
Per the brand's site, underwear label TomboyX is a "tale of two tomboys," Fran Dunaway and Naomi Gonzalez. From wanting to create "good underwear" for "regular bodies," the married couple built a gender-neutral brand that now includes loungewear, activewear, and even swimwear. Styles come in monochromatic basics and kooky prints, like all-over jellyfish. The brand even boasts a spectrum of compression tops and bottoms.
Not only is Automic Gold queer-owned, but also super transparent. You can see every employee on the About Us page, product photos are un-retouched, and their prices are reflective of the artistry and of being self-funded (ie: no investment money). Automic Gold has jewelry options for everyone — it's size-inclusive, gender inclusive, and makes options for people with and without piercings. The cherry on top? All designs use recycled gold and reclaimed stones.
Kirrin Finch is the brainchild of Brooklyn-based couple Laura Moffat and Kelly Sanders Moffat. The brand offers butch-style clothing, like button-up shirts and bow ties — pieces that intentionally mix traditionally-masculine cuts with feminine patterns. Creating pieces for customers who are "no longer willing to settle for ill-fitting menswear or overly frilly womenswear," their designs reject "traditional stereotypes and [give] people the freedom to be their true selves," the website says.
Yup, still gay! Stuzo Clothing is queer-owned, Black-owned, woman-owned, Latin-owned, and made in Los Angeles. The brand celebrates a gender-free ethos, and has been worn by celebs like Ruby Rose, Lena Waithe, Jada Pinkett Smith, Tiffany Haddish, and Spike Lee. From slogan merch that says "WOMAN UP" to cheekier options that read "YUP, STILL GAY!" — there are a ton of options to choose from befitting of any mood.
Super cute jewelry with tongue-in-cheek references, Wild Fancy Design creates wonderfully whimsical accessories. This Etsy shop makes everything made-to-order to avoid creating excess waste. Peep the pronouns earrings (above) and pins too!
As co-founders Lex Non Scripta and Voula O'Clock describe on the About page of Wild Fancy Design, "Self-expression through fashion has always been an important part of queer identity — whether it's about flagging, taking up space with your fabulous self, or defying gender norms."
Founded by identical twins Chris and Courtney Rhodes, FLAVNT is based out of Austin, TX and was "started with the goal of creating clothes that promote confidence, especially within the LGBTQ+ community." Along with producing a wide variety of queer-themed shirts, the label also makes the Bareskin Binder, a binder designed for swimming. FLAVNT also regularly runs fundraising campaigns to help members of the trans community raise money for gender affirmation surgeries.