Demi Lovato Has The Realest Advice About Body Image
Plus, 19 other celebs' best body positive quotes.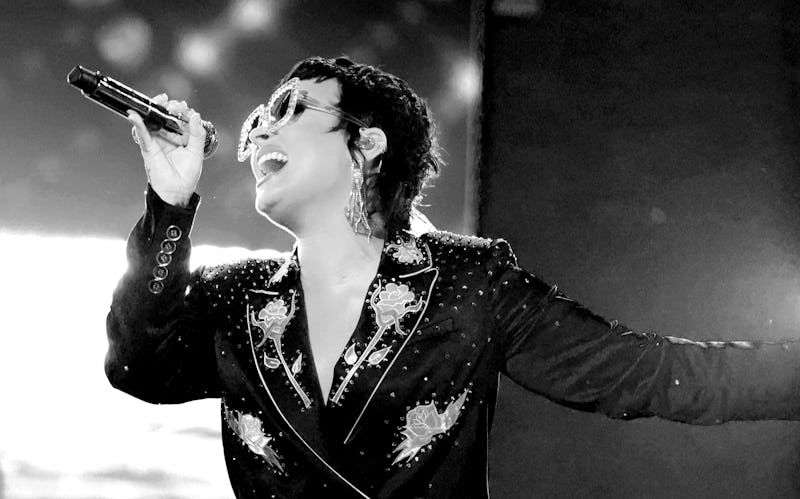 Kevin Winter/Getty Images Entertainment/Getty Images
You've got a gratitude journal next to your vision board, and the assembly of notes-to-self with inspiring quotes on your desk is growing every day. It's corny, sure, but you like being surrounded by words that make you feel good. If you're looking to pepper your post-its with body positive quotes for whenever you're having a bad day, there are plenty to add to your collection.
Of course, body positivity doesn't mean you have to wake up every morning feeling yourself. "I don't always feel positive about my body," Demi Lovato said in an iHeart Radio interview in 2019. They said that they try not to dwell on the moments when they're not a fan of what they look like — which might be a sentiment you want to toss into your quote display. And when you're trying to pump yourself up for that first post-vaccine dinner with your parents, you can also always channel your inner Kate Winslet when she talked in 2020 to The Hollywood Reporter about filming sex scenes in her mid-40s: "This is what it is, peeps."
From short and sweet to the lengthier end of the sound bite spectrum, here are 20 body positive quotes to keep in your back pocket.
On Really Seeing Yourself
Tracee Ellis Ross spoke truth in a 2016 interview with The Cut that you might want to put on a post-it: "I need to see my own beauty and to continue to be reminded that I am enough, that I am worthy of love without effort, that I am beautiful, that the texture of my hair and that the shape of my curves, the size of my lips, the color of my skin, and the feelings that I have are all worthy and okay."
On Love Versus Comfort
"Even if it makes others uncomfortable, I will love who I am," said Janelle Monáe in a 2018 interview with Vulture. That goes for everything from sexuality to body image.
On Your Worth
In her song "I Know Girls (Body Love)," Mary Lambert sings, "You are worth more than a waistline."
On Beauty
Make-up artist Pat McGrath told Create & Cultivate in 2018 that, "Beauty has nothing to do with one's age, gender, body size, socio-economic status, race, religion or culture."
On Positivity
"I don't always feel positive about my body," Demi Lovato told iHeart Radio in 2019. "Sometimes I do not like what I see," they said. "[But] I don't sit there and dwell on it."
On Other People's Judgment
Simone Biles took to Twitter in 2016 to show her body some love. "You all can judge my body all you want, but at the end of the day it's MY body," she said. "I love it & I'm comfortable in my skin."
On Befriending Your Body
"And I said to my body softly, 'I want to be your friend,'" wrote poet Nayyirah Waheed in her 2013 book Salt. "It took a long breath and replied, 'I have been waiting my whole life for this.'"
On Beach Bodies
Olaf isn't the only one from Frozen who has something to say about summer. In 2014, Kristen Bell tweeted that, "Bikini Season is not a thing. It's called SUMMER."
On Aging
Reflecting on filming a sex scene in her mid-40s, Kate Winslet told The Hollywood Reporter in 2020, "I was just excited to say, 'This is what it is, peeps. This is how I am now, and it's very much not the body I had 20 years ago."
On Being Different
"Since I don't look like every other girl, it takes a while to be okay with that. To be different," Serena Williams explained to Harper's Bazaar in 2010. "But different is good."
On Clichés
When she did a nude photo shoot with Allure in 2015, Laverne Cox said, "There's beauty in the things we think are imperfect. That sounds very cliché, but it's true."
On The Real Problem
"I am constantly struggling with body-image issues: feeling too masculine, too feminine, too hairy, too ugly, too, too…" explained performance artist Alok in a 2018 interview with The Emily Program. "But I always remind myself that I'm not the problem, the norms are the problem. That it's not my fault that I feel uncomfortable in my body, it's the fault of a profoundly violent and discriminatory world!"
On Acceptance Versus Tolerance
"Living in my body has expanded my empathy for other people and the truths of their bodies," Roxanne Gay wrote in her 2017 memoir Hunger: A Memoir of (My) Body. "Certainly, it has shown me the importance of inclusivity and acceptance (not merely tolerance) for diverse body types."
On Eating
In a 2021 episode of the Eat the Rules podcast, health and lifestyle coach Caitlin Ball said, "You can eat what you want and eat based on how you want to feel."
On Instagram
"Remain open-minded about what makes you feel good and grounded within yourself," Bespoke Brooklyn tailoring company Bindle & Keep's co-creator Rae Tutera said in a 2017 interview with Rebellious Magazine. "It doesn't have to be the thing you see people on Instagram doing."
On Weight Loss
When people in the music industry told Jennifer Lopez to lose weight, she told In Style in 2018 that she just wasn't having it. "'This is who I am. I'm shaped like this,'" she explained. "Everybody I grew up with looked like that, and they were all beautiful to me. I didn't see anything wrong with it. I still don't!"
On Being Good Enough
Blogger Sam Dylan Finch told The Emily Program in 2018 that being told "you are enough" isn't always helpful. "I do love that sentiment and I believe it. I didn't always, though," he explained. "We're not all there yet, emotionally. So instead, try asking yourself, 'What if I were enough? What would I be doing differently right now if I just assumed that I was already good enough?'"
On Tough Days
In a 2020 TikTok, Lizzo talked about getting out of the shower and having very negative thoughts about her body. "I would have some positive thing to say to get me out of this, but I don't, and that's OK too," she explained. "I think these are normal [thoughts and feelings] and they happen to everybody. They happen to the best of us."
On Listening
"Listen to the words you say to and about your body in the mirror," Jameela Jamil said in a 2021 Instagram post. "Would you ever tell someone you love and respect that they need to meet the same body goals to be allowed to feel good and confident?"
On Fluctuations
"Let's love our fluctuating bodies," Sam Smith wrote on their Instagram in 2019. "Be super soft. It's an everyday struggle for me. You aren't alone."
This article was originally published on