Aerie's Curve-Hugging Offline Leggings Will Give You A BBL In Seconds
Aerie really outdid themselves.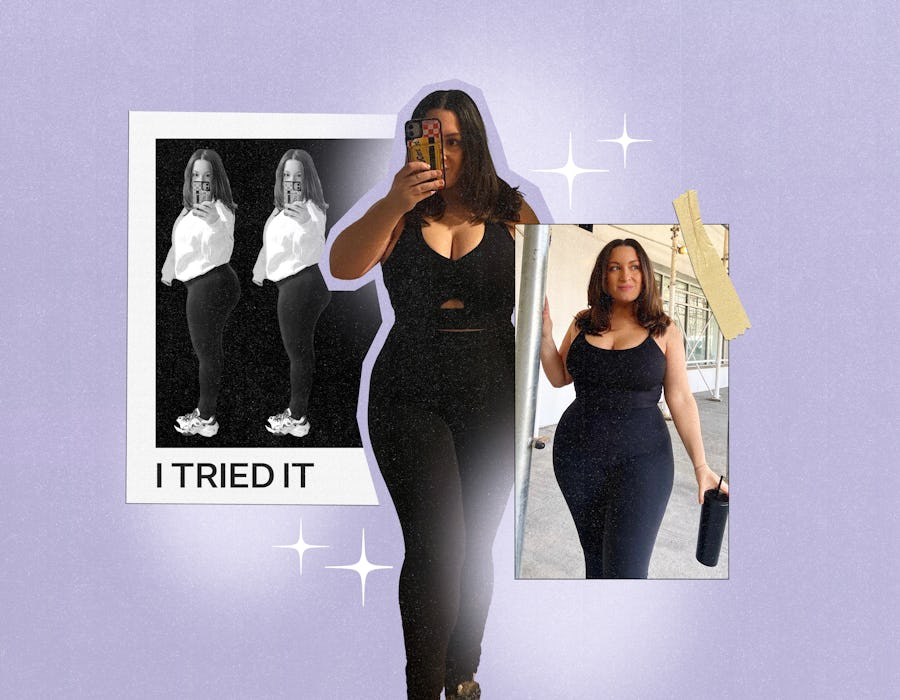 I Tried It
We may receive a portion of sales if you purchase a product through a link in this article.
Lately, leggings have become a pain point in my wardrobe. I have tons of different pairs, but none I find myself particularly excited about wearing. It wasn't until I tried on the Offline by Aerie Real Me XTRA Hold Up! Leggings that I fell back in love with the off-duty design. Now, I'm here to sing their praises.
Never before has a pair of leggings made me feel so good about my figure. In fact, they've blessed me with what I lovingly refer to as the BBL effect: a cinched waist, a smooth tummy, and a lifted bum. While a piece of clothing can't actually change your shape, finding the right style can definitely enhance certain areas while drawing the focus away from the others. In this case, the results are impressive.
According to Aerie's Chief Design Officer Andrea Jagaric, the innovative design comes as a result of the brand's online fame. "After seeing the popularity of our cross-over leggings that went viral on TikTok in 2020, we've continued to focus on innovation and comfort, particularly with our waistbands," Jagaric said. And, thus, the Real Me XTRA Hold Up! Leggings were born.
If a BBL in seconds is what you seek, read on for sculpting Aerie leggings more effective than an hour of squats (JK, but also not).
Fast Facts
Price: $64.95
Best for: athleisure or a gym sesh
Your rating: 5 stars out of 5
Brand: Offline by Aerie
What I like: the sculpting waistband and V-seam fit
What I don't like: the limited color/length options
My Problem
I'm the kind of girl who has different leggings for different occasions. I have soft, cozy cotton leggings for lounging around my apartment, and thick, sweat-wicking leggings for a full hour of cardio. The one thing I've never found? A pair that does it all — feels good, looks good, and is versatile enough to rock at pilates and for a full day of errands.
My high-compression workout leggings aren't always comfortable to keep on all day, while many of my softer athleisure styles don't necessarily flatter my figure. Desperate to find The Ones, I headed to Aerie and purchased five different styles to see if I could find a winner.
The Product: Offline by Aerie Real Me XTRA Hold Up! Legging
Offline by Aerie's Real Me XTRA Hold Up! Leggings are a mouthful to say, but that doesn't take away from their game-changing fit. They're available in five colors, sizes XXS-XXL, and retail for $64.95 — although, they're often on sale.
Their most notable feature is the smoothing waistband, which the brand claims won't roll down. The sporty Real Me XTRA Fabric boasts a nylon and elastane blend, allowing for movable medium support and 360 degree stretch.
The Results
When I went shopping at my local Aerie, I was dead-set on leaving with a new pair of go-to leggings. However, I was overwhelmed (in a good way) by all the in-store options. With more than ten different styles of black leggings — all boasting different claims and lengthy names — I decided the best thing to do would be purchase a few, try them on at home, and (hopefully) find a favorite to stock up on.
When I put on the Real Me XTRA Hold Up! Leggings, I realized why they had been given such a long name. The supportive, smoothing waistband was XTRA in all the right ways. My waist was extra sculpted, and my tummy was extra smoothed — which is not the norm for me in most leggings.
I could argue the Hold Up! portion of the name is in reference to the way I exclaimed: "Hold up! I look like I just got a BBL!" But, in truth, it has a double meaning. Not only is the waistband waist-synching, the compressed fit helps it stay up — a drastic change from other pairs that seem to roll down every ten seconds.
In the blink of an eye, these leggings transformed me. My waist and tummy looked smooth, and my bum definitely got a lift as well. After a full day of wear, I couldn't remember a time when I felt so good in leggings. Needless to say, I returned the other styles and bought more BBL pairs (sorry, XTRA Hold Up! pairs) immediately.
The Final Verdict
I never thought the day would come, but I really do think these leggings are endgame. I expected my perfect leggings to cost me closer to $100, so the fact that they're from Aerie — my favorite for affordable athleisure and gym attire — was a pleasant surprise. What doesn't surprise me, however, is that Aerie nailed the waistband, since they've already gone viral for their great leggings.
While I admire the waistband innovation happening over at Aerie HQ, I won't lie — I doubt I'll try out any more versions. I've found my perfect pair in Offline by Aerie's Real Me XTRA Hold Up! Leggings, and you won't catch me at the gym or on the go without their figure-accentuating, booty-lifting capabilities ever again.
BDG product reviews and recommendations are written and conducted by writers and editors with expertise in their fields. Testers often have specific experience with the situation or product at hand, and/or their review or recommendation is provided in consultation with experts. You can learn more about our standards here.