Atticus On Poetry, Dating Advice, & His Collaboration With Lime Crime
The anonymous poet talks to Bustle.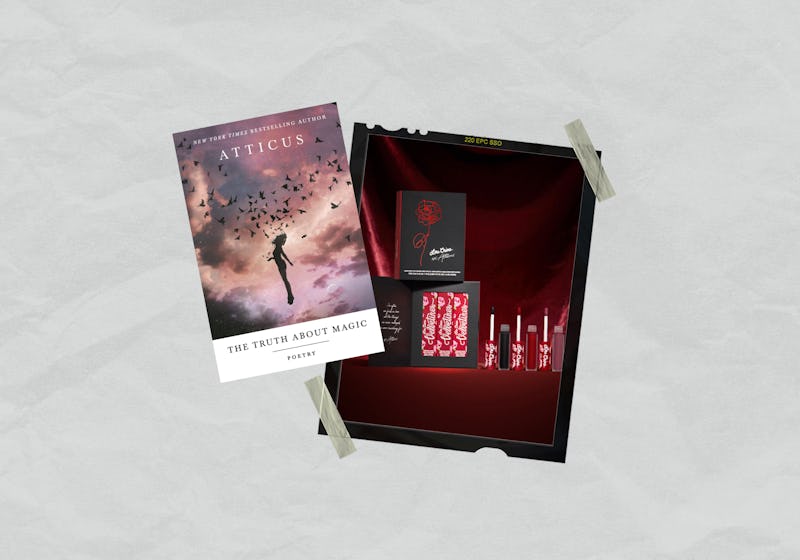 We may receive a portion of sales if you purchase a product through a link in this article.
If you're a hopeless romantic, chances are high you have a poem — or twenty — saved from Atticus. Now in time for Valentine's Day, the viral poet is extending his influence beyond his powerful words by collaborating with makeup brand Lime Crime.
While a makeup launch may seem random, he says this partnership with Lime Crime is anything but as they have shared values. "We both celebrate what I think is so important: our differences make us beautiful," he tells Bustle over email.
Debuting on February 1, The Lime Crime x Atticus Limited Edition Velvetines Trio features three shades of matte liquid lipsticks: a true black Black Velvet, deep red Feelins, and lilac brown Teddy Bear. Like everyone else who has put Wednesday Addams on their beauty mood board, he says that the dark yet romantic colors are inspired by the hit Netflix show. "She is so different in so many ways and she doesn't fit in, but she owns it in such a powerful and confident way; you can't help but love her," he says. "She's out there with moody lipstick, owning it like it's the coolest thing in the world."
The anonymous poet and New York Times best-selling author has brought beauty and inspiration through his words for almost a decade. With 1.6 million followers on Instagram alone, Atticus has been a source for many looking for a little hope in their lives. "Because there's so much fear and darkness in the world, I really love writing about the light and beautiful parts of life," he says. "My writing's become significantly more positive and hopeful. I think that's what people need right now: hope and kindness and little reminders that no matter how dark it seems, there is always beauty unraveling around us."
With Valentine's Day approaching, love is on everyone's mind. Dating can seem like a dumpster fire as of late thanks to the fatigue of the apps and the rise of terrible advice flooding everyone's FYPs. Because he often writes about love, I had to inquire about worst and best advice he's seen on social media when it comes to matters of the heart.
The worst he's seen is the idea that you should look for someone to complete you and make you whole. "You should make yourself as complete as you possibly can and come into a relationship with that strong version of yourself," he tells Bustle. "I think it's a mistake to look for someone to solve all your worries; it creates dependence and often unrealistic expectations of your partner."
He also cautions anyone against the idea of not being yourself. "If you pretend to be someone you're not, you may trick someone into being with you but one day you will wake up and realize you have nothing in common," he says.
On the other side of it, the best love and dating advice he's seen is to do a dating cleanse and stop "snacking." "[This advice is] described as dating and spending energy on people you can't see yourself with long term. A lot of people fall into these casual relationships these days because they are easy, and fill a loneliness void but it often doesn't leave space or energy to find the person, you're meant to be with," he explains. "So stop the snacks."
If you're still feeling hopeless about your love life, he suggests turning to this untitled poem from his third book, The Truth About Magic, for some encouragement:
And,
out of her great sorrow
and fear,
came one
exhilarating
seed of thought
that consumed
her in a calming
wave of love and hope —
she was free.